Wilder Featured in Denver Life Magazine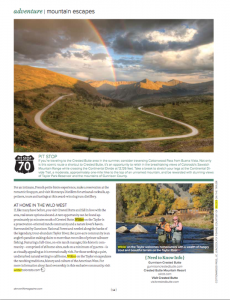 Denver Life Magazine is the leading lifestyle magazine that celebrates life in Denver and the surrounding region. As a trusted resource for an audience of highly educated, affluent residents of the metro area, Denver Life Magazine highlights the exciting benefits of living in a progressive urban location where fine dining, fashion, visual and performing arts, home design resources and sporting events thrive, while also emphasizing travel, outdoor adventure and family life.
The article featuring Crested Butte and the real estate options the article goes on to say "Wilder on the Taylor is a preservation-oriented ranch community and a nature lover's haven. Surrounded by Gunnison National Forest and nestled along the banks of the legendary, trout-abundant Taylor River, the 2,100-acre community is an angler's paradise staking claim to more than two miles of private tailwater fishing. Featuring a full-time, on-site ranch manager, this historic community— comprised of 26 home-sites, each on a minimum of 35 acres—is as visually appealing as it is recreationally rich. For those seeking a quiet, undisturbed natural setting to call home, Wilder on the Taylor encapsulates the ranching traditions, history and culture of the American West. For more information about land ownership in this exclusive community, visit wildercolorado.com/."
Thank you to Denver Life Magazine for the press!
Click for more information on Crested Butte land for sale and be sure to check out our recently available riverfront home.