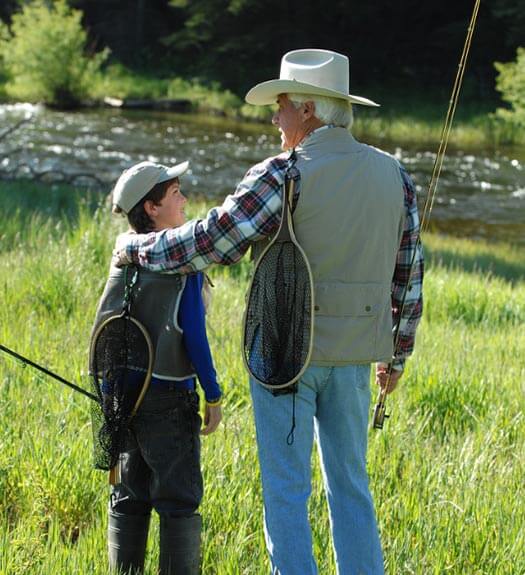 Just as you have tied the fly you hold in your fingers, you are tied to this private fly-fishing property. This river is not just near your home, it is where you live your life and form a timeless bond with your family.
That's what you get when you call Wilder on the Taylor home: a natural environment with which you create a relationship. A private fly-fishing property sanctuary where some of the world's most beautiful trout will pass you by, and with a bit of patience, skill and sometimes even luck, you'll connect with them on the end of your fly line.
The Taylor River is the tailwater below Taylor Reservoir. Known for its huge trout and cold temperatures, the Taylor River is Colorado's best for big trout. The fish in this river grow to massive sizes from a healthy diet of Mysis Shrimp. That same diet is what also makes these some of Colorado's most beautiful fish.
Fed from the mouth of the Taylor and Spring Creek, we have added an additional meandering private fly-fishing property stream, designed as a collaborative effort of many, and built by Matt Weaver, owner of Five Rivers Restoration. This project not only adds to Wilder's uniqueness and exclusivity, it looks and feels as natural as creation itself.
Private accessibility to rivers the quality of the Taylor is increasingly rare. In the East, except for exclusive and difficult to join fishing clubs holding long-term river leases, it is virtually non-existent. Western states each have various water right laws, but none as protective of private fly-fishing property as in Colorado. The quality of the water and the fish habitat on the Taylor is second to non in the West. The meandering stream I built across this wonderful meadow is the best expression of my work in creating new waters for comfortable and challenging fly-fishing that I have yet done.
– Mat Weaver, Owner of Five Rivers Restoration Bozeman, Montana
EXPERIENCE WILDER ON THE TAYLOR