Taylor River Fall Fishing Report written by Wilder on the Taylor's Master Fly Fishing Guide, Ben Riedel. 
Fall fishing is here. It doesn't get much better. The trees are beautiful, the Brown Trout are colorful, water temperatures are perfect, and the river is extremely wadable. Flows through Wilder have dropped significantly over the last couple weeks. Taylor Park Reservoir is currently releasing 125 cfs. That makes for approximately 200 cfs through Wilder. Perfect for fishing.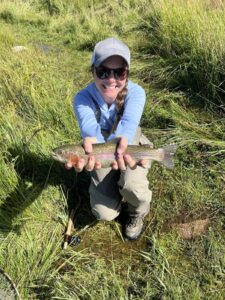 Be looking for, or expecting, a Midge hatch during the morning hours. Generally these bugs are very small, but occasionally there is a sizable Midge worth imitating. If you're lucky, a size 16-18 Zebra Midge halfway down the water column is all you'll need. There have been a few mornings that the hatch is there, but the visible fish activity is not. In this case, getting your Midge imitation to the bottom should work. Don't lose faith in small flies.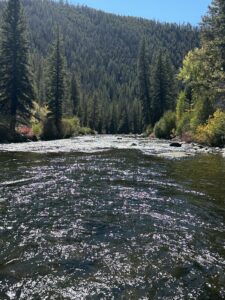 Afternoons on the Taylor River are a prime example of what is so special about fall fishing in the rockies. The "hatch" won't last too long, but the river can be boiling for an hour or two if you're lucky. Blue Wing Olives, sizes 18-22, are the primary food source. But there can be some other Mayflies sprinkled in. P Apams, Sparkle Duns, Barr's Emergers, RS2s in the matching size have been working.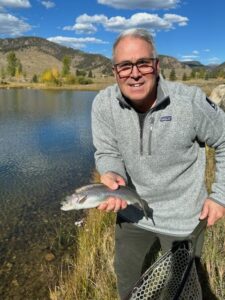 The ponds at Wilder have the most consistent activity. Twitching terrestrials can still bring plenty of violent takes. Stripping Wooly Buggers has been very productive too. As always, you can really challenge yourself by targeting the Midge sippers. Small Midge imitations that are delicately presented stand a chance to catch a fish.
The lower Dream Stream is a good place for a positive challenge also. With the flows being below average, the fish tend to be spooky. Lengthy casts with delicate presentations are a must. You can't get very close to these fish right now. The bug activity is there (#16-20 BWO), but only good casts tend to be rewarded. 
Enjoy the fall fishing and pinch your barbs, 
Ben Riedel