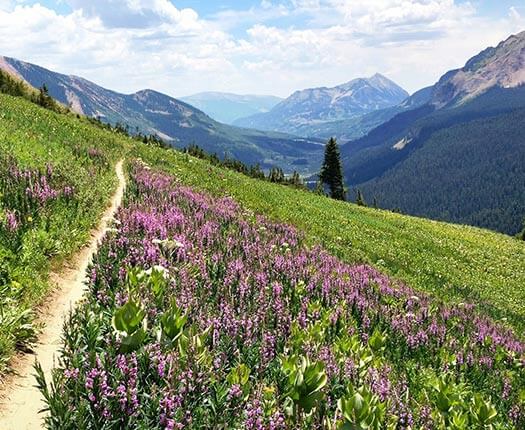 When you discover Wilder on the Taylor you will immediately realize that there are numerous activities that make this preservation ranch such a special, year-round recreational setting. But it is the Taylor River that really makes it Wilder. The Taylor is one of the finest fly fishing rivers in all of North America and the privacy and access that Wilder provides to a fortunate few families is truly priceless.
If you're a fly fisherman, and are after trophy rainbows and browns, the Taylor River is as good as it gets. If you're a fisherman at heart, nearby Taylor Park Reservoir offers superb pike fishing on the lake or try salmon fishing on the East River, just a few miles away. It's all here, just outside your door.
CRESTED BUTTE ACTIVITIES
From fly-fishing, skiing, golf, hiking and much more, Crested Butte has it all for any time of the year!
FISHING

In addition to the Taylor River and meandering fly fishing streams in the Wilder meadow, there is a wide variety of waters to explore. These include fishing the Gunnison River, as well as 13 miles of prime gold medal water in the Black Canyon, which is touted as one of…
GOLF

Wilder on the Taylor also offers close proximity to The Club at Crested Butte. Aside from an absolutely stunning view over the area, The Club's 18-holes are notable for being designed by world-renowned golf course architect Robert Trent Jones II.
HORSEBACK RIDING

At Wilder you have the opportunity to ride some of the finest trails in the West. "Wilder on the Taylor is unique in that it is centrally located in the heart of the Gunnison National Forest. Property owners can take advantage of a network of trails that encompass 96,000 acres…
SKIING

Crested Butte Mountain Resort—voted best steeps, best groomed corduroy and best snow in Colorado—is less than 45 minutes away from Wilder during ski season and 25 minutes during warmer months. Also right around the corner is The Crested Butte Nordic Center, offering 35 kilometers of trails groomed for classic and…
MOUNTAIN BIKING
Home to the Mountain Bike Hall of Fame, the surrounding area in and around Wilder can conservatively be described as some of the best mountain biking in the world. Endless single tracks through stunning scenery and a perfect climate all contribute to the classification of this town as the mountain bike…
WORKING AT THE RANCH

At Wilder, try your hand at working cattle on this historic ranch. During warmer months the ranch is home to a herd of steers that you and your horse can track, learn to cut, and ultimately ranch pen.
HIKING

Listing all the hiking trails throughout Wilder is a daunting task. Suffice it to say that Wilder gives you access to every type and variation of hiking trail that Colorado has to offer. Surrounded by nearly two million acres of public land, the possibilities for outdoor adventures are unlimited.
ROCK CLIMBING

Taylor River Road, which runs through Wilder, is home to some of Colorado's favorite climbing spots. This area offers challenging rock faces right off the road, which lures both beginners and expert climbers.
EXPERIENCE WILDER ON THE TAYLOR