The lighting and landscapes of fall are illuminating Wilder on the Taylor in a way that would have captured the imaginations of the world's best Impressionists. It is a stunning season to explore the trails at the ranch or in the adjoining Gunnison National Forest or cast a line in the Taylor River, Rarick Creek or the many ponds at Wilder.
Lu Warner, the ranch's master fly-fishing guide, reports that the fall fishing conditions at Wilder have been premiere with beautiful weather, consistent hatches and perfect water levels. In a recent monthly fishing report posted on Wilder's website, Lu writes that there has been "enough water to provide a plentiful habitat, yet wading is less sporty and most of the is river accessible." Recent rains have added to the fall flow.
Recently, the first "grand slam" of the season (brook, brown, rainbow and cutthroat trout all caught by the same person on the same day) was caught on Wilder's "dream stream," also known as Rarick Creek, and several giant rainbows landed from Wilder's ponds in recent weeks, he says.
Ranching highlights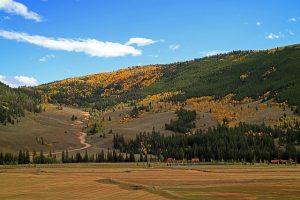 Along with its amazing location on the trout-filled Taylor River, the ranch has always been known for its picturesque pastures that produce outstanding hay used for Wilder's cattle and horses and sold to buyers looking for high-quality Timothy hay. When compared to last year, an estimated 140 tons more hay was harvested in 2017 due to more optimal weather conditions, notes Shelly Sabrowski, who manages the ranch with her husband, Don.
Wilder's cow herd spends time on the nearby Almont Triangle through a U.S. Forest Service permit and were moved from there to the ranch in mid-July. The cattle are now peacefully grazing in Wilder's east hay meadow against a golden autumn backdrop. Fall is the time of year when cows are checked for pregnancy status using ultrasound technology, calves are weaned, and most steers and some heifers are sold.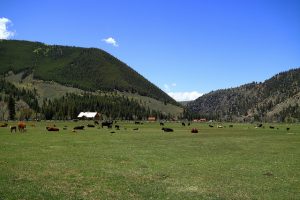 Don and Shelly review the heifer calves and identify the ones to keep for Wilder's future breeding stock, and their 15-year-old son, Clay, hand selects two steers to show during Cattlemen's Days and the Gunnison County Fair next summer. Don also is transforming a log cabin recently moved next to Wilder's iconic log barn into a warming/wash room for calves that are born in cold weather and Clay to wash his show steers.
New "home sweet home" for the Sabrowskis
Wilder on the Taylor recently purchased six acres that complete the ranch's east-side boundary along County Road 742. The property included a two-story, 2,500-square-foot home built in 2007 utilizing ultra-efficient, straw-bale construction. The home is currently being remodeled to serve as the Sabrowski family's home and ranch office, which is currently the white house just north of Wilder. Don and Shelly began managing the ranch in 1995 and hope to move into their new home around Thanksgiving. Not only do they serve as expert ranch managers, they are master guides for horseback riding excursions with Wilder homeowners and guests.
Custom riverfront cabin completed & ready for occupancy
Wilder on the Taylor recently completed construction of a three-bedroom, three-bathroom custom designed riverfront home so a buyer can move in immediately. An added bonus is that the 1,900-square-foot home is fully furnished, right down to the luxurious linens! Wilder constructed the home in response to clients visiting Wilder, staying in one of the ranch's four renovated historic cabins along the river, and saying "this is all we need".
Community building in more ways than one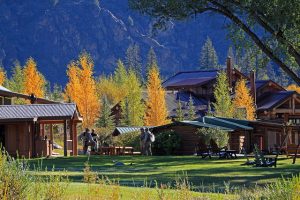 Families that have purchased Wilder homesteads are building their dream getaways or are in the planning process. "We are finding that homesteads aren't sitting empty for long at Wilder after they are purchased. Out of the 13 parcels sold to date, six owners have completed homes and six more are in the construction or planning process," says General Sales Manager Brad Willett.
In the true sense of community building, many new friendships and business relationships are being established when relaxing in the Founder's Porch and on the main lawn after a day of enjoying the outdoors. Thursdays at Wilder have become a favorite time to gather for cocktails, appetizers and a meal on several Thursday evenings in summer. "At Wilder, you have the opportunity to create a new group of friends or to be as private as you want," Willett says.
New road provides access to mountainside homesteads, wilderness & views galore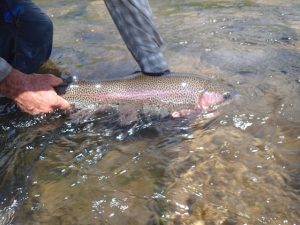 A road spanning 1.5 miles was carefully planned and constructed this summer on Wilder's south side to access the mountainside homesteads now available for sale. The mindset of the design and construction team was to keep the area surrounding the road as natural as possible, and additional vegetation is being planted. One of the big benefits for Wilder homeowners is the road also provides easy access to the Fossil Ridge Wilderness, a U.S. Wilderness Area that encompasses more than 32,000 acres within the Gunnison National Forest.
As autumn shows its splendor in Colorado's Gunnison-Crested Butte Valley, Willett observes that some of the best leaf peeping this season is at Wilder on the Taylor, with the new road is making it especially easy to access big views. "You don't have to leave the property or go over Kebler Pass!"