Mountain Golf – The Club at Crested Butte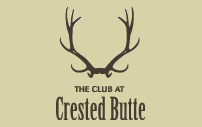 In the nearby quaint mountain town of Crested Butte, The Club at Crested Butte features a scenic Robert Trent Jones II designed course, rated the Best Mountain Golf Course in Colorado by Mountain Golf Magazine. Starting in mid-June, residents will only be a short drive away from 7,200 acres of phenomenal golfing on an 18-hole Championship Course that offers absolutely breathtaking views.
In Crested Butte there is also plenty of outstanding restaurants and bars for a memorable night on the town with your significant other. On your first evening out we recommend you start off at Django's Restaurant and Wine Bar. The European small plates restaurant is locally-owned, but as soon as you walk in the door you'll swear it's operated in New York. The wine selection and presentation are just as enticing as the chic interior. Next stop: Lobar. At 10pm this exquisite sushi restaurant transforms into a stylish nightclub. Plush couches, fireplace, plasma screens: the works. Do yourself a favor and indulge in some of their saki or martinis. For a calmer wind down to the evening there's the Princess Wine Bar. You can expect live music every night and a wine selection that earned them the "Wine Spectator Award of Excellence"
If you're feeling beat from all the golf, hiking, biking, horse riding, fly fishing, mountain climbing and ranching available at Wilder on the Taylor, you can spend the day in town achieving absolute relaxation and rejuvenation at one of three spas that Crested Butte has to offer: Indulge, Elevation Spa or The Wildflower Spa. Of course, you could also choose to utilize the massage and treatment room available on the Wilder property.
There's truly something for everyone and every mood of our Wilder residents. Please contact us to find out how you can be a part of this pristine, preserved portion of the American West. Only a limited amount of homesteads are available for those who want to experience the heritage and beauty of this majestic region, while still having all the creature comforts \'97 available at a safe but convenient distance from the Wilder side.
Click for more information on Crested Butte land for sale and be sure to check out our recently available riverfront home.