In the latest issue of Mountain Living Magazine, author Mindy Pantiel reveals how CCY Architects found inspiration in the local vernacular for this unparalleled home at Wilder on the Taylor.
Colorado Home is Perfectly Sited to Capture Mountain Overlook Views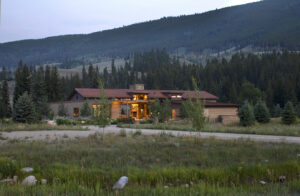 With their Colorado home perfectly sited to capture views to the Taylor River and a mountain overlook, Michele and Jeff Wheeler can watch the trout rising to catch bugs while enjoying the sunrise right from their living room window. Not surprisingly, the Dallas couple dubbed their property, located in the Wilder on the Taylor residential community a few miles outside of Crested Butte, "The Rise." "The development was originally designed to be a golf course with more residential density," says Michele, CEO of Jackson Shaw, a Dallas real estate company, about the 2,100 acres contained within the Gunnison National Forest that her firm developed into 31 residences and a wildlife refuge. "But we envisioned a shared ranching community that kept the cattle and haying operation, did stream improvements and preserved the elk migration corridor."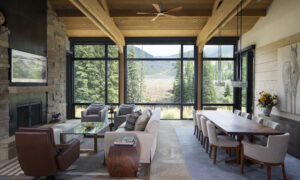 Architect Chris Touchette of CCY Architects became involved with the project at its inception in 2007. After working on the master plan, signage and the renovation of existing ranch structures and cabins, he was the natural choice to design the Wheeler home. Drawing on the local vernacular for inspiration, Touchette says, "The long linear form of the home and roof are tied to the hay shed located about a half-mile away, and a calving barn with two closed rooms and an open area in between inspired the overall layout." In his version, the latter translates into living spaces for the Wheelers on one side, guest quarters on the other, and an open, covered breezeway in between. "They loved the idea of an outdoor living space with views to the river where everyone could gather," he adds.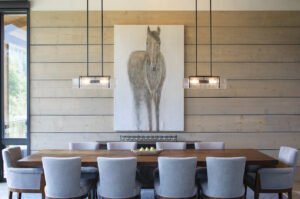 With its spare stone-and-timber palette, the low-slung structure sits lightly on the land. Standing dead spruce timbers used inside and out and Frontier sandstone selected to match the rock outcroppings visible on the Taylor Canyon cliff walls—the latter used for site walls, fireplaces and floor paving—establish a cohesive relationship between the interiors and the surroundings. An open kitchen connects to the living room, allowing for easy interaction between the homeowners and guests during meal prep, and every bedroom opens onto private decks fronting the river.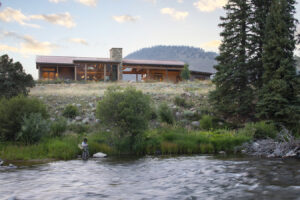 For the interior design, CCY collaborated with Sara Potoker of Ansley Interiors, who configured furniture arrangements to maximize views and worked with local artisans like Steve Cappellucci, whose dining and breakfast nook tables fashioned from single slabs of claro walnut further cement the relationship with nature. Walls are finished with sustainable clay plaster, and the organic texture is a perfect backdrop for the Western-themed paintings by Austin-based artist Paul Meyer.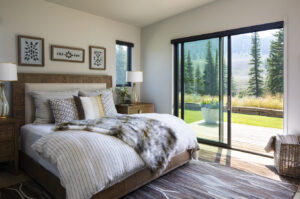 To personalize the interiors, the Wheelers brought special family items like Michele's father's shadow boxes of arrowheads, and other Texas-related art, to their Colorado getaway. "My father had ranches in Texas, and we wanted to incorporate our family ranching heritage here," says Michele, who loves the easy balance of Western and modern that defines their home, but admits the outdoors remain the primary attraction. When she isn't out fishing or hiking, she's likely in the breakfast nook or having coffee on the breezeway, where, Michele says, " I can look at the river and watch the wildlife go by."
Original Article: https://www.mountainliving.com/colorado-home-is-perfectly-sited-to-capture-mountain-overlook-views/
Story: Mindy Pantiel
Photos: James Ray Spahn
Architecture: CCY Architects