There are many amazing rivers and lakes in North America to land beautiful trout, but few can rival the premier fly fishing on the Taylor River in Colorado.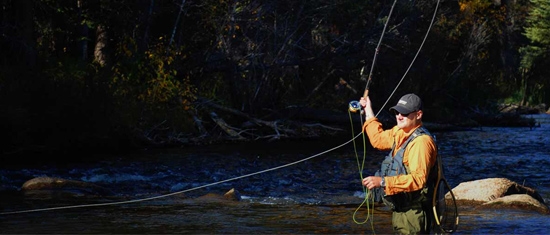 While that may be a bold statement, there is plenty of support to back up the claim. When it comes to numbers of fish, diversity of fish species, water quality and natural scenery, The Taylor River has an abundance of each. The high-mountain experience of premier fly fishing on the Taylor River is truly an unforgettable experience that any fly fishing enthusiast would enjoy.
For years, anglers have been in search of the legendary Taylor River 'Bows – the legendary massive rainbow trout the Taylor is perfectly suited for. These rainbow trout are just one of the factors that contribute to the premier fly fishing on the Taylor River, but they are certainly a very important one. 
According to Tim Mueller, owner of the Crested Butte Mountain Resort, "Not only is the Taylor River one of the truly beautiful rivers in America, the fishing is spectacular. The Taylor is one of the best fisheries in the West." As well known as the premier fly fishing on the Taylor River has become, the banks of the Taylor have understandably become more crowded over the years. However, there is now an opportunity for you to own exclusive land on the banks of The Taylor.
Wilder on the Taylor is a shared ranch located between Crested Butte and Gunnison, CO, located among the beautiful Gunnison National Forest. The Taylor River flows through the heart of Wilder, and riverside plots of land have just recently been made available for ownership. These locations offer premier fly fishing on the Taylor in an exclusive, private setting, and are truly a once in a lifetime opportunity. In fact, the section of the river that runs through Wilder meets or exceeds every requirement for Gold Medal status. So what exactly does that mean for fly fisherman?
To be designated as Gold Medal Water, a river or stream must contain 12 trout that measure over 14" or weigh a total of 60 lbs – per surface acre. So while Colorado has over 9,000 miles of creeks, streams and rivers, the Colorado Wildlife Commission has designated only 168 of those miles as Gold Medal Water. In addition, an amenity stream has been built on Wilder on the Taylor.  This amenity stream flows parallel to the Taylor River. The stream blends seamlessly into the natural environment of Wilder, and only enhances the premier fly fishing on the Taylor.
Wilder on the Taylor is also home to a group of historic, intimate riverside cabins. These cabins have been updated with modern conveniences, but still retain their original charm. The riverside cabins are available for Wilder landowners and their guests to use, and make a wonderful accommodation while enjoying the premier fly fishing on the Taylor River.
To learn more about land ownership at Wilder on the Taylor and the premier fly fishing on the Taylor River, please call Brad Willet at (970) 641-4545 or email brad@wildercolorado.com/