Wilder Building a Riverside Cabin Available for Purchase
Wilder is offering the convenience of a brand new, riverside cabin along the Taylor River.
When purchasing a homestead at Wilder on the Taylor, people typically build their own custom homes and fishing cabins, resulting in a variety of beautiful structures that complement the historic ranch's landscape. In order to make it easy for someone who desires the convenience of a turnkey residence, Ron Welborn, Partner of Wilder and Architect, Dan Murphy have collaborated for months to create the ideal riverside cabin on homestead 11.
Phase 1: Riverside Cabin
The 2,200-square-foot cabin, designed by Crested Butte architect Dan Murphy, has exceeded our goal of creating a one-story home that is nestled on the edge of the Taylor River and aesthetically fits on the ranch. The cabin features covered porches for a relaxed and comfortable setting and other outdoor living spaces that capitalize on the surrounding natural beauty at Wilder.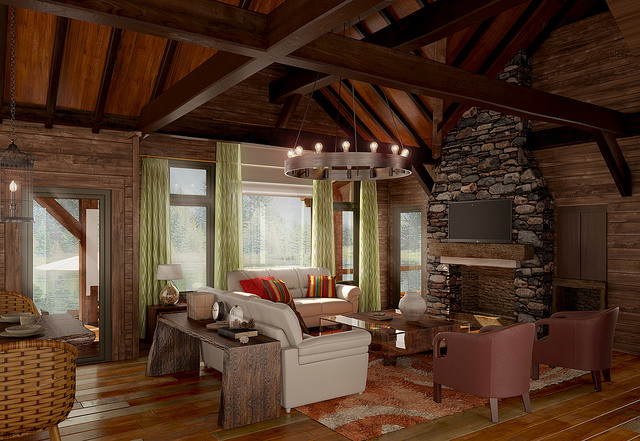 Specially selected reclaimed woods are being used in the interior as well as the exterior to provide a warm and welcoming feel, including Douglas Fir beams from Montana that are more than 100 years old and heated hardwood floors. A low stone foundation fashioned from local moss granite rock also is part of the architectural fabric.
Designed for two families to enjoy with privacy, the riverside cabin comfortably accommodates four adults and their children. The kitchen, dining and living areas casually flow together in one large great room and a master bedroom and bathroom on one side and a junior master suite and bunk room, both with private bathrooms, on the other. A mud room on the riverside of the house has plenty of nooks for fishing poles, waders and other items, with the Taylor River only steps away.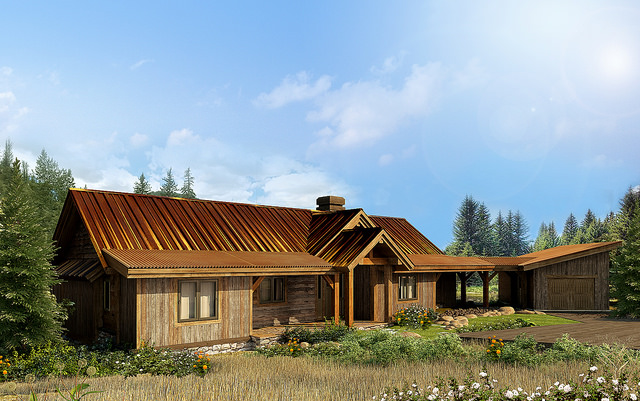 Additional highlights are a soaking tub and steam shower in the master bathroom and a great room with a large rock fireplace, sure to leave guests warm, cozy and relaxed. A breezeway connects to a garage and covered outdoor dining space, handy for those cool summer evenings.
The riverside cabin is masterfully situated with views up and down the Taylor River. The architect, Dan Murphy, carefully planned each room with views of the river.  "With the open floor plan and large windows across the back of the cabin, you have a view of the river from every room of the cabin except the bunk room," commented Dan Murphy.
This stunning riverside cabin is currently available for purchase directly through Wilder on the Taylor.  Click here to view photos of progress being made. Contact us for a private showing of this rare offering.