The Impact of Snowpack on Summer Fly-Fishing in Gunnison Valley


Article written by Guest Author, Jim Garrison.  Jim is a 23 year resident of the Gunnison Valley, fly-fishing guide, and photographer.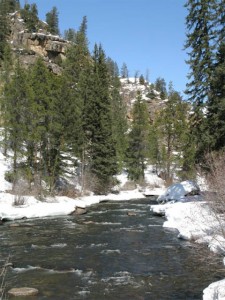 Snowpack in the Colorado mountains is a critical part of our lives. As a flyfishing guide and landscape photographer I pay attention to the snowpack each year. I have lived in the Gunnison Valley for 23 years. My work time is divided between guiding flyfishing and photography. This snow season has been a unique one. Early snow storms had us set up for a good snowpack but an unseasonably warm January, February and March brought us down to 56% snowpack. February and March were great fishing months this year but we were worried it could be a dry Summer. Fortunately April had a "normal" amount of snow and May has been one of the wettest, coolest ones I can remember. We went form a 56% to a 74% snowpack and still have wet weather in the forecast.
I feel confident that our snowpack will get us through the Summer and Fall in good shape. Most of our insect hatches should be close to their normal schedules this year. One thing that is unique this year is our run-off was not as big as usual so our trout had a less stressful Spring.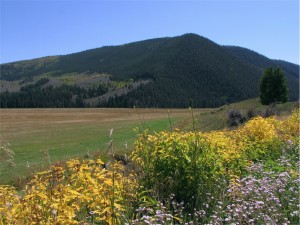 This year, fly-fishing in Gunnison Valley at Wilder on The Taylor should be great, as will the wildflower season. Speaking of Wilder there has been constant improvements to the property and new construction has been ongoing. The Gunnison Valley derives quite a bit of its income from tourism and second home owners. I personally feel that second home owners are the driving force behind our local economy. All of the construction guys I know, several are working on Wilder homes right now, are thankful that we have the second home owners here. I guide and sell my landscape photographs to several second home owners and have become friends with some. Projects like Wilder on the Taylor bring a lot of positive energy to the valley.
To view photos of the progress at Wilder, visit our weekly updated photostream.
About the Author:
Jim Garrison started his second career as a magazine photographer in 1985. From 1987 -1990 he took his family with him during the summer months and toured the state of Colorado doing arts festivals. During this time he was able to see every part of Colorado.  Out of all the beautiful places, he chose the Gunnison Valley as his home in 1991. Since then, his focus is area photography, the Paragon Art Gallery, and fly-fishing guide. Jim states, "I am lucky to have vocations that allow me to enjoy the beauty that God has created."