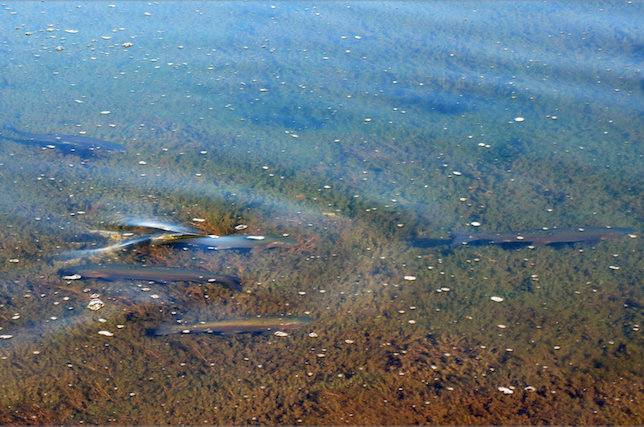 Taylor River Fishing Report – June 5, 2016
Taylor River Fishing Report by Lu Warner
After a bit of a blustery May, it looks like the weather is beginning to straighten out and turn into summer. This ought to melt the rest of the snow in the high country fairly quickly and the rivers will begin dropping to their summer levels soon.
Currently the Taylor River is at 850 CFS which is slightly above to the 100 year average. Over the last few days, levels have reached as high as 900 CFS due to a "flush release" at the dam. The idea is to release additional water into the river for a few days each year to more closely simulate a natural run off cycle. I feel that this is a good thing to help eliminate unwanted alga such as Didymo, revitalize the beaches and sediment and spread the fish and invertebrate life around a little.  Beginning this weekend we can expect flows to slowly drop into the 400-600 CFS range through September.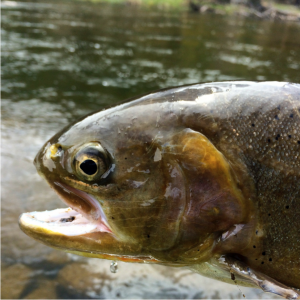 Water temps are cold in the low 40's. As the water warms a few degrees in the next couple of weeks, we'll see fish start to eat more frequently on the surface and strong hatches will begin. On the river now we have Midge hatches in the morning, sporadic BWO hatches around mid day and increasing Caddis activity in the afternoon and evening, yet few fish rising in the high water. Soon we will be seeing a variety of Stoneflies including smaller Yellow Sally's(#18-20), Giant Golden Stones(#4-8) and several different mid-size Stones in the size 10-14 range. Concurrently with the Stones, we'll see increased Caddis activity throughout the day and evening, stronger BWO hatches mid-day and fish starting to suspend and eat on the surface.
Until then however, most fish are holding deep and will not stray far to eat a fly. The most effective technique is to fish a dry with a long dropper and 1 or 2 weighted nymphs at the end. It is key to make your set up below the dry long enough and heavy enough for the water you are fishing to get your rig down in the water column. This is actually a good time to fish a bobber set up but I prefer the big Dry on top as every once in a while a large fish will come up and eat it.
For a general set up in these conditions, I like a Golden Super Chernobyl Dry with about 4-5 feet of 4x and a large rubber legs or stonefly nymph below. Best is to add a second dropper about 15 inches behind the first one. Here is a good place to experiment a bit. We have been catching fish on a variety of droppers #20 BWO nymphs, #20 Midges, #16 Psycho Mays, #12-20 Pheasant tails, #12-20 Hare's ears, San Juan worms and about anything else you can tie on. The key again is to have your flies sinking to the level of the fish which right now is at or very near the bottom. Takes can be very slow so it is important to manage your slack line well and react quickly to any unnatural movement of the Dry. The downside of this is that there is a whole new crop of sticks, logs and trees in the river just waiting to grab your flies. If possible look closely into the water before casting and try to find a clean drift free of obstructions.
Fish the river slowly and make repeated casts into the good drift lines. The trout are not that aggressive yet so fish each spot thoroughly. I can't emphasize this enough. Play with your weight, add or subtract split shots if necessary and change flies if you are not having any luck. Most importantly, be observant because even in these higher flows, large fish can occasionally be spotted on sand bars and by the bank and short but strong hatches can suddenly bring fish to the surface. Even in high water, stealth and observation are your two best weapons.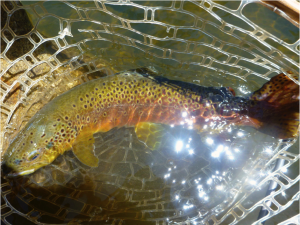 Please be careful wading out there. Flows are strong, the water is cold and the rocks are slippery so take your time, make good wading decisions and carry a staff. There is plenty of good fishing from the banks and close in right now so there is no need to make sketchy wades to the middle of the river.
The Dream Stream is living up to it's name and the fishing has been fantastic there throughout the Spring. It's a perfect time to be out there surrounded by the lush green Timothy hay we grow here at the Ranch. The wildlife thinks so too. Last we we saw a herd of 15 Elk grazing alongside the Stream mixed in with the cows, a few Mule deer and several pairs of Canadian Geese whom are nesting there and trying to keep the foxes at bay. Smaller birds are returning in flocks and in the water, large Rainbows are eating like crazy. It would not be a good time to be a Mayfly in the Dream Stream…slurp!
Before the Hoppers start to fly and the Drakes start to hatch, the main food for the fish in the Stream are BWO's and almost every early afternoon you can find fish rising in the seams and eddies for these pretty little Mayflies. At this time of year, they are about a size 18 and are best fished with a long leader(up to 12') and as heavy a tippet as you can get away with. I like to start with 4x because some of the feistier Rainbows in the Stream will break your 5x very quickly.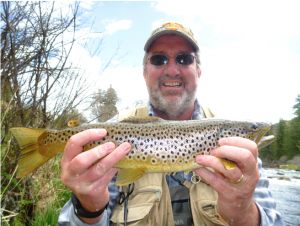 Like always, stealth and observation will out perform rushing out to the Stream and casting blindly. Take your time, move slowly, look carefully and find a target. Plan your approach and do your best not to let the fish know that you are there. This is a fun way to fish the Stream because more often than not you will spot some big fish to cast your fly to. If you hook a large fish he will immediately try to bury himself in the rocks and rub your tippet against them. Do what you can to prevent this from happening or he will break your line.
If you don't see fish rising and don't get any action on the small dry, it's time to rig up a dry/dropper rig and fish the holes. A small Hopper say size 12 with a #16 Beadhead Pheasant tail and 2 feet of 4x as a dropper will generally do the trick. Concentrate on the deepest parts of the pool and any foam line or eddy lines you see. These fish when spooked can run way up into the heads of the pools in very shallow water so don't stop short..fish right up to the very top.
Inspect your tippet thoroughly after each fish hooked. I like to run it through my fingers and see if I feel any rough spots from being abraded on the rocks. If so, take the time to replace your tippet as any weakness in the tippet will fail quickly with one of these sporty fish.
The Wilder ponds have some huge, heavy fish which pull very hard. Stillwater fishing is a bit different than fishing in the River and Stream and certain techniques can improve your success. First of all, tie good knots and check your terminal tackle before casting. It doesn't take a 6-10 lb Rainbow long to find a weak spot in your tackle.
I always like to begin by sight fishing and see what's going on. March brown mayflies were hatching the other day and the fish were were eating them as fast as they came off. Mostly however the fish are eating a variety of bugs in the weeds beds below the surface. Dragonfly and Damselfly nymphs right now are one of their primary food sources and fish can be seen cruising the shallows looking for these tasty critters. They are not yet on the dries but it won't be long before they are. I like a long 4x leader, at least 9 feet with a #10 Damsel Nymph on the end.
If I am unable to sight fish, I like to cast out, let the fly sink and begin a jerky retrieve with a long pause between short fast strips. The pause is when they crush the fly, so it is super important to be watching the end of your fly line for any telltale movement as often times you won't feel the strike. When you do detect a strike, lift the rod slowly to tension up and get ready to let the fish run. A sharp hard set can break off these big fish.
Move around and try your fly on different fish. If unsuccessful, it's time to experiment. My go to is a #16 Bead head Pheasant tail fished very slowly along the drop offs. Your fly line/leader interface is your indicator so watch it carefully during your retrieve. Be careful handling these fish as they are considerably more fragile than the river fish. After you land one of these beauties, take your time and revive the fish before releasing it.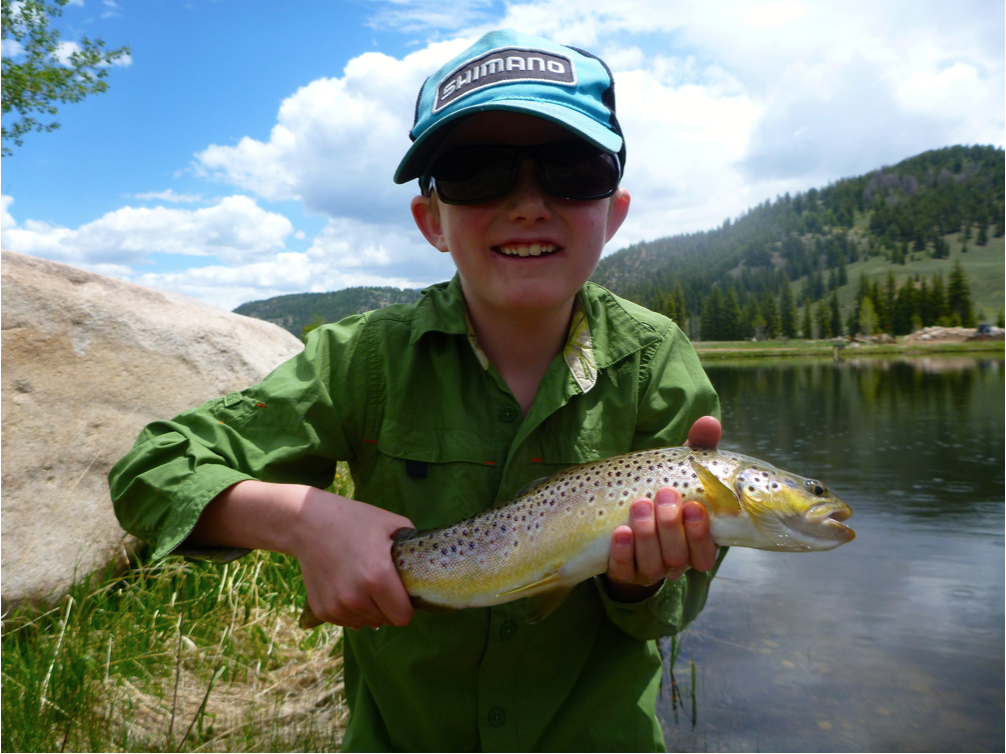 Soon the Damsels will start to fly and so will the fish as they chase the Damsels around and ambush them in the air.
We are entering prime dry fly season in some of the best dry fly water in he West.
If any of you are planning a trip to the Wilder on the Taylor, please feel free to email or call me for an up to the minute Taylor River fishing report.
Tight lines
Lu
Wilder on the Taylor River offers a unique opportunity to own private fly-fishing property along with a beautiful riverfront home. Click the links to learn more.