Taylor River Fishing Report: May 29, 2015


An updated Taylor River Fishing Report written by Wilder's Master Fly-Fishing Guide, Lu Warner. 
Well, in Colorado the last month has been more like Winter than Spring. Daily snow and rain showers combined with cool temperatures have brought lots of moisture to the local mountains, increasing the mountain snowpack and keeping the runoff at bay for the time being. This is very good news as in April there was a worry that water levels would be very low for the season. Now the late moisture that we have received has greatly improved the water forecast and local waters should be in good shape for the season. River levels at Wilder on The Taylor are currently at about 350 CFS and water temperatures are in the low to mid forties. Look for a substantial increase in flows out of the Dam on June 1 when we expect levels to rise 100 CFS. When the weather warms up, we'll see the runoff kick into gear as well and flows should reach the 600 CFS range before settling down for the summer in late June.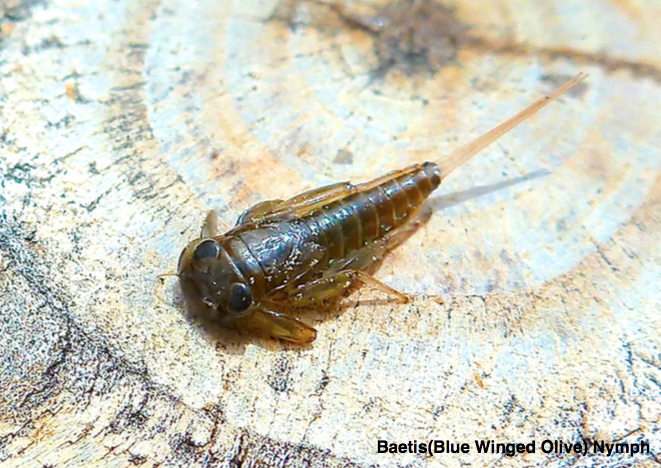 Fishing on the Taylor has been very good, especially for this time of year when many local rivers are un-fishable due to high and dirty water. The Taylor is just slightly off color and fish are getting very active. Most of their food is sub-surface and consists of a variety of nymphs including Green Drake, Baetis(BWO), Stonefly, Caddis and Midge. At this time of year the fish are quite opportunistic as a variety of food is available so many different fly patterns can produce results. We have fished very well with a bead head Green Drake Nymph and a small Baetis behind it. One of the keys this time of year is to make sure you are getting your flies down to where the fish are. With cold water temps, the fish are less apt to move far to eat so it is important to put your flies right in their face. Sometimes adding or subtracting a small split shot will make all of the difference in the world in getting your fly to the depth that the fish are.
This time of year, I generally like to fish a dry/dropper set up with a large Chubby Chernobyl Ant as a dry and a Stonefly/Baetis dropper combination. The big Chernobyl resembles a large Golden Stone and don't be surprised if you get some action on it.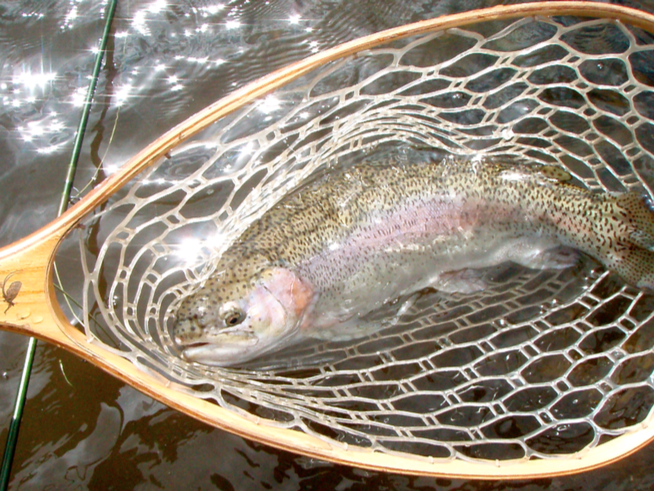 Around late morning you may see bugs beginning to hatch on the river. These will include, Midges, BWO's, micro Caddis and Micro Stoneflies. While the fish aren't that surface oriented yet, in the right places you can find fish rising, especially to BWO's during cloudy afternoons…the worse the weather, the better the hatch. These BWO's are very small this time of year so your imitation should be a size 22. Using a double dry can help you see where your small fly is at on the water and a #16 Caddis could be a good choice for your upper dry fly.
If you see lots of BWO's on the water, look carefully for rising fish. These fish will not be easy to spot as they ease up really slowly and suck the BWO's in with hardly a ripple on the water. The best plan is to get yourself into position and watch the water carefully. Often times from a distance it looks like there is nothing going on but when you enter the water you may begin to notice fish eating very quietly all around you. Prime hatch time is from about 12 until 5 pm.
As we get into June, our big summertime hatches are just around the corner. Make sure you keep your eyes open for hatching bugs and rising fish as things could break loose at any time.
The "Dream Stream" is prime right now. With good flows from Spring Creek and virtually no fishing pressure at all, the fish are ready to eat almost anything that you throw at them, presuming that you don't spook them first. While some fish will move for a large Dry, it is still a bit early to get much action on the surface with big flies. A better bet is to fish small dries such as a #18 Para Adams to any rising fish that you see. Otherwise, a Dry/Dropper set up is what you want. Here you can put a large Dry on top as an indicator but most action will come from your Nymphs. Size 16 Bead Head Pheasant Tails can be deadly as well as San Juan Worms, Hare's Ears, Green Drake Nymphs and BWO bead heads. Be careful not to use too light of a tippet as these fish are big, powerful and are very good at breaking your line. If possible try to use a minimum of 4x on the Dream Stream to increase the odds of landing a trophy Rainbow. Look for great fishing to continue and fish to get more surface oriented during the next couple of weeks.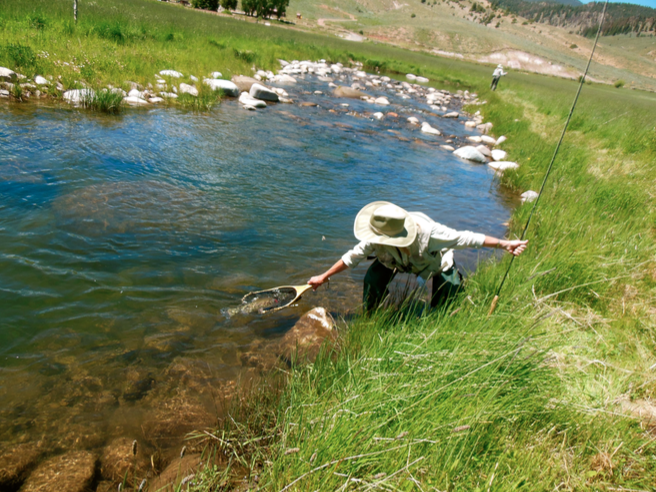 The Ponds at Wilder offer a fun diversion from the River and the Dream Stream. If you want to catch a big fish on a small dry, this is the place to do it as cruising Rainbows spend their days here eating Midges and small insects on the surface. As usual, your best bet is to walk slowly around the ponds looking for targets. Once you spot a fish, make your first cast pretty far away and see how the fish reacts. Some are incredibly spooky and will take off at the drop of a hat while others will let you put the fly right in front of their nose. Finding this magic distance is critical to your success on the Ponds. Too far away and the fish won't see your fly, too close and they spook.
If this method does not produce, I would recommend as a last resort tying on a #8 Black Wooly Bugger and stripping it slowly. As you do this make sure to watch your fly line/ leader junction as it is common for these fish to eat during the drop(slack) and your only clue to set will be to see the line move a little.
Over the next few weeks, we'll see Damselflies begin to hatch in the ponds and the fish will become more surface oriented as they jump up to nail these tasty morsels when they fly over the water.
If any of you are planning a trip to Wilder on the Taylor, please feel free to write or call me for an up to the minute Taylor River Fishing Report.
Tight lines,
Lu
Wilder on the Taylor River offers a unique opportunity to own private fly-fishing property along with a beautiful riverfront home. Click the links to learn more.