Taylor River Fishing Report : May 1, 2015

Wilder's master guide, Lu Warner, has studied the current river conditions and gives us his early spring Taylor River Fishing Report. Be sure to take advantage of his expertise before heading out to the river!
Hello Everyone,
I hope you are doing well and looking forward to some outstanding days of fishing at Wilder on the Taylor this coming season. I know that I am. I recently returned from my Lodge in Chile after a successful season and I am excited to get things rolling at Wilder. Green grass is coming up quickly, the snow is mostly gone, and our fisheries are looking better than ever.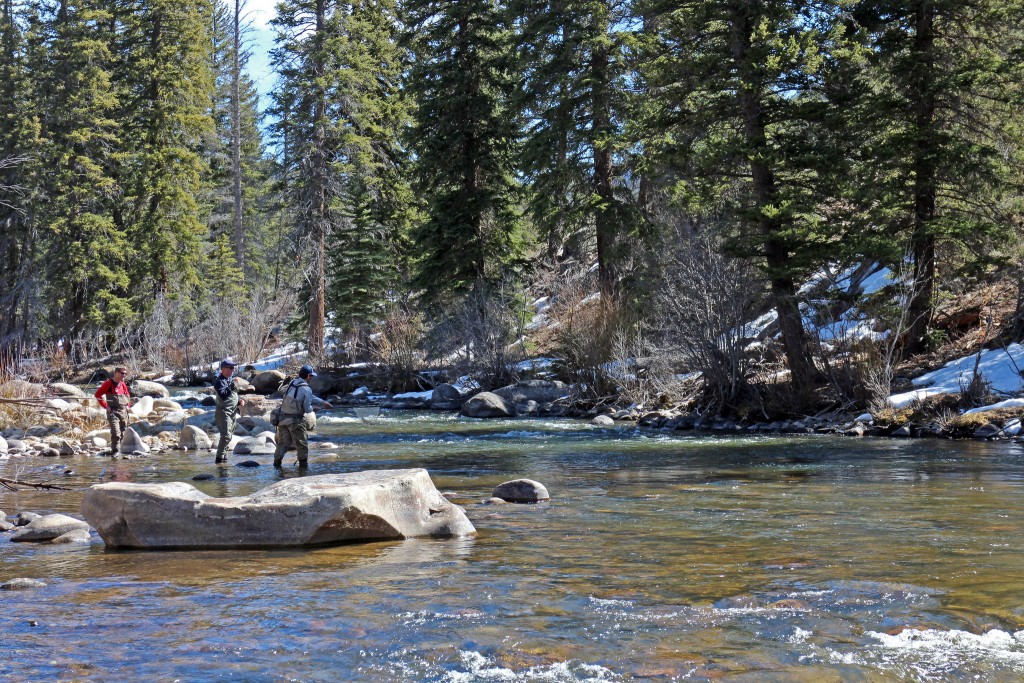 So far we are in pre-runoff conditions on the Taylor River at Wilder. Water levels out of the Dam are low at about 100 CFS and the Taylor is running clear and about 180 CFS at the Wilder. The recent Water Users Report for the Dam indicates that flows will increase on May 1 to 150 CFS, May 16 to 225 CFS and June 1 to 340 CFS. This will keep peak levels well below those of last year and moderate flows in the low to mid 300's should be sustainable until October.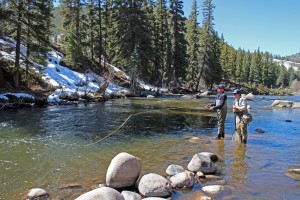 Right now at Wilder, river conditions are low and clear. This ought to be the case until May 1. Even though it is springtime, fish are very spooky in the water conditions that we now have. Anglers should approach the water with stealth and fish as quietly as possible. Fish are starting to spread out through the river but some holes still have large numbers of fish podded up. Water temperatures are in the Upper 30's. Fishing is best in the early to mid-afternoon when the water warms up a little. The fish can be quite active during this brief time period. In terms of hatches, we are seeing some Micro Stonefly, Midges and a few Blue Winged Olives. In the right places you can find nice fish sipping these small bugs and can have good success with a #20 Para Adams, Midge or BWO.
Generally however it is time to fish sub-surface with a nymph or double nymph rig. A good choice is to fish a large dry with a two dropper set up. I prefer a large Dry such as a #6 Madame X to a Bobber as occasionally a big fish will surprise you and eat the dry.
For the upper nymph I like a (#6–8) weighted Golden Stonefly imitation and for the bottom, a small(#20) Baetis or Midge nymph(pupa). The Stonefly will help bring your smaller fly down deep in the water column and although some fish will eat it, the majority of fish are concentrated on smaller bugs and will eat the smaller Mayfly or Midge pattern. I also suggest trying San Juan Worms, large Prince Nymphs, Hare's Ear's, Pheasant Tails and Rubber legs. Egg patterns drifted deep can also be deadly this time of year as many Rainbows have recently finished spawning and their eggs are a popular menu item for all of the fish in the river.
One of the keys to fishing a Dry/dropper rig this time of year is to make sure that your nymphs have enough weight to get to the bottom of the water that you are fishing. In the early season most fish are not super aggressive so fish slower than you do during the summer. Frequently after multiple unproductive drifts, a large fish will come out of nowhere and grab. Getting "perfect" drifts with your flies at the right height in the water column is your goal. Strikes in this cold water are most often very subtle, so pay attention to the slightest hesitation of your indicator fly and react quickly.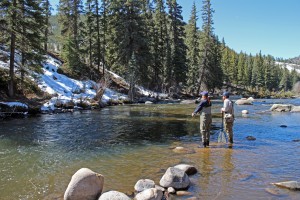 Streamer fishing is another alternative for early season fishing.. Mending a heavier streamer down into the deeper holes can be very effective and can entice some larger trout to strike. I like Sculpzillas (black and white), Muddy Buddy's and Cone head Olive and Black Wooly Buggers. Fishing these Streamers by the banks is also a good technique. Look for undercuts, brush piles and any kind of structure and work your fly slowly along the edges.
Keep your eyes open for larger Rainbows in the shallow water at the heads and tails of the runs. Many of these fish just finished spawning and are actively feeding in the shallows. If you find such a fish, I like to change up to a smaller Dry/Dropper rig such as a #16 Para Adams and a #16-20 Bead head nymph heavy enough to get the fly in the fishes face. Try a couple of drifts and if he doesn't eat, change the dropper until you find the right one rather than continuing to stir up the water with a fly he may not eat and risk spooking him. It can be worth the time spent.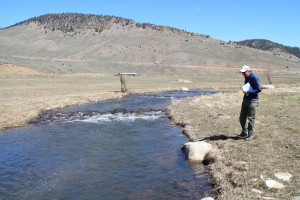 The Dream Stream is looking fantastic right now. Due to a mild winter the Stream was basically free of ice dams throughout the winter so the natural fish population is the highest that we have ever seen. Many of these larger fish have been in the Stream for three to four years and are big and full of fight. In the afternoons fish can be found rising to small Mayflies and Midges. Before you make that first cast, take a minute and have a good look at the water to see if you see any risers. If so, tie a #20 Para Adams or BWO on a long leader with 5x tippet. If not, then it is best to try a Dry/Dropper with a #16 Bead head Pheasant Tail or San Juan Worm underneath a sized #10-14 Dry. Approach
each hole with caution as you may find fish in the very tail outs of the pools that will spook very quickly and go hide in the faster water above.
The Ponds also wintered very well. Fish are healthy and very active at this time. Most of the day you will see huge Rainbows sipping small Midges on the surface of the ponds. Best bet is to sight a fish and present a small dry on 5x tippet about ten feet away from the fish. Maybe give the fly a little twitch to attract the fishes attention and then let it sit. I like to show the fly to at least two or three different fish before changing it. If the fish eats your fly, be patient and wait until he closes his mouth completely before setting the hook. It is very easy to set to early and lose your crack at a monster Rainbow. If you can't entice a fish with a Dry then tie on a small dropper and sight fish with this setup.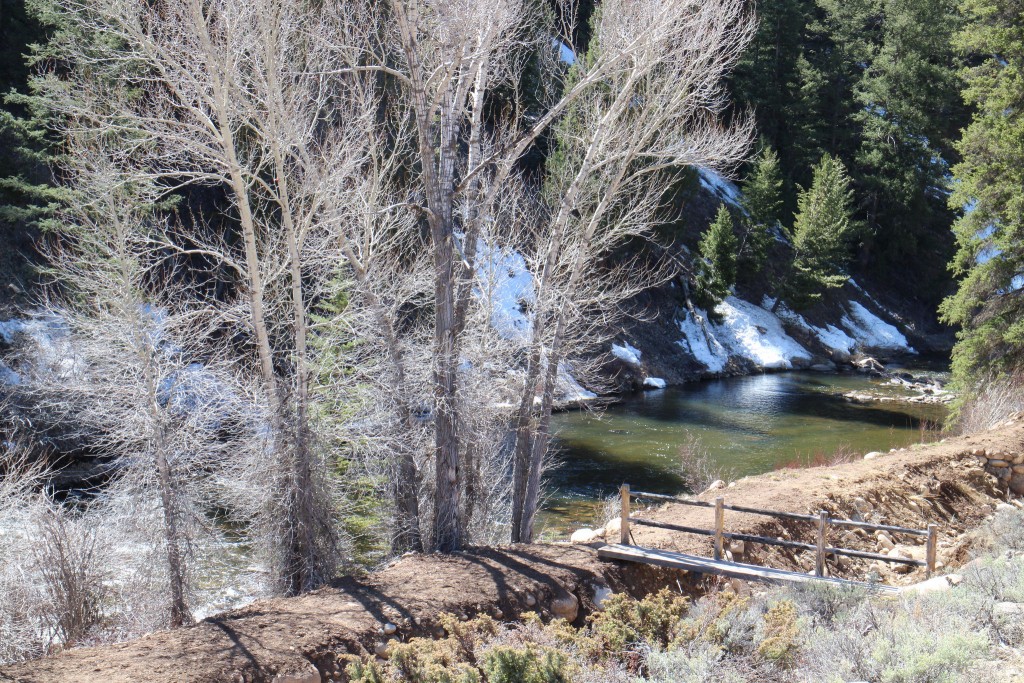 Now is a good time to enjoy wonderful early season fishing at Wilder. The Taylor River is easy to wade, fish are concentrated in deeper holes and the post spawn Rainbows are very aggressive as they try to put on the weight they lost during spawning. Look for the fishing to continue to improve as our legendary hatches are just around the corner.
Hope to see you on the water soon.
Cheers,
Lu
Learn more about fly-fishing Patagonia Chile with Lu here.
Wilder on the Taylor River offers a unique opportunity to own private fly-fishing property along with a beautiful riverfront home. Click the links to learn more.