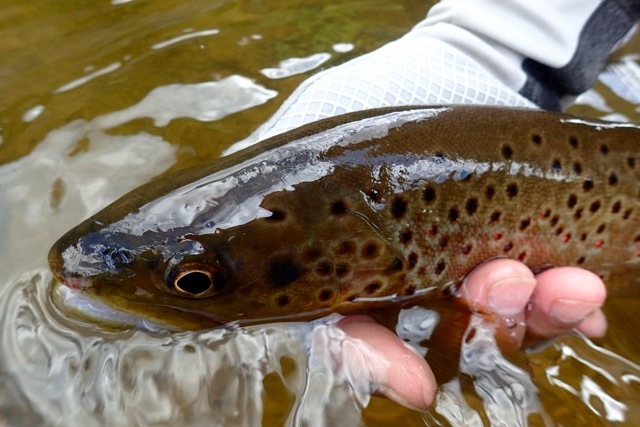 Taylor River Fly Fishing Report- Fall 2016
Wilder's Master Guide Lu Warner gives his end of season Taylor River Fly Fishing Report. Detailed as always, follow this advice to land a trophy before the snow flies for good!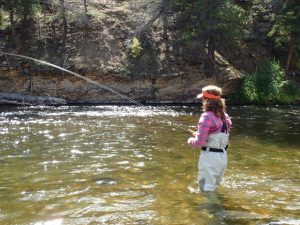 Well, hard to believe we are nearing the end of our fishing season here at Wilder and it is already time for my final Taylor River Fly Fishing Report of 2016. The summer has gone by quickly and we have had many owners and their guests enjoy the wonderful fisheries that we have here.
Currently, the Taylor River has dropped to its winter levels and flows at the dam are down to 100 CFS and 150 CFS. These levels should be maintained until Spring. Water temps are in the high 30's to low 40's and should remain there for another couple of weeks before the winter season that brings so many to the Crested Butte area sets in and ice begins to form on the sides of the river.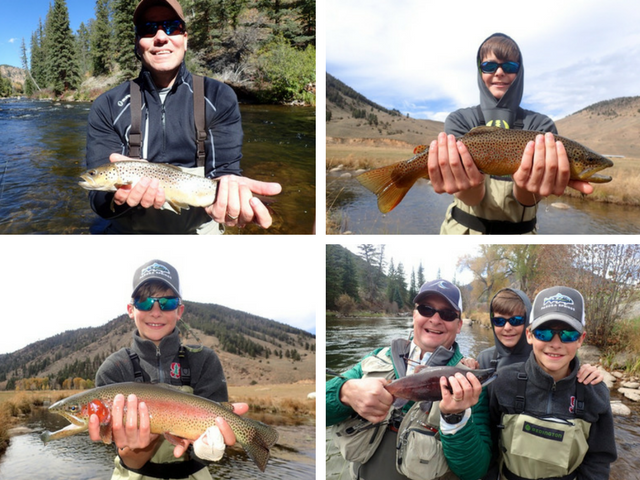 This is a perfect time of year to sight larger fish and present a fly to them. The river is low and the water is absolutely transparent. Fish can be seen everywhere, generally holding on the bottom and they will not move far to eat your fly. In these conditions the fish are extra spooky so long leaders and soft presentations are key. In the afternoons you can expect strong BWO hatches on cloudy days and Midge activity regardless of weather. These BWO's are getting very small right now and imitations need to be in the size 20-22 range to bring up the fish.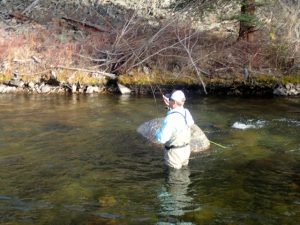 Many of the Browns are beginning to spawn so please be careful wading and avoid the redds as they can be damaged by walking through them. Redds can be identified as patches of clean gravel in fairly swift and shallow water, normally in the tail outs of the bigger pools. If you see fish spawning please do not fish for them. Leave them alone and let them do their thing so we will have plenty more fish in the future. One of the beauties of the river here is that it is a healthy wild fishery and we want to do our best to keep it that way. That being said, none of the Rainbows or Cutthroats (and not all of the Browns) are spawning, so there are plenty of fish to cast to.
Typically in this low, clear water, the fish will spook as soon as you step into a run. Before you make your first cast, it's a good idea to start with a few soft casts from the bank before announcing your presence in the river. When the fish spook, they will move to the deepest water and congregate there in numbers. These fish won't come up for a dry fly but can be caught using a dry/dropper rig with the dropper fished near the bottom. Small bead head Pheasant tails, Hare's Ears, Egg patterns and Midges will work well when fished with light tippets of 5x and 6x. Fish these deep spots thoroughly and slowly as the trout are not that active right now and sometimes you have to hit one on the head to get him to eat. Make your dry fly as small as you can to still float with a dropper below. Large indicators can work in some areas but generally they will scare more fish than they fool.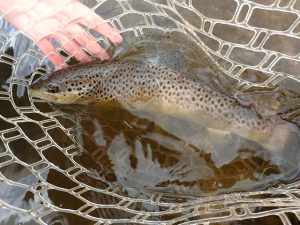 Expect the mornings to start slow and the fish to get more active after noon and before 5 p.m. Keep your eyes open for spawning Salmon which congregate in the deeper pools. There are several around the camp area in the deeper pools. If you find a pod of Salmon, look behind them as many times large trout will lie below and eat their eggs. Egg patterns ranging from orange to chartreuse can be very effective in catching these fish.
After noon keep your eyes open for hatching BWO's. On certain days we can have some of the best dry fly fishing of the year. Remember that these Mayflies favor cloudy conditions and have an aversion to bright sun, so those blustery, cloudy, even snowy afternoons will have the strongest hatches. Otherwise stick with a dry/dropper and change the dropper if you are not catching fish. Think small!
This is also a great time of year to throw large streamer patterns particularly on cloudy days when the big Browns may be active. I recommend Dalai Lamas in olive and white or Sculpzillas in almost any color. Swing your flies through the runs and vary your retrieves from super fast to slow to find a pattern that may catch you some big fish. During the next few weeks, look for the trout to start grouping up in the deep holes as they dig in for winter.
Taylor River Fly Fishing Report- The Dream Stream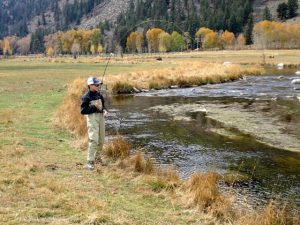 The Dream Stream right now is low and crystal clear as well, so use caution when you approach. These fish are not stupid and spook very easily! Be patient and you will see a number of large Rainbows and Browns suspended in the foam lines and eating on or just under the surface. They are quite active. Once you locate a fish, take your time and concentrate on one or two good casts to him and you may hook into a monster. Fish can be seen rising to Midges and BWO's throughout the day and there are still plenty of Hoppers flying around on warm afternoons. Ideally one would be fishing with 6X tippets here now, but the odds are slim of landing that 6 lb. plus fish with such small tippet. Better to use a longer leader of up to 12' tapered down to 5X for your smaller flies and 4X for a small Hopper. Even then it can be a challenge to land a hot fish. If you show a rising fish your dry a couple of times and he doesn't eat it, rest him for a bit and try another fly. We have had very good luck with #20 BWO patterns over the last week but some BWO patterns seem more effective than others so experiment until you find the right one.
Taylor River Fly Fishing Report- The Ponds at Wilder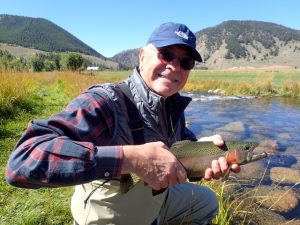 All of our ponds are full of feisty Rainbows and Browns and after a summer of fine dining some of these fish exceed 8 lbs. Despite their size, you can find these lunkers sipping small Midges and Mayflies throughout the day. I always like to show them a small dry first and see how they react. Keep your tippets to 4X or larger and try to put your fly in front of several different fish before changing. If a small dry proves unsuccessful, try a larger Hopper type dry and see what happens. I have seen some of these large fish ignore a Hopper for several casts and then all of a sudden decide to eat it. So be patient! Otherwise I would suggest fishing a small bead head nymph or #6-8 Wooly Bugger attached directly to your leader. Slow crawl your fly and make sure to let it drop down between strips as this is generally when they'll eat it. Strip, pause, strip, pause etc. Watch the end of your fly line between strips as many times when the fish take on a slack line the only way you will know is if your fly line starts moving one way or another. These fish are not easy to hook but persistence will pay off and if you stick to it you may land a trophy fish before the snow flies for good.
As mentioned this is my final Taylor River Fly Fishing Report of the season. In another couple of weeks, I'm off to open up our Valle Bonito Lodge in Southern Chile and join Antonia and Vicente for our Patagonia fishing season which runs from December through April. If any of you want to escape winter and get some fly fishing in while things are frozen up here, drop us an email at Luwarner@mac.com. Otherwise I wish you all a great winter and look forward to seeing you in the spring. Thanks for another wonderful season at Wilder on the Taylor!
Cheers,
Lu Warner
Master Fly Fishing Guide, Wilder on the Taylor
Wilder on the Taylor River offers a unique opportunity to own private fly-fishing property along with a beautiful riverfront home. Click the links to learn more.