Hello Fishermen and Women,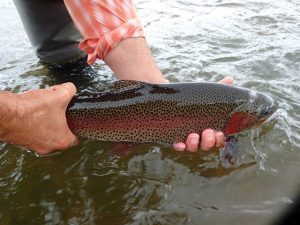 Springtime has finally come to Colorado and with it what appears to be a higher than normal run off season. I have been waiting to post this report as the water authorities have been changing their plan on releasing water from the Taylor River Dam and I wanted a clue as to what the flows might be during the summer. Two days ago I received an updated plan that showed an increase in flows greater than that projected previously in late May. Just when I started to write my report, I received another email yesterday increasing the flows even more. The warm weather combined with a deep snowpack is confusing the experts and even at this point there is no guarantee that the predicted flows won't change.
The good news is that as of June 7 it appears that the snowmelt peak has been reached in Gunnison County. While this is good news indeed, the Taylor River may take a while to fall due to the huge inflows into Taylor reservoir. In fact for the next week or two we may actually see flows rising. Currently the Taylor River is running about 1500 CFS. The dam is releasing 500 CFS but forecasted to reach 650 and even higher during the next few days. This means high flows for fishermen and will likely signify tough fishing conditions through early to mid July. While impossible to predict exactly, I expect the flows to remain between 700 -1000 CFS throughout July.
With heavy flows out of the dam, the river right now is off color with about 3 feet of visibility. Difficult, but not impossible conditions as the fish can see further than we can in the water. Wading is challenging as the current is strong and it is difficult to see where the rocks are. Waders should take particular caution in these flows and only enter the river in slow, shallow areas. Always have a look below you when you do wade and analyze the consequences should you fall. Also when you are in the river watch the water above you for floating logs and debris that may be heading your way. Fortunately one shouldn't have to wade to catch a few fish. The high flows generally push the fish towards the banks and casting to soft spots in the current can be very productive from the banks.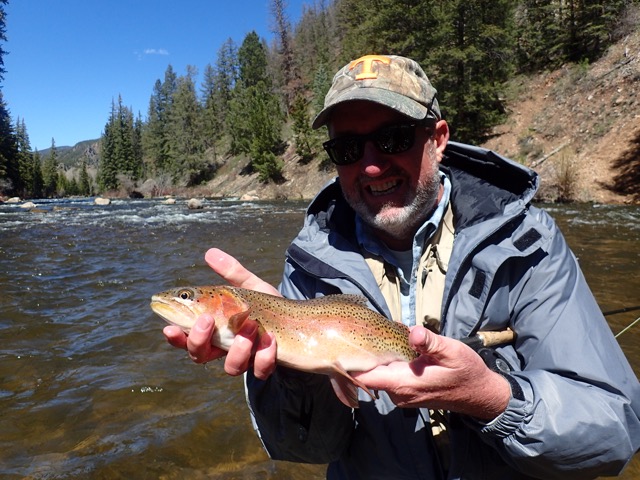 With these flows and turbidity a double nymph rig is almost essential to have any success. I like a huge dry on the top with about 6 feet of 4x to a #4 Pat's Rubber legs and another 18 inches of 5X to a #18-20 nymph. While this is a mess to cast and easy to tangle up, when cast in the right places it will catch fish. As a fisherman walking the banks of the Taylor River right now, the trick is to look for soft spots and seams where the water slows down a little and to concentrate on these areas. Water temps are still barely 40 degrees and the fish aren't very aggressive, so fish the water slowly making repeated casts in the same area. Often times you will find nothing on your first dozen drifts and then hook 5 or 6 fish in a row. With a long dropper set up it is easy to think you are getting a good drift but it is much more difficult to achieve. Try to visualize what may be going on beneath the surface and work hard with mends and good casts to slow the fly down and get it in the fishes face.
Unfortunately our world class dry fly fishing may be a ways out still. While we are having daily hatches of Midges, Caddis and BWO's very few if any fish are eating on the surface. Generally this changes in late June but until we see a rather large drop in flows, nymphs and/or streamers are the way to go. I like to use a 150 grain sink tip line for throwing streamers in this high water
and my preferred streamer color is black as it shows up best in dirty water. Streamer fishing can be good right now especially on cloudy days when the larger Browns seem to be moving. Over the next couple of weeks look for Stoneflies, Caddis and BWO hatches in the afternoons. Even if fish are not rising you can bet that they will be eating the nymphs of these species sub
surface. Before a Mayfly or Stonefly hatches, the nymphs get super active in the water and this triggers the fish to feed. Don't underestimate the power of a size 20 nymph even in high water. The trick is to get it down to where the fish are. Most of the insects that live in the water are around this size. We tend to notice the big stuff flying around but there is far more little stuff
going on and day in and out, fish are living on tiny midges and mayfly nymphs.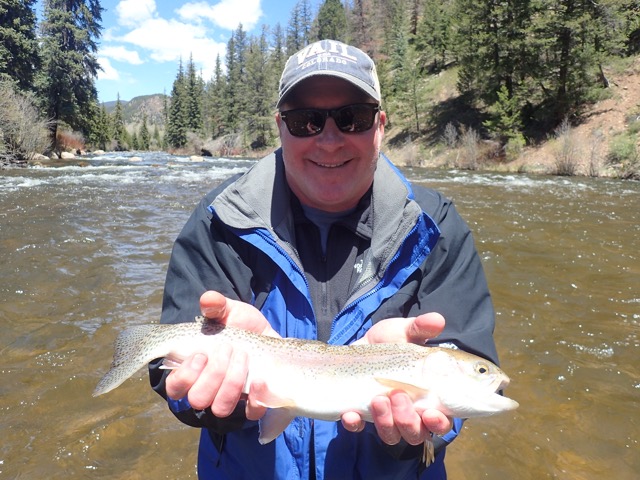 Last week we had very good fishing with the river at 850 CFS. While we caught a few on the big Pat's Rubber legs we caught many more on a size 20 BWO Emerger trailed behind the Rubber legs. Other patterns than can be effective right now are a San Juan Worm (weighted), any large Stonefly imitation, Caddis pupae and various midge patterns. Don't be afraid to experiment but remember that the most important thing right now is to get your fly to where the fish are (deep) and to get a good drift. To me the drift is more important than the fly as fish are seeing and eating a variety of sub surface insects.
While the high water seems to be an inconvenience to us fishermen, in the long run it is a benefit to the river and the fishery. High water flushes out silt, redistributes the aquatic life and assures the fish of a comfortable environment for the remainder of the season. Right now we all just need to be patient and let nature take it's course. Soon enough we'll be tying on a #20 Para Adams and catching plenty of fish on the surface of the Taylor River.

The Dream Stream is a different story. While flows are slightly high and the clarity is a little off, the Dream Stream is fishing great. Just a couple of days ago when all rivers in Gunnison County were blown out by run off, we had a stellar session of dry fly fishing on The Stream. Fish were rising freely to BWO's, but surprisingly we caught lots on Hopper patterns. The fish must sense the Hoppers coming as they seemed to eat our flies with reckless abandon. As is normally the case, once you catch or hook a fish on a Dry, the others in the pool will get a bit nervous and head for either the bottom or move into the fast riffles at the head of the pool. Once spooked they will not eat a dry but oftentimes can be caught with a small dropper such as a #16-18 Bead Head Pheasant Tail. Cover the water thoroughly and make sure to fish all of the feed lines and currents before moving on. Make sure to use the heaviest tippet possible for the fly you are using. Last week we caught several fish between 5 and 7 lbs and they put up quite the fight. 3x and 4x are the tippets of choice and while 5x may make for a better presentation, landing the fish is a different story. One rub against a sharp rock will break 5x and you may lose the fish of a lifetime. Check your tippets and leaders carefully and repair any wind knots or abrasions before casting. Last winter I had a very good friend/client fishing with me in Chile. He released a small fish and noticed a wind knot in his tippet. He said to me, "I have a wind knot but just don't feel like fixing it right now." As I was on the oars in the wind, I couldn't help him but I did say, "Well, you know what's going to happen if you cast that again. Some giant fish is going to eat it and break you off." He looked at me and said, "you're right" but he cast anyway. Sure enough along came Mr. Monster Brown trout and chomped his fly. This was the fish we had been looking for all week. He lifted the rod to set the hook and SNAP. Game over. While this happens to all fly fishermen, try not to let it happen to you. Take your time, check your terminal tackle and you might just find a monster Brown in your net.
Flows in the Dream Stream should be dropping and clearing slowly over the next couple of weeks. While the river is high and dirty remember that on the Dream Stream stealth is of the upmost importance and get into stealth mode when you approach each pool. Start by casting way back from the shore and slowly work your way to the Stream's edge. By putting your feet to
the ground softly you can eliminate some of the tell tale vibrations that will cause the fish to spook. If you do land one of the monsters in the Stream please take your time to revive him well and do not remove him from the water unless it is for a quick photo.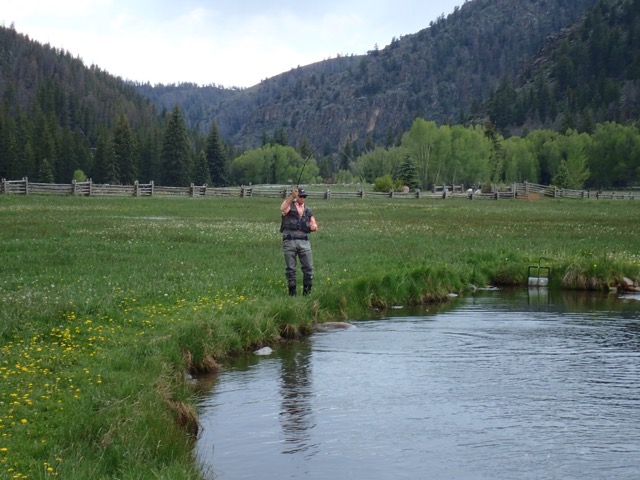 All of the Wilder ponds are full of fish and a variety of methods and flies can be used to catch them. At this time of year they are mostly concentrated on Damselfly dries and nymphs and you will see them cruising the shorelines rooting out nymphs along the way. When you arrive at a pond, take a few minutes to observe and see what is going on in the water before you cast. Maybe some fish are sipping Midges on the surface, maybe some others are nymphing and you might see a few leaping high in the air to catch an airborne Damselfly. This information will help you make the right choice when it coms to flies and presentations. My preferred method for fishing the ponds is to sight fish. Try to get in a position relative to the sun where you can see into the water. Once you locate a fish try your first cast well in front of him and gradually work it closer. You never know how spooky they are until you make a few casts. Better to start away from the fish than to cast too close and lose an opportunity to catch one.
After landing one of these fish the immediate reaction may be to get your fly right back in the water, however generally your chances of success will increase if you wait a few minutes and let things settle down before casting again. As in the Dream Stream, please take time to revive your fish and watch him swim away. Oftentimes the fish will be a bit spun out from being caught and may go belly up when released. Sometimes a gentle poke of the rod tip will wake the fish up but if this doesn't work try to recapture the fish in the net, put him facing upstream in fast, clean water and wait until he gives a good kick before letting him go.
Despite the high water in early season, I look forward to some epic fly fishing at Wilder this summer. It won't be long before we have multiple Stonefly and Caddis hatches, Green Drakes, PMD's and BWO's. If any of you are planning a trip to Wilder, please feel free to contact me for up to date information on the Taylor River.
Wilder on the Taylor River offers a unique opportunity to own private fly-fishing property along with a beautiful riverfront home. Click the links to learn more.