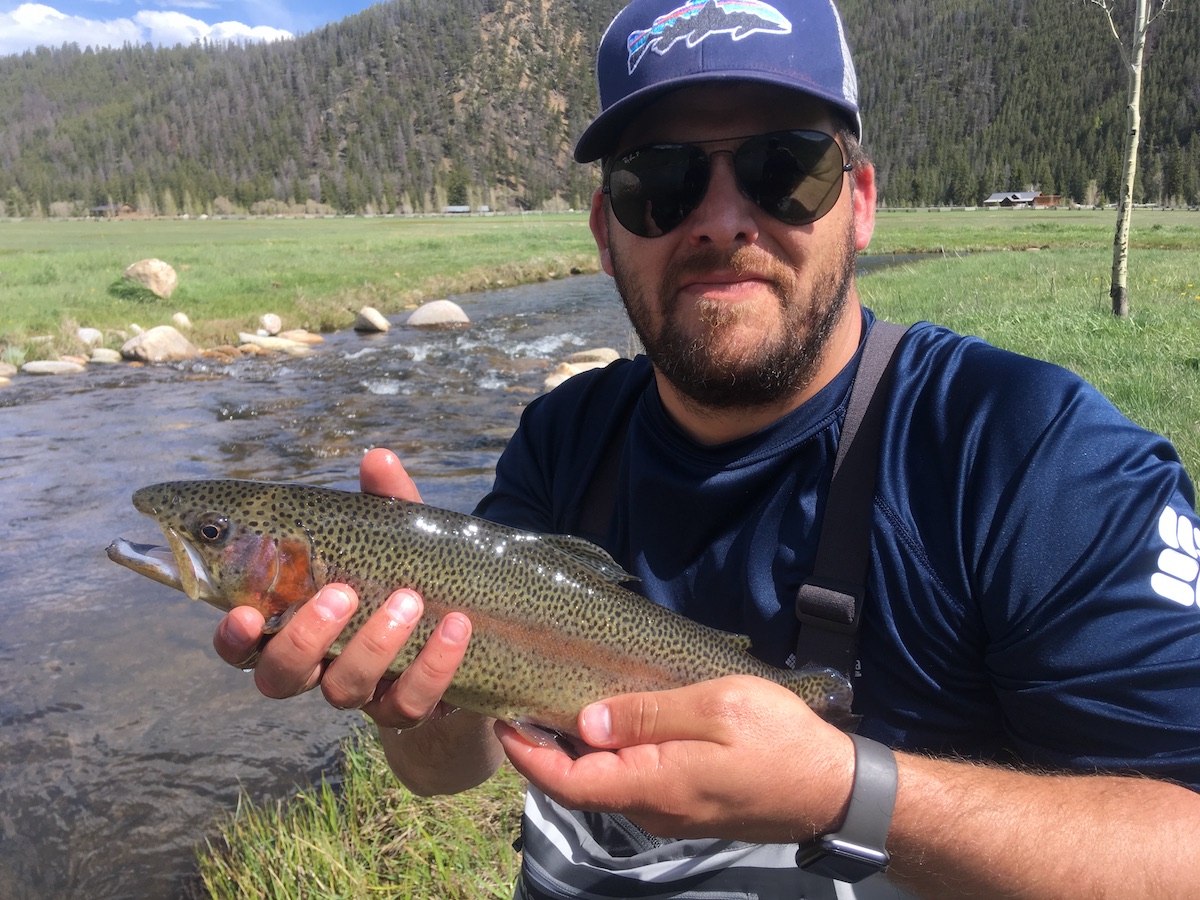 What a difference a year can make. Last year at this time we were facing certain drought after a weak winter snowpack. This year our snowpack actually increased for the month of May to near historical levels with almost non-stop snow in the high country, and now flooding is a major concern throughout much of Colorado. The cold weather and snow prevented the run off from peaking in late May to early June as is normal, but now things are heating up and the rivers are beginning to rage. This weekend, the Bureau of Reclamation released their monthly Taylor Dam operating plan. While subject to change at any moment, current forecasts call for them to cut back the release from 660 to 550 on June 15 and hold it at that level until July 15 when it will drop an additional 75 cfs to 475 cfs til August 1.
Judging from current river levels I am thinking that the Taylor at Wilder has reached or is soon to reach peak flows for the year. Despite the abundance of snow in the high country still to melt, most of the low run off is already gone and much of the water still to come down will be held back to fill the Taylor reservoir. Over the next couple of weeks, the flows should stabilize a bit but we can expect higher water than usual for most of the summer. I would predict that flows in July will range from 675-850 CFS.
Current levels on the Taylor river are 660 CFS at the dam and 1560 CFS at Wilder. The river is off color but fishable with visibility being about 4 feet. Water temps are in the low 40's and warming.
With the high flows that we are experiencing, I do not recommend wading in the river at this time. There is plenty of fishing from the banks and it is not worth the risk of taking a ride down to Blue Mesa Reservoir. Please be careful out there and consider the consequences of a fall or slip in the river before stepping in.
While the water is high and a little dirty, the fish are active and eating like crazy subsurface. A variety of nymphs can be used effectively. Little to no dry fly action is expected for another couple of weeks when the flows stabilize a bit. On cloudy afternoons, in certain slower areas there can be some good dry fly fishing to hatching BWO's and a few fish can be seen rising. At this time, the river is full of Stonefly and Mayfly nymphs, Caddis larvae, midges and earthworms washing in from the banks. Fish are not selective and will eat a variety of flies.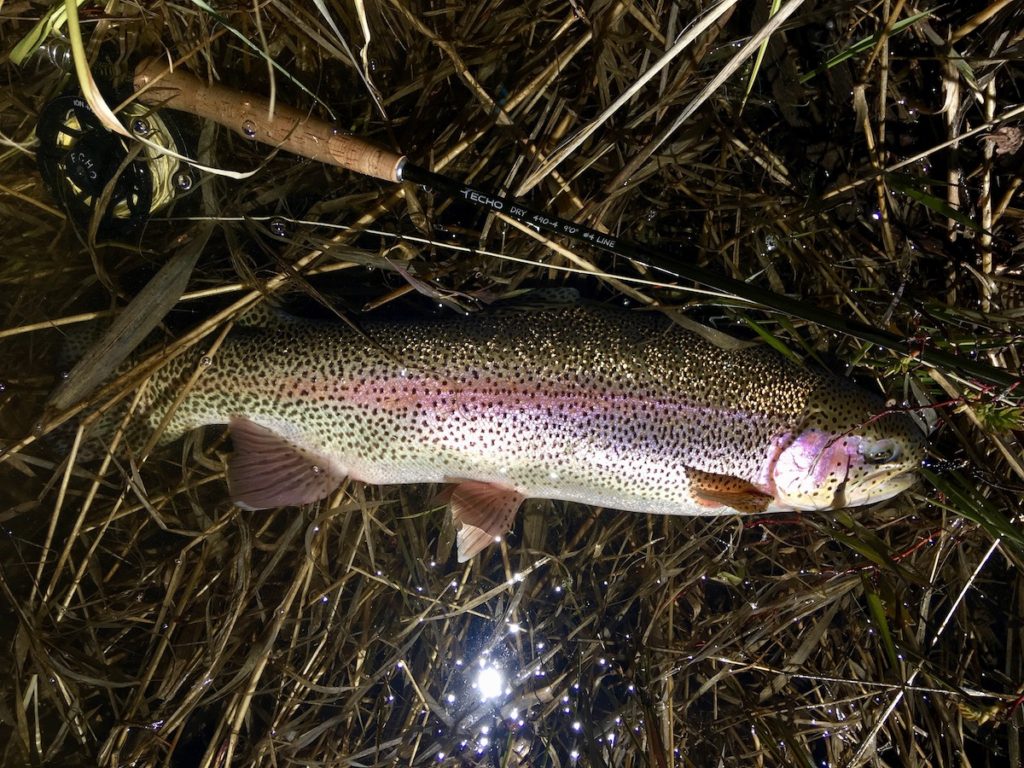 The key during these high flows is to find the soft edges and seams and concentrate fishing in these spots. As you walk the banks, look carefully at the river to find the soft edges. Most of these will be near the banks and do not require a long cast. We have been finding many fish very close in and with the off color water and high flows it is possible to catch a fish right at your feet, so don't give up on your drifts too early. A drag free drift is mandatory to get your flies into the target zone. Typically fish will be holding deep in these conditions and any tension on your line during the drift will cause the flies to rise up out of the target zone and away from the fish. Mind your casting angles, mends and line control to maintain proper depth for your flies.
While Streamers can be effective right now, we have had better luck with a nymph rig with 2 flies at the end. A #4 Pats Rubber legs(weighted) is great for your top fly and below it we have had success with San Juan Worms, BWO nymphs, Pheasant tails etc. I like to tie the 2 flies about 14 inches apart and vary the height of my indicator or top dry fly from hole to hole. I have been using 3X from indicator to the first dropper and then 4X to the second dropper. Fish are not leader shy right now but the lighter the tippet that you can use, the better sink rate you will get on your flies. Thick tippets get caught up in the surface tension and do to allow your flies to sink as fast as smaller tippet diameters.
It is super important to reach the right depth on each hole that you fish. Oftentimes this can require adjustments as you move along the river. There are lots of hidden snags out there and maintaining the proper depth of your flies can save you from numerous break offs and snags. Conversely, if your flies aren't running deep enough you won't find the snags but you won't find the fish either.
While I am not a huge fan of indicators, this is the time to use one if you are going to. I prefer the "New Zealand Indicator" as it is basically just a piece of wool that you can slide up or down your line to set your depth. It casts much better than a bobber, has less impact on the water and does not coil your line up badly when you slide it up or down your leader. As with any indicator, a natural color like white is generally much more effective than fluorescent green or orange.
Another thing to consider is the amount of weight you are using. Make sure that you have enough so that your fly runs deep in the water column. If your fly is floating just under the surface it will not be effective until water levels drop. Add split shot or heavier flies if necessary to get your flies into the strike zone of the fish. Typically you will want the distance from Indicator to flies to be about double the depth that you want your rig to run. This can be anywhere from 3-8 feet. Keep in mind that the longer the distance is, the harder it will be cast and to detect a strike because of slack in the leader. Long droppers require careful line management to fish well. Fished well they are deadly, fished poorly they are not.
Because of the high water, many of our long pools are blown out and are not fishing well. A large part of the fishing strategy during the run off is in finding water where you can get your fly to the fish. As you walk the river, look hard to identify likely spots and make numerous drifts in these areas. Remember that what your flies are doing under the surface may not be obvious from what your indicator is showing. Concentrate to see what the currents are doing and where you want your cast to land to get an effective drift. Also if you identify a fishy area, remember that after your flies hit the water, it will take a certain distance of drift before they sink. With this in mind, you will need to cast well above the target zones so your flies are running deep in the right spots.
Over the next couple of weeks, look for stabilizing flows, clearing water and Caddis and Yellow Sallies starting to hatch. Typically by the end of June we should see strong daytime and evening hatches and fish rising.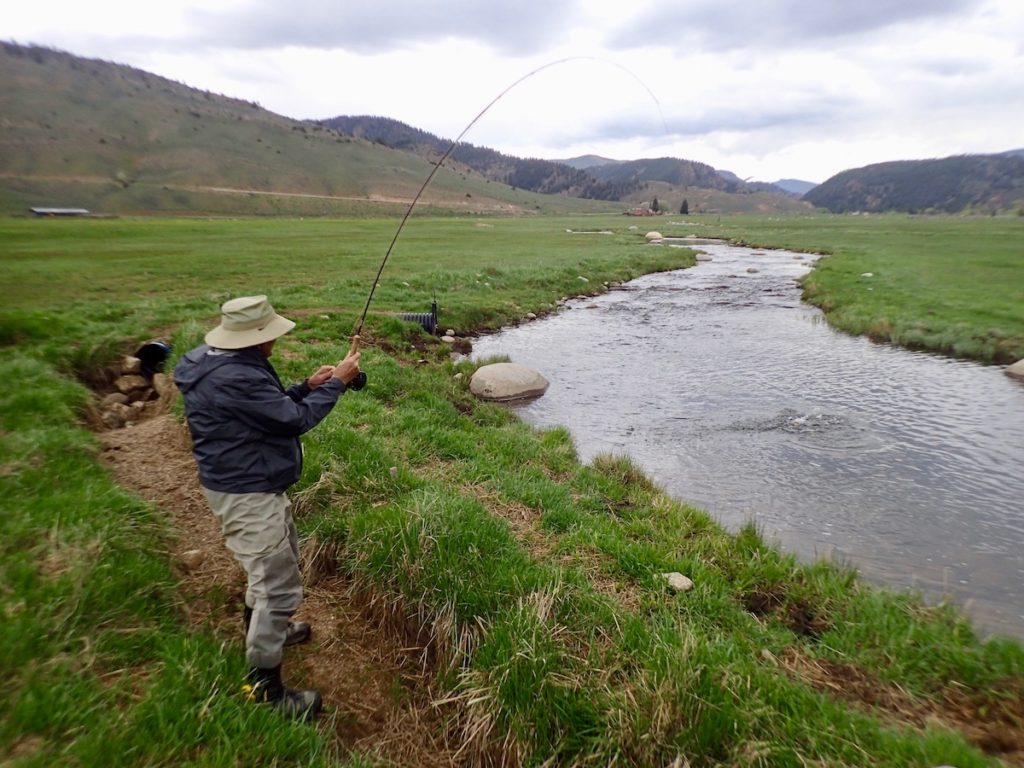 The Dream Stream has been fishing really well. With higher than normal flows and cold water, the fish are active and even eating dries in the afternoons. Last week we had fish eat Hoppers, Super Chernobyls and BWO's on top and a variety of droppers under the surface. Visibility is slightly off color which is great as the fish aren't as spooky as normal and the stirred up water has them actively feeding throughout most of the day. Remember that the hay meadow is being flood irrigated and to be sure to put on waders even if you are just fishing the banks.
If you have other fishermen below you, please do not wade in the Stream as you will kick up mud and sediment off the bottom that will dirty the water below you. If you need to cross, look for rocky spots in the tail outs and do it there where you will have less impact.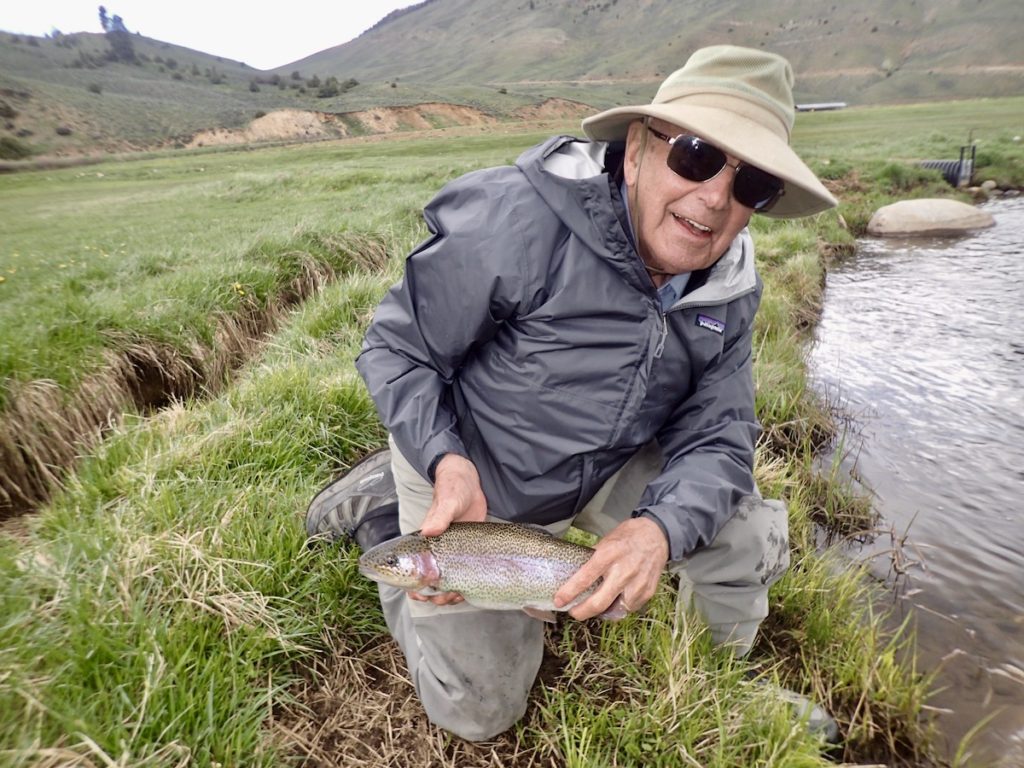 I like to approach each hole with stealth and spend a couple of minutes observing the water, looking for rising fish or bugs hatching. This can be time well spent. Even if you see nothing happening, that is information that can be used. Typically if no fish are rising, I like to start with a light Dry/ Dropper set up and take it from there. A size 12 Para Adams on 4x with a 2' dropper of 4 or 5x tied to a #16 Bead head Pheasant tail is always a good place to start. Beware of using too long a dropper as the stream has many shallow spots that hold fish and too long a dropper will hang up on the bottom. As you work your way up through the pools, oftentimes the fish will spook and run up to hide beneath the fast water at the heads of the runs. Once you find yourself up there, it may be time to try a bigger dry and heavier dropper to get to the bottom of the faster currents. A #6 Super Chernobyl or Hopper pattern with a 3' dropper of 4x to a Bead head San Juan worm or larger nymph should do the trick.
Look for Caddis, Green Drake and BWO hatches to begin in the next couple of weeks on the Stream and remember that most hatches here start mid morning and run through late afternoon.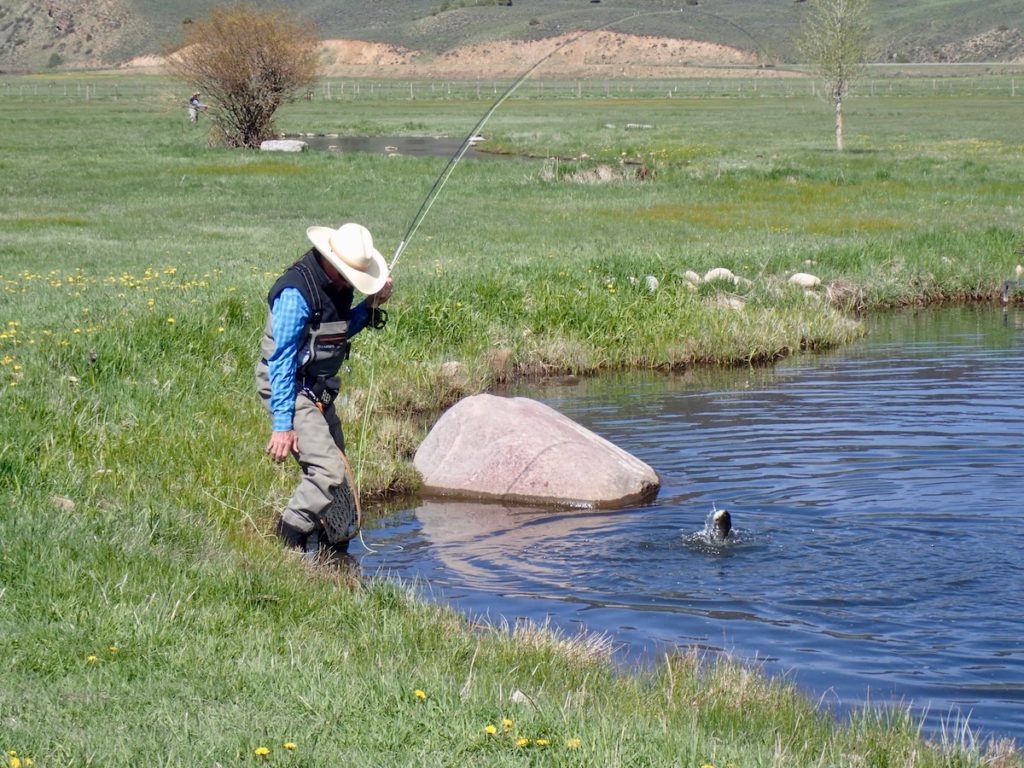 All 6 Wilder ponds are full of fish and are fishing well. In the mornings, you will see fish rising softly for midges and as the day progresses we are starting to see significant Damselfly hatches. Damsels can drive the fish crazy and you will see them jumping up to catch the adult Damsels in the air as well as rooting around the grasses on the banks to eat the nymphs. The male Damsels have a very thin, very bright blue body and we have some great imitations in stock. I like to cast these out and make some light twitches on the surface to get the attention of the trout. This time of year, a Damsel is a good fly to start with and then you can take it from there. If you see fish cruising and they won't eat your dry, tie on a dropper and lead the fish 4-8 feet and see what happens. I prefer tippets of 3 and 4X for this time of year and the size of some of the brutes swimming around.
If the fish are not eating your dry or dry/dropper, a Streamer can be deadly in the ponds. A black or olive Sculpzilla, retrieved very slowly will do the trick. I like to cast, wait a few seconds for the fly to sink, make a couple of short, jerky strips, let it sink a few more seconds and repeat until it's time to re cast. Make sure to watch the end of your fly line carefully as you retrieve as these fish often eat on the drop, and the only indication that you may have will be a slight movement of your fly line. If you see this, set the hook and hang on.
When you are fishing, please remember to de-barb all of your hooks and leave the fish in the water. If you want a pic, you can lift the fish quickly and then return it immediately to the water. I like the 10 second rule as any more time than that out of the water is not good for the fish. Make sure to thoroughly wet your hands before touching the fish and don't burp them(squeeze them to tight). When returning the fish to the water, hold gently in a fast current for a minute or so until the fish recovers his energy and gives you a strong kick and swims off. I always like to watch the fish for a while afterwards to make sure it is ok. Many fish will get disoriented and go belly up when returned to the water. If this happens, please re-net then fish and revive it some more before letting it go.
Should you encounter amazing fishing(which is highly possible), please don't catch to many. Know when to say when.
Even though the high water can present tough fishing conditions, water is a good thing and after the severe drought conditions last Fall it is great to see the river flowing strongly this Spring. While many anglers are waiting for dry fly season to begin, some of the biggest fish of the year can be caught right now on a nymph rig before they go sulk for the summer in the deep holes. Last week I saw one of the 5 biggest river Rainbows hooked that I have seen in 9 years at Wilder. He took a nymph down deep and unfortunately jumped and threw the hook. I estimate this fish to have been between 30 and 35 inches and 10-15 lbs. You will most likely not hook a fish like this on a dry fly.
As usual I am available for any questions, comments, ideas or concerns that you may have. I'll look forward to seeing you on the water this summer and please remember to be careful out there during this time of high water.