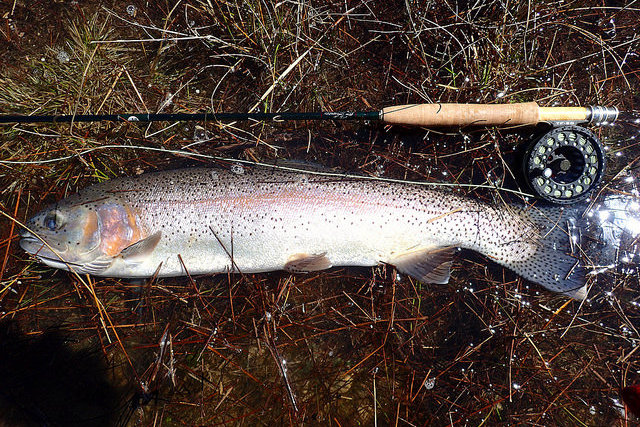 Taylor River Fly-Fishing Report – May 2017
Hello everyone. I hope that you all are well and looking forward to another exciting fishing season at Wilder on the Taylor. I sure am!!
Enjoy my first Taylor River fly-fishing report of the season …
Two weeks ago week I returned from closing our Valle Bonito in Southern Chile for the season and here at Wilder, the grass is green, water is running everywhere and the trout season is just getting underway. Despite the big snows of December and January, at this point it looks like we have a slightly above average snowpack which is predicted to result in moderate to high flows throughout the summer. Expect levels below the dam to range between 275 CFS and 520 CFS through September and peak run off to occur as usual in early to mid June depending on what the weather brings in the next few weeks.
While most of the local waters are un fishable and dirty during this period of high water, the Taylor river, Dream Stream and Ponds at Wilder remain fishable and very productive throughout the run off season.
Current flows on the Taylor are about 840 CFS and climbing rapidly. Lowest flows each day are about 4 pm and maximum flows are about midnight. Expect flows to rise through May. Water temps are in the high 30's and will slowly begin to warm over the next few weeks.
A word of caution to all of you Taylor river anglers out there: Be careful wading at these river levels. This is a powerful river with lots of large slippery boulders that can make for tricky footing. Move slowly in the water and don't wade if you don't have to. Many fish will be on the edges and near the shore so reaching out to or wading to the middle is not necessary.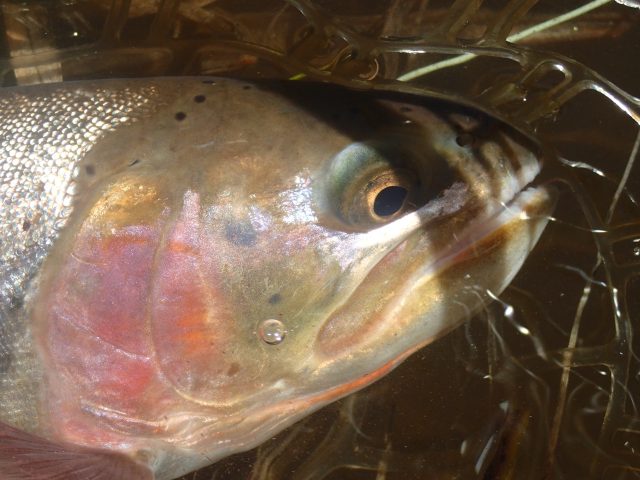 Dry fly fishing is limited right now but with patience and in the right time and place it can produce some nice fish. Hatch wise, there are a few minor events going on. Midges, Caddis and Blue Winged Olives are hatching every day and in certain places, despite the high water, fish can be found feeding on the surface during the peak of the hatch between 1 and 4 pm. These fish are very selective but a size 18 dark winged BWO pattern on 5x tippet is deadly if you can locate rising fish. Look carefully as surface feeders are very hard to see and watch the feed lines as they form for slow rising fish. Over the next few weeks, we'll see lots more bugs and the fish will be looking up for Golden Stones, Yellow Sallies, Green Drakes, PMD's, BWO's and Caddis.
95% of the fish are eating 95% of their food sub surface this time of year. With cold water temps and high flows most fish are laying low, moving slowly, expending little energy and yet eating well on the variety of nymphs in the water. Stoneflies of a few varieties, Caddis larva, Green Drake, PMD, BWO etc are all on the menu.
Now is the time for a typical dry/dropper set up of a large Chubby Chernobyl (or bobber if you must), 6 feet of 4x tippet to a # 6 Pat's Rubber Legs or Stonefly nymph and another 14 inches of 5x with a #20 micro Mayfly or Midge. Adjusting your leader lengths to water speed and depth is important to keep from hanging up but you do want your flies to run deep with the slowest drift possible. Fish are not very active so fish each place carefully with numerous casts. Many times you will catch a fish after 10 or more casts in the same place. Concentrate on perfect drifts as any drag is a deal breaker. Many flies can work this time of year so if you're not having luck don't be afraid to experiment with San Juan Worms, Stonefly nymphs and different small droppers.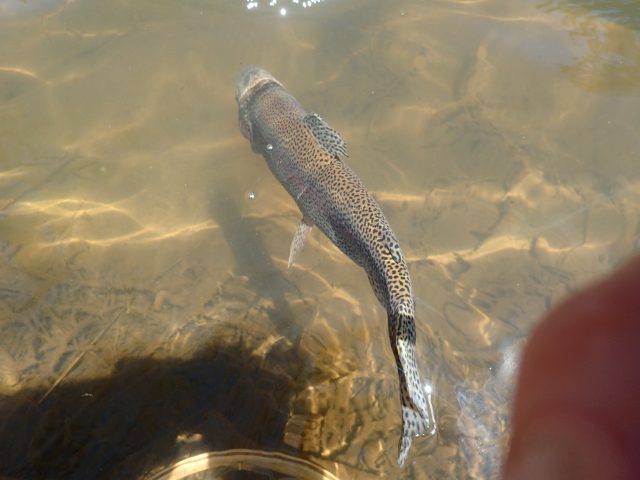 As a fisherman you have many choices on how to approach the Taylor at this time of year. If throwing a big nymph rig isn't your thing, you can still fish successfully with a small dry dropper set up if you work the soft edges and find slow shallow areas that hold fish. A #12 para Adams with 3 – 5 feet of 5x and a #16 – #20 BH Pheasant tail is always productive in calmer water.
Another option is streamer fishing. This time of year I prefer a 150 grain sink tip to help get the fly down to where the fish are but a floating line can also work. Cast across and mend trying to keep your streamer swimming as slow and deep as possible. Black is hard to beat but we have had luck with a variety of streamers including Thin Mints, Dalai Lamas and Sculpzillas in flesh and olive colors.
Over the next few weeks we will see many changes in the fishes feeding habits as bugs start to hatch and the fish leave the bottom of the river and begin surface feeding in earnest. Look for Stoneflies and Mayflies during the days and strong Caddis hatches in the late afternoons and evenings.
The "Dream Stream" is in good shape and several large Rainbows over wintered and make for some tough adversaries. These fish are not only selective, they are powerful and a handful once hooked. As in the river, there are times when you can be successful on dries, especially if you see fish rising. If so, you can bet that they are eating BWO's and a small BWO dry should do the trick.
If not, try a dry/dropper with a small MadameX on top and a #16 BH Pheasant Tail on the bottom attached with 4x. If this is not working, try a San Juan worm dropper and hang on.
When fishing the stream, try to have a good look into each hole as during the winter fish have relocated a bit and some holes are empty while others hold several large fish. Be sneaky as always when fishing the stream. These fish feel your vibrations a long ways off and spook quite easily so despite the time of year, fish the stream like it is August and move quietly while you are fishing.
All of the Wilder ponds are good to go and a few monsters have been spotted cruising the shorelines in shallow water. I always prefer to sight fish in the ponds so I recommend walking slowly and using the sun to your advantage as you search for moving fish. It is a bit early to get these fish to rise for a dry so I suggest fishing a long 4x leader with a small nymph and retrieving it very slowly. When you are bringing in your line watch the fly line/leader junction knot carefully to detect any movement. Oftentimes these fish eat very softly and the only indication of a strike is that your line begins to straighten out or move slowly in one direction or the other. If you even suspect that your line is tensioning up, lift the rod and set slowly and firmly and then get ready to let the fish run. These are big fish and hard, fast sets only lead to broken lines and heartbreak.
If the small nymph is not working you can try either a larger Damselfly nymph and/or a small black or Olive Bead Head bugger style streamer retrieved slowly as well. Keep showing the fish different flies until you find the one that they will eat.
As we begin our 2017 season at Wilder I want to wish you all tight lines and good fishing. Conditions look great for another awesome summer and it won't be long before the fish are rising and our anglers are experiencing some of the best dry fly fishing in the West.
If any of you are planning a trip to the Wilder on the Taylor, please feel free to write or call me for an up to the minute Taylor River fly-fishing report and gear and fly recommendations.
Cheers
L:u Warner
P.S. Keep up with the latest fish catches on our social media.  Like Us on Facebook and Follow Us on Instagram.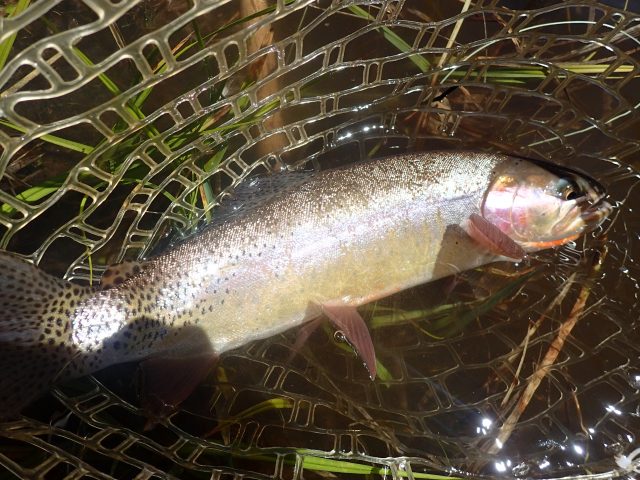 Wilder on the Taylor River offers a unique opportunity to own private fly-fishing property along with a beautiful riverfront home. Click the links to learn more.