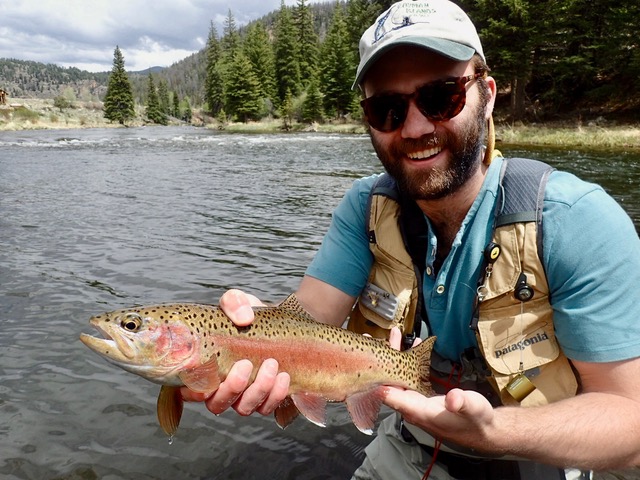 Hello fishermen,
I hope you all wintered well and are excited to get back out on the water and enjoy some Taylor River fly fishing. While I was busy fighting the wind and rain of Southern Chile, the winter here in Colorado was pretty tame and current river levels reflect that. With our snowpack at around 60% of average, we are experiencing one of the four earliest and lowest peak run off levels in the last 100 years.
Current flows on the Taylor River are 400 CFS and it looks like this is the peak flow for the season. The true peak of our local rivers was May 11 but the additional dam release earlier this week raised the flows on the Taylor 100 CFS. Releases from the dam are at 250 CFS and should stay at that level until early July when the release will be increased to 300 CFS for the month of July.
Conditions on the Taylor River are excellent for early season fishing. Water is untypically clear for this time of year and 40-42 degrees. Also untypical is the fact the we have had pretty strong afternoon BWO hatches and fish eating on the surface. Yesterday, we saw the first bugs at noonish, and under overcast skies the hatch lasted until 4:30 pm. While not every pool had rising fish, several did and a size 20-22 BWO dry seemed to do the trick. It seems a bit counter intuitive to fish light tippets and long leaders during runoff but that's what's going on out there in the afternoons.
Mornings are a bit slow as the fish aren't super active in the cold water. We have had luck with nymph rigs that include a large, weighted stonefly and a smaller micro mayfly or caddis worm trailing behind. The trick is to get the flies down to where the fish are which in the mornings is right on the bottom. Strikes are very slow, non aggressive and oftentimes after multiple casts in the same drift you will hook a fish or two. It is important to fish at a slower rhythm than in mid summer and thoroughly fish each pool. Adding and/or subtracting weight is important to make effective drifts in different current speeds and depths. If you take the time to do this, you will be rewarded. While many people like an indicator or bobber on top, in these low water conditions, I prefer a large dry such as a Super Chernobyl. This week several fish moved for the big dry and with Stoneflies getting ready to hatch the amount of surface takes should increase over the next week or two.
Screening results of the river show a wealth of insects and multiple choices for the fish to eat. Stones in sizes 4-12, Baetis, PMD and Green Drake nymphs, lots of free swimming Caddis and midges are all present in large numbers. This time of year, the fish have lots of choices of what to eat and tend not to be overly selective. We caught fish on large stones, micro Mays, Caddis and Midge larva. The most important factors in your success is getting the fly down to the fish and getting good drifts. Many times after several casts in a run you will hook a fish because on that one cast your flies dead drifted perfectly. While oftentimes we think we are getting a drag free drift, usually we are not. Even the slightest bit of drag will turn fish away from your flies, so concentrate on your mends and good casting to slow your drifts down to the speed of the river. Try to keep your casts as straight up the river as possible and move when wading to cover the water rather than casting across multiple currents, getting lots of drag and spooking lots of fish. The Taylor is a tricky river with confused currents and eddies so being strategic about how you approach each run will help you get the drift you need to catch that big fish.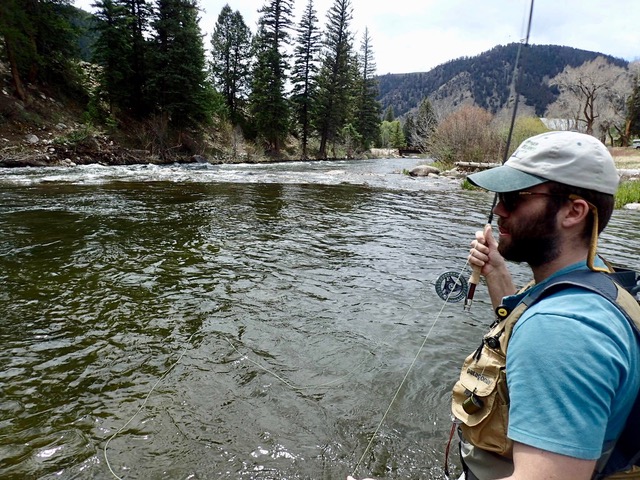 As you approach mid day, keep your eyes open for rising fish in soft currents and edges, especially if there is good cloud cover. If you see fish rising, odds are they will be eating BWO (Baetis). Take the time to rig up a long leader9at least 9 feet) with 5-6X tippet and make sift presentations to the risers. If they refuse your dry, change to another BWO and keep trying til you find something they will eat. BWO's are small and flies in the size 20-22 range are what you need to imitate the naturals. If you see fish boiling under the surface and not sticking their heads up, they are eating emerging BWO's and oftentimes will not move for a dry. A small trailing BWO nymph can produce results in these situations.
Normally we start getting our big hatch events in the 3rd week of June. I expect things to be different this year and look for the things to start happening in the next couple of weeks. Pretty soon Caddis, multiple Stoneflies, and BWO's will start hatching like mad and it can be the best dry fly fishing of the year. When Taylor River fly fishing, morning hatches are rare and best surface activity can be expected from about 12:30 pm through late evening when the Caddis are most active.
Remember that your two best weapons as a fly fisherman are stealth and observation. Keep your eyes peeled over the next couple weeks and I suspect you will find some opportunities to throw a dry at rising fish. With low water levels and clear water, stealth is a key element of success. This means wading quietly, not overcasting to rising fish and using long, light leaders and delicate presentations. Take your time, look for a good fish and make each cast count.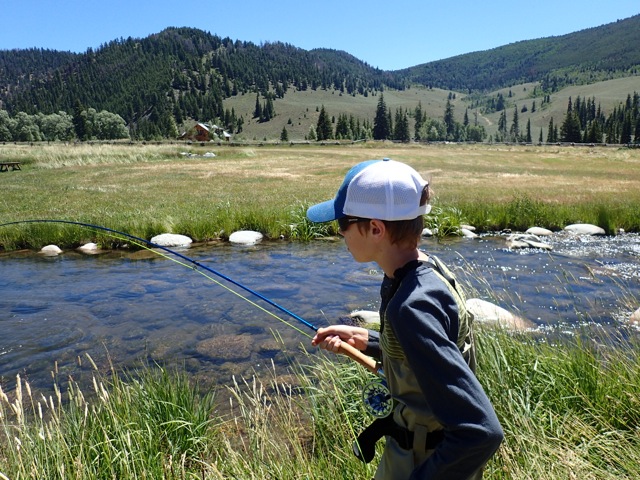 The Dream Stream is running at near average flows for the time of year. The mild winter was good to the fish and many rainbows over 5 lbs have been spotted as well as numerous wild browns that enter through Spring creek. Regardless of what kind of fish, in the Stream they are all very spooky as they feel exposed to eagles and predators in the shallow water. Approach each pool as carefully as you can and once you get into casting position, wait a minute or two before casting.
In the mornings a Dry/Dropper set up is the ticket. This time of year I prefer a smaller dry such as a 14 para Adams and a size 14-18 dropper which could be a Pheasant tail, Hare's ear, Micro May or BWO. As the Hoppers in the meadow start growing, a large Hopper pattern can be devastating but we are still a ways away from good Hopper fishing.
When you walk up to the pool, most fish will already be spooked and will run to the faster, deeper water in the heads of the pools. A long cast can be to your advantage here and try to work the heads of the pools from as far away as you reasonably can.
Towards mid day you will find fish rising for BWO's. I do not recommend using tippet smaller than 5x here as the fish are pros at cutting tippets in the sharp rocks on the bottom. If you hook a big fish it might take some fancy footwork to keep your line clear of the rocks and bring the fish to net.
A good tip is not to spend too much time in each hole. After a few casts the fish will be spooked and generally uncatchable once they know you are there. So make a few casts and move on unless of course you see fish feeding. Another good tip is to cross the stream in certain holes to get a good drift. Inside bends can be hard to get a good drift win whereas if you cross below and get on the outside you might find yourself getting a much better and longer drift.
In the Stream now, fish can be caught on a variety of flies including various droppers, dries and San Juan Worms, especially after a rain. If what you are doing isn't working, don't be afraid to experiment and try something new.  Sometimes a new fly that the fish have never seen can be quite effective.
Please try to keep the fish in the water and avoid dropping them on rocks and/or grass. It is OK to take a quick picture but remember that the fish are suffering the minute they are out of the water. Be gentle and fast and make sure that the fish has recuperated before you let him go.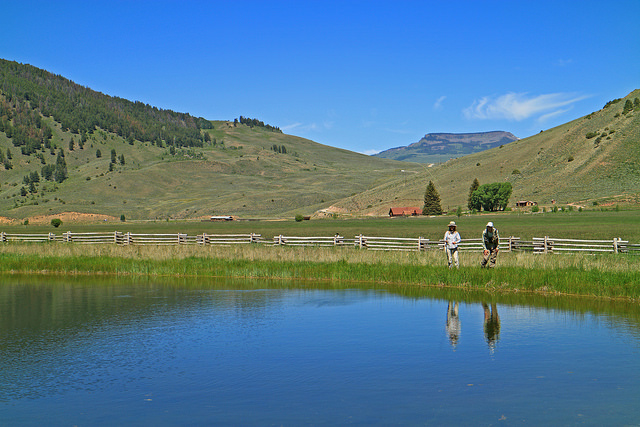 All of the 6 Ponds at Wilder have been stocked and also include a pretty good population of holdover fish that are quite big. I always like to look for rising fish first and if you see them rising on the ponds this time of year, you can bet that they are eating very small midges. As in the Stream, I don't recommend tippets lighter than 5x although 4x is certainly preferable if it works. There are some fish on here close to 10 lbs and they will break your super fine tippet in a New York second.
If you don't see any rising fish, a dry/dropper or Olive Wooly bugger can be the ticket. Try to sight the fish you are casting to and make repeated presentations to him until he either eats or moves off. If you cast to 3 or 4 fish with no results, it is time to change your fly(s) and try again.
Be careful as you approach the ponds as many fish will be in very shallow water close to the edges and will bolt as you get near. Sometimes standing way back on the gras is your best position to cast from. Then work your way closer to the water and keep reaching out with your casts.
I like to slowly walk the edges while looking for fish. Try to find your best angle to see into the water and walk so that you can maintain the angle of visibility. Once you locate a fish start by casting several feet in front of him and make each successive cast closer if he doesn't react.  It's always a good idea to start too far away rather than spooking the fish on your first cast. Spooked fish don't eat until they calm down again which could be anywhere from a few minutes to a few hours. Soon we will see the fish entering the shallows in large numbers to eat Damsel fly nymphs and adults. This can be the best fishing of the year in the ponds so keep your eyes open and have a few Damsels in your box.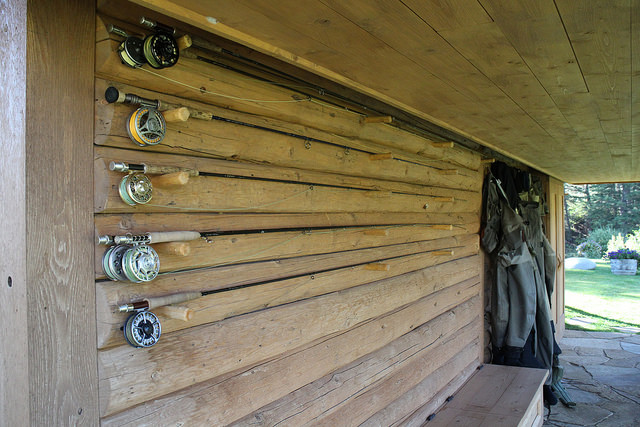 All in all, get your rods ready because despite the low water conditions, I expect an excellent fishing season. The winter was easy for the fish, flows are low so we don't have to fight high water and because of the dam upstream we shouldn't have to worry about the water getting too low.
Be stealthy, be observant, cast well and enjoy your time on the water.