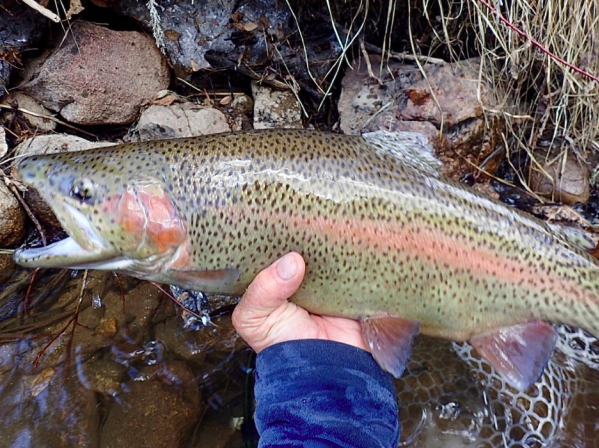 A couple of weeks ago, I left the rain in Chile for the snow in Colorado. I had an awesome season down there, my 18th, and I am excited to be back at Wilder for the summer season in Colorado.
What a change a year can make. Last year at this time, our snowpack was 60% of normal and concerns were that river levels were going to reach severe lows as they did late last fall. A strong winter was hoped for and Mother Nature delivered. In fact she still is. Over the last 3 days we have received over 24 inches of snow in the mountains. Before the latest storm, the snowpack in the Taylor River basin was about 137% of normal. At the end of March at the Snotel site in the Taylor River basin, one of the top 5 historical snow level readings was taken, so we can expect lots of water coming down from the mountains this summer. The wildflowers and fly fishing ought to be off the chart in July and August!
While snowpack levels are very high, the runoff flows are difficult to predict as much of the water will be held back and used to fill a depleted Taylor Reservoir. If the reservoir was full, I would be predicting flows to reach near 2000 CFS, however with a large amount of water needed to fill the reservoir, I am estimating flows to max out in the low 1000 CFS range. This is only a guess as weather conditions can greatly effect run off levels. Currently, the water board is predicting flows from the dam to max out at
500 CFS during late June (this does not include the tributaries below the dam which can contribute another 100-700 CFS). This prediction is subject to change, particularly since it is still snowing in the high country.
Current river levels at Wilder are in the mid 400 CFS range and increasing on a daily basis. Water temps are fluctuating between 37 and 40 degrees F. Water clarity is off color and visibility is about 4 feet. Typically this is about as dirty as the Taylor gets and even so, fishing can be quite good. The south side trail is in excellent condition and the north side is just melting out and should be walkable by the end of the week.
While last year at this time we were experiencing pretty strong BWO hatches and fishing dries to rising fish, this year there are some BWO's but very few to no fish rising, and I expect that will be the case until late June when we start to get stronger hatches.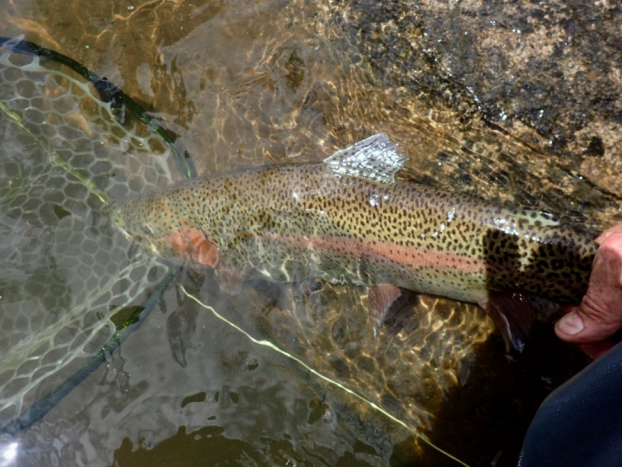 As of this week, most fish are stuck to the bottom of the river eating a variety of nymphs and not moving very far to do so. What this means to the angler is that in order to be successful catching fish, you must get your fly down to where the fish are and keep it there as long as possible. The fish will not move far at all to eat a fly so making numerous, deep and slow drifts will eventually produce. As much as I dislike nymph rigs, they can be very effective this time of year and except for Streamer fishing, this is likely the only way that you will catch many fish until things settle down a bit. The depth that your nymphs (or streamers) run is more important than the specific fly pattern right now. The river is full of a variety of Stonefly, Caddis, and Mayfly nymphs, lots of Midges as well as tons of worms that are washing into the water. With all of this food available the fish do not appear to be selective and we have caught fish on a variety of different flies this past week. What is more important is to adjust the depth of your nymph rig by adding split shot or heavier flies to get down near the bottom. Take the time and make depth adjustments as you move along the river to different spots. We have been successful using a #4-6 Pats Rubber legs as a top fly and hanging a #16 Pheasant Tail, egg pattern or San Juan Worm off the back about 15 inches. That being said, many other patterns will trigger a strike. Fish are not leader shy at the moment so feel free to use 3x and 4x for your main nymph line and 4x for your bottom dropper. This also gives you a bit more line strength if you hook some of the hidden sticks and logs that the runoff is bringing down river.
What is also important is getting a dead drift which can be tricky in high flows. A nymph rig that is dragging will not be as effective as one drifting naturally. Managing slack line and mending to achieve good drifts will up your success level dramatically. Remember that currents are generally much faster on the surface than down below.
Strikes are very soft and sluggish. I have been surprised quite a few times thinking that I hooked a snag or stick when I started to feel a little wiggling on the business end of the line. Turned out to be a fish after all. Set first and ask questions later. You might be surprised.
Before the river came up and turned a bit off color, I spotted quite a few large Rainbows spawning. Their eggs are generally quickly devoured by other trout, thus egg patterns and trout beads can be very effective for the next few weeks. If you are fishing and see clean gravel with Rainbows spawning on it, please leave them alone, step around the spot and move along.
Nymph rigs are not the only option right now. Streamers can work very well presuming they are fished slow and deep. I like to use a 150 grain sink tip for these higher flows and off color water. Cast across or slightly upstream and make a coupe of mends to get your Streamer running deep. Swing the fly slowly and retrieve it slowly as well once the line straightens out. Dead drifting and slow retrieves will produce and with patience you might just hook into a monster. Black Sculpzillas in sizes 6-10 and olive and white Dalai Lamas and Zonkers in size 6 have been moving fish. Again, most important is that your streamer gets down to where the fish are and stays there as long as possible.
Regardless of the flies you choose, please make sure to take the time to pinch your barbs before fishing. Barbless hooks do much less damage to the fish, the angler and the guide. Thank you!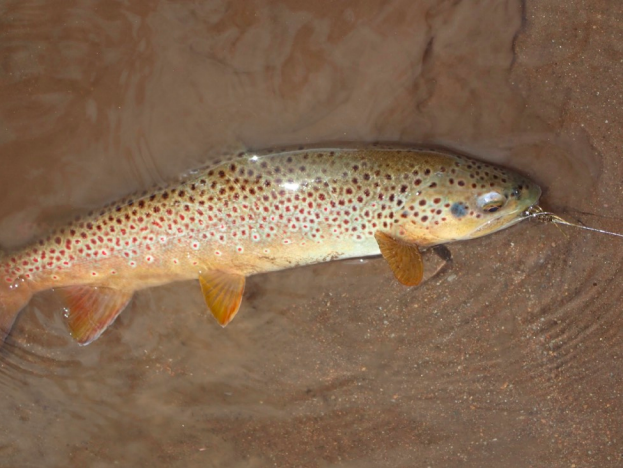 As the river rises and warms up and flows get stronger, fish will get pushed out to the edges and softer currents which is good for us. Soft edges are easily identified and this is where you should concentrate your efforts.
Over the next few weeks, we can expect to see flows steadily increase and it looks like that could be the case until early to mid July. We should start seeing lots of Caddis and Yellow Sallees towards the end of June and sometime around then we might be breaking out the dry fly box and fishing on top.
Please wade carefully as the river rises. In off color water wading is more challenging because you cannot see the bottom. Move one foot at a time slowly until you have good purchase, then move the other foot. Do not move fast! Always have a look to see what is below you and evaluate the consequences of a fall/swim when wading deep in the river. It is good practice to have a partner or guide nearby from a safety point of view. Deep wading is not necessary right now and fishing from the bank and shallow gravel bars will allow plenty of access to good water.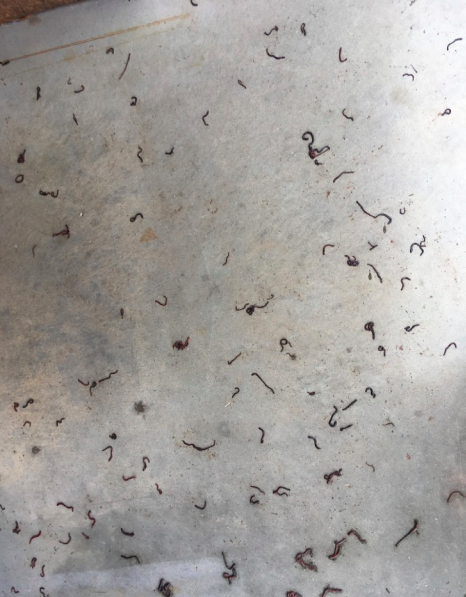 The Dream Stream is running with water from Rarick Creek only as of this writing. Spring Creek will soon open up and when it does we can expect an increase in flows. The water is off color and cold and current levels are normal. The lower stream was affected by a large ice dam this winter that displaced most of the water into the hay meadow. Fishing in the upper stream is excellent and last week a 24 inch Rainbow was caught with a dropper. The lower stream is a different story and as of this report very few fish have been seen there. This is not unusual and many seasons I have watched the fish counts in the lower stream increase in early May. I think many of the fish over winter in the upper stream and move back down when conditions warrant. In the afternoons some fish have been seen rising for BWO's but not many. The best action right now is with a dry/dropper and particularly a San Juan Worm dropper.The quantity of worms that I have seen on the banks with all of the rain we have had is amazing. Fish are gorging on them and the San Juan can be deadly during run off. Other droppers and streamers can work well also so don't be afraid to experiment. With the water off color, the fish aren't as spooky as they normally are and we have caught several fish right at our feet. This does not happen in the summer when the fish run at the slightest vibration.
As soon as we have water from Spring Creek, we are going to crank up the flows in the stream to remove some silt and give it a good clean out. If the water is high and fast, look for the slow spots and concentrate your fishing there.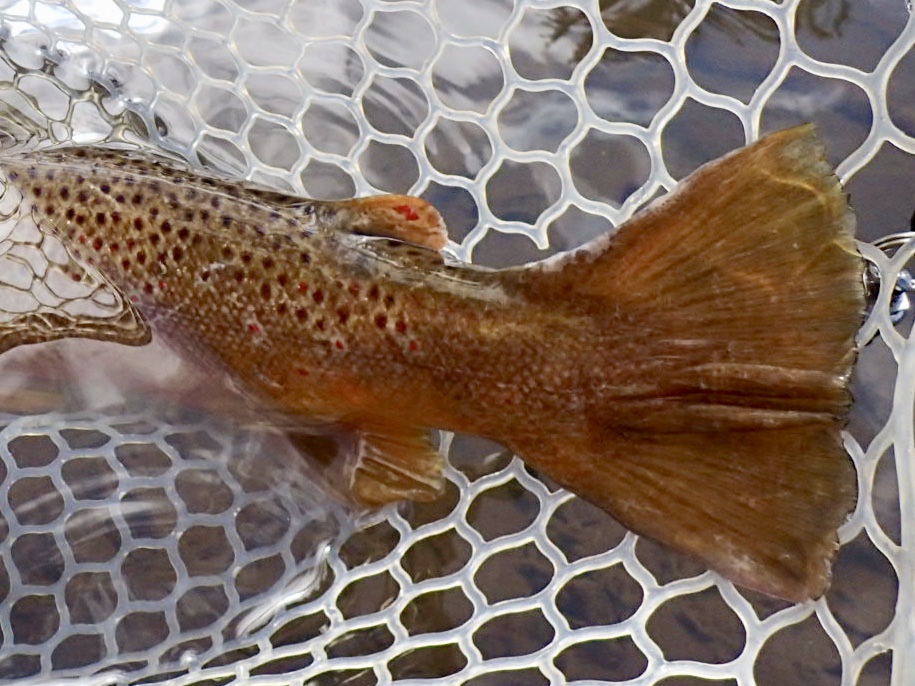 The Ponds had a bit of a winter kill issue however there are still some large fish in most of them. Also slightly off color, my recommendations for fishing the ponds right now are small bead head streamers such as Wooly Buggers on floating lines. I like to fish these slow, with long pauses between the strips. Many times the fish will eat the fly on the drop and you won't even know it, so pay attention to the end of your fly line, and if you see it move slightly or do anything funny, set the hook. Be careful because there are a few fish in the 6-8 lb range and you can break your line quite easily. I prefer 2x or 3x on my Streamer as the fish aren't leader shy yet and this gives you some extra horsepower to haul them out of the weeds and land them quickly.
Over the next few weeks of high water, do not despair. Some of the biggest fish of the year are caught at this time and with water
temperatures rising, the fish will become more aggressive and hatches more pronounced. All in all we are in great shape for the upcoming season. Lots of water is good for the fish and I expect this to be an excellent year for the fish populations in Gunnison County in general.
FYI, I will be stocking the Stream and Ponds towards the end of May and will let you all know when it gets done.
Please feel free to contact me directly for up to the minute fishing reports, comments, ideas or questions. I'll look forward to seeing you on the water!