Tour de Forks at Wilder July 21, 2015
Tour de Forks, Crested Butte, CO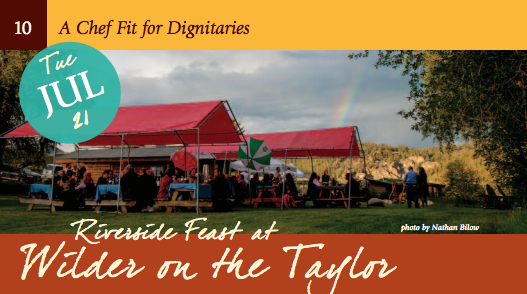 ENJOY A GLASS OF FINE WINE, and soak in the soothing cadences of the trout-rich Taylor River from the spacious lawn at Wilder on the Taylor, a working ranch dating back to 1910. Lounge in the safari-style Founder's Porch, recline in hammocks along the river, try your hand at horseshoes
and enjoy great company by a crackling fire. This preservation-oriented, 2,100-acre ranch community, well known for the picturesque hay meadow at the intersection of County Road 742 and Jack's Cabin Cutoff between Crested Butte and Almont, features 26 homesteads, five miles of private fishing waters and access to extensive onsite and nearby trails.
Chef Andrea Frizzi was born and raised in Milan, Italy where his passion for fine Italian cooking was fostered by his Venetian mother. He graduated with honors from the prestigious Italian Culinary Academy, and was awarded the "Distinguished Diploma o Merito" as the top graduate in the class. Andrea refined his culinary prowess in Milan for 12 years. As the Executive Chef at Saint Abroeus, he cooked for late Pope John Paul II, late US President Ronald Regan, Russian President Michael Gorbachev, Italian Prime Minister Andreotti, and many more. In the United States he served as Executive Chef for Bice Restaurant in Washington, D.C. and was named by Williams of Sonoma as "one of the new rising best chefs," and "best new young chef" by Dining Digest. At his own restaurant, Il Posto in Denver, Andrea pays homage to a cuisine that relies on the day's freshest ingredients.
For information and tickets visit www.crestedbuttearts.org/tourdeforks/
Click for more information on Crested Butte land for sale and be sure to check out our recently available riverfront home.