Wilder Fishing Report 9/09/13
The last couple of weeks has brought unstable weather to Colorado with thunderstorms almost every afternoon. Water levels have maintained at about 268 CFS on the Taylor at the Wilder and conditions are excellent for both the fish and the fishermen.
Despite the storms, the temps have been on the hot side and mid-day fishing has slowed down as the fish feed during the cooler hours of day. However, we are on the cusp of our Fall fishing season and with cool weather forecasted for this week, it won't take long to bring out the Blue Winged Olives and get the fish rising.
The Browns are getting their dark spawning colors and we are starting to see large fish slapping the water and marking their territories for the spawn in October. These larger fish are on the prowl both early and late in the day and a large, well placed streamer is the trick to hooking one of these predator fish.
WILDER RAINBOW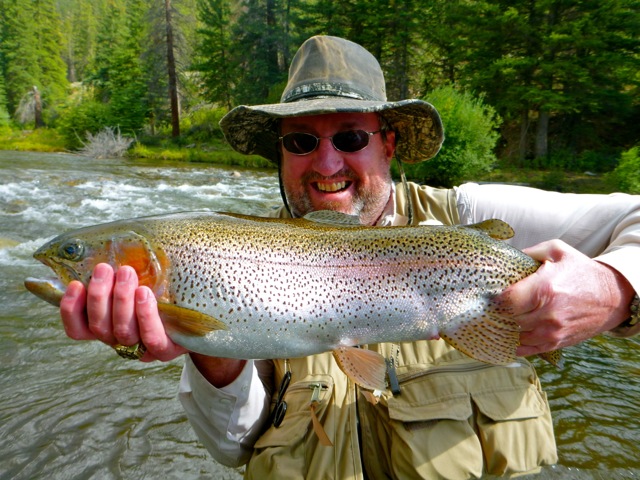 On some days, we are still seeing PMD"S and BWO"S hatching in the afternoons. This insect activity always brings up a few fish to rise but how many depends on the day as the hatches have been quite variable. Mornings on the river have been tough but around 8-10 a.m you can always find a few fish rising for spent spinners and midges in quiet pockets of the river. These fish are very spooky and long leaders and soft presentations with tiny dries produce the best results. There are still a few Caddis around but the fish seem to mostly be ignoring the adults. Soon we will see the October Caddis hatches begin and these large bugs will bring the fish up.
This is a good time of year to experiment with large dries. Last week I saw a huge Brown move towards a 3 inch wide Hummingbird moth and he would have eaten it if the moth hadn't ascended off the water at the last minute. Don't be afraid to explore the surface with large dries such as Mouse patterns, Moth patterns and and big Hoppers.
Although at the Wilder our preference is to fish dries and we are fortunate to be able to do this for most of the season, during slow periods of the day we have found a Streamer to be very effective. Last week in one hour, one of our owners landed a Rainbow of 10 lbs plus, one of 7 lbs and 2 between 4 and 5 pounds using a leech type pattern fished on a downstream swing with a floating line.Look for increased Blue Winged Olive activity mid-day, Mahogany Duns, Gray Drakes and October Caddis as we reach the middle of September. Now is a perfect time to get out on the water and enjoy the beautiful Fall colors and great fishing at the Wilder on the Taylor. Gray, cloudy days will produce the best hatches so make sure that you leave some time for fishing when the weather turns a bit nasty.
Rarick Creek has been on fire lately. After cutting the hay meadow, thousands of Hoppers are wandering around looking for a new home and many of these fall into the creek and become an instant snack for large fish laying in wait. A huge parachute Hopper pattern has proved to be irresistible for these brutes and each hole can produce a violent strike and reel screaming run. If the Hopper doesn't work, look closely at the water and you may see fish sipping on very small Blue Winged Olives. If this is the case, reduce your tippet to 5 or 6x, put on a small dry and concentrate your casts right down the feeding lanes. You might be surprised at how big a fish will move for that small dry.
All of our ponds are holding fat, healthy fish that are working hard to put on weight for the long winter. Here, a Hopper pattern can also work very well but if you receive a few refusals to the Hopper, size down and try a small parachute hopper with a pheasant tail dropper. This almost always does the trick.
Wilder on the Taylor River offers a unique opportunity to own private fly-fishing property along with a beautiful riverfront home. Click the links to learn more.