Chef Elena Marquez Announced as Wilder's New Addition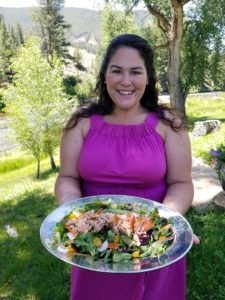 Wilder on the Taylor is pleased to announce the addition of Chef Elena Marquez to the ranch's team. Originally from Austin, Texas, Elena trained at the Culinary Institute of America in Hyde Park, New York. Over the years, she has worked in a variety of hospitality outlets all over the world doing everything from cooking and baking to winemaking.
For Elena, food is life and the experience of sharing food is joy. She takes pride in utilizing seasonal, local and sustainable products whenever possible and since moving to the Gunnison Valley has been an advocate and culinary instructor for the Mountain Roots Food Project.
In her new role at Wilder, Elena is designing and implementing a food and beverage program and serves as the concierge and guest cabin manager. She notes, "Wilder is a magnificent property that encompasses all the breathtaking beauty of the Gunnison Valley. My goal is to bring an elevated level of hospitality and convenience to the property while still maintaining it's rustic appeal."
To learn more about our Crested Butte land for sale visit https://wildercolorado.com/.