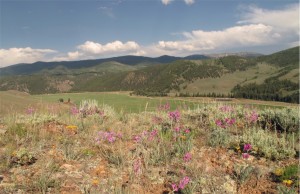 The wildflowers are in full bloom here at Wilder on the Taylor and it is truly something to behold. It's hard to imagine that just months ago the grasslands were covered in snow. Now brilliant spots of red, pink yellow, purple and blue fill the valleys. It's as if the land is so overjoyed to finally shed it's winter coat that it exploded into a botanical kaleidoscopic. These hues add an extra element of natural beauty to the rich green of the pinyon pine, juniper and scrub oak forests that surround us, standing before the majestic peaks of the Rocky Mountains.
When you see the fully blossomed flora you'll understand why the State of Colorado named neighboring town of Crested Butte the "Wildlife Capitol of Colorado" nearly a quarter of a century ago. You'll understand how, from July 12th to 18th, the town can host the Crested Butte Wildlife Festival an entire week-long celebration of these stunningly brilliant paint strokes of nature. Experts from around the country come to share their knowledge and talents in gardening, botany, art, photography, flower arranging, crafts and cooking.There's really no better way to learn more about one of the most important natural elements that will surround your Wilder homestead. And you'll learn how to truly appreciate these blooming beauties, whether it be through photographing , gathering, arranging or even cooking with them.
Of course the wildflowers are only one of the many Wilder sensations that residents are able to enjoy. There's also biking, hiking, mountain climbing, elk hunting, camping in the surrounding National Forrest, lending a hand with the work on the century-old cattle ranch that still thrives at the heart of the property, or fly fishing in the nearly five miles of pristine wold-class Gold medal standard waters.
All of this is available because we have worked to preserve the natural beauty and heritage of our property through green building practices, maintaining and enhancing the water quality, educate owners and guests about land preservation and making sure only a limited number of residents build and live on our land. We want you and future generations of your family to enjoy the wildflowers and every other awe-inspiring wonder that Wilder on the Taylor has to offer, just as the cowboys, pioneers, and Native Americans enjoyed them ages ago
Click for more information on Crested Butte land for sale.