It's a prime time to enjoy the 22-mile stretch running from Taylor Reservoir to Almont
The stretch of County Road 742 running from Taylor Reservoir, through the Taylor Canyon, and to Almont is among Colorado's most beautiful drives. Located between Crested Butte and Gunnison, it's also a place where there is thriving community, upgrades taking place at longtime properties, and a wide range of activities and events to enjoy.
Wilder on the Taylor & Taylor Canyon Fire Station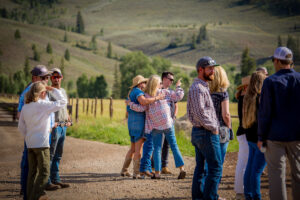 A historic cattle and hay ranch that dates to 1893, now known as Wilder on the Taylor, is the midpoint of the picturesque 22-mile stretch. This private angling paradise and recreational and preservation-oriented ranch community is situated on more than 2,100 acres and features homesteads that are a minimum of 35 acres. Homeowners have access to miles of private fishing water and trails, guided horseback rides, a horse arena, a fly-fishing guide, a chef/concierge, and a base camp for dining, relaxing and socializing.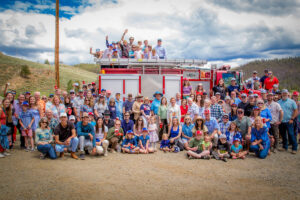 Wilder on the Taylor, several families and businesses that reside in the Taylor Canyon, and Gunnison County Fire Protection District helped build the Taylor Canyon Fire Station, which opened in 2022 on land provided by Wilder on the Taylor. The public is invited to join in the annual All American Celebration on July 3 from 12-4 p.m. at the fire station to help raise $25,000 for new fire and safety equipment. No reservations are needed to join in an afternoon of recognizing the contributions of the station's volunteer firefighters and enjoying savory barbecue and a variety of side dishes, libations and live music by Sunny Downpour. Those who cannot attend but want to support the fire station can make donations here.
Taylor Reservoir to Harmels on the Taylor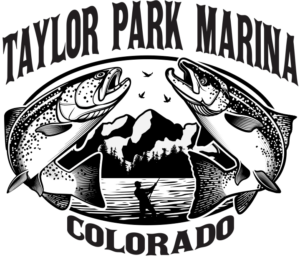 Backing up to the farthest northeast point on this route, Taylor Reservoir is an ideal place to enjoy time on the water, camping and exploring the outdoors. Taylor Park Marina rents boats, fishing equipment and stand-up paddleboards (SUPs). The marina also has Mack-N Gnaw Grill that serves breakfast and lunch and a store that sells tackle, bait, marine and camping supplies, souvenirs, and more. Taylor Park Marina is typically open from mid-May through late September. Taylor Park Trading Post has cabins and an RV park for those seeking accommodations as well as the Nugget Cafe, a general store, a gift shop, and ATV rentals through Elevation 9400.

Next up in the Taylor Canyon is Eleven Taylor River Lodge, a riverside property that was formerly used as a locals' general store for fishing and tackle and has since been transformed into a luxurious retreat with six cabins and two homes. This off-grid location is an ideal setting for friends, families and corporate groups to unplug and reconnect. Fishing on the Taylor River and in a stocked pond is at the heart of the experience here, but a bathhouse, gym, spa, media and game cabin, climbing wall and other activities keep guests busy. Additional highlights are a teepee lounge and main lodge with a communal dining space, bar and lounge. Taylor River Lodge is a high-end, private property that must be booked to utilize services.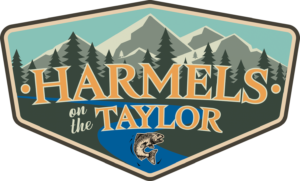 About 4 miles away, pull up to Harmels on the Taylor, another longtime Taylor Canyon property that dates to the late 1800s and has been fully refreshed by Dave and Terri Reynolds. The Reynolds purchased Harmels Ranch Resort in 2021 after it had been owned and operated by various members of the Bud Harmel family since 1958. There are 39 units of accommodations to rent, ranging from cabins to lodge rooms. Paying guests can use the recreation room, enjoy the cookout grounds with lawn games and an outdoor fire pit, and book fly-fishing, horseback riding and whitewater rafting excursions.
The public is welcome to stop by for coffee, tea and pastries at the resort's Bucks on the Taylor and enjoy live music on several evenings from early June through the third week in September and on a few afternoons, including Fall Fest on Sept. 9. For the full schedule, scroll down the home page of Harmels on the Taylor's website. Most of the performances will happen at Bites & Brews on the Taylor, the resort's new restaurant and bar, but occasionally on the front lawn and cookout grounds as well. Currently, only the bar is available, but check back for news about the restaurant opening.
The resort's July 4th Weekend Kickoff is scheduled for July 1 from 12-4 p.m. and will include a barbecue lunch, lawn games and live music for all to enjoy.
The Merging of Rivers at Almont
Wilder on the Taylor is located near Harmels on the Taylor. From Wilder, keep winding along County Road 742 to the small village of Almont, located at the confluence of the Taylor River and East River that forms the Gunnison River. Along the way, you will see campgrounds, trailheads for hiking, the Scenic River Tours location in the Taylor Canyon, and climbers scaling steep rock faces before reaching Three Rivers Resort.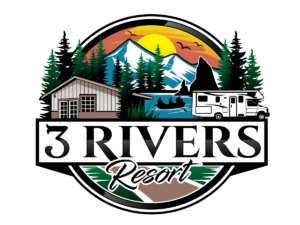 Three Rivers Resort is celebrating its 40th anniversary this year. Incorporated on May 6, 1983, Mark Schumacher purchased the resort with his father and brother and soon after bought the resort outright and met his wife, Mary Jo. The couple has operated and grown the resort to include 52 cabins, three vacation homes, a handful of lodge rooms and RV sites, event facilities, a fly-fishing shop, general store, summer/fall restaurant, and fishing and rafting guide services. The public is invited to stop by the resort to book activities; enjoy to-go breakfast and lunches and dinners at Three Rivers Smokehouse (indoor and patio seating) through Sept. 30; and buy souvenirs and other items in the general store.
There is weekly bingo and karaoke at the resort during peak summer months, and mark your calendars for two events. On July 3, Three Rivers Resort is hosting a celebration honoring the 100-year anniversary of the Almont Pavilion (aka Dance Hall). There will be a potluck from 5-7 p.m. with meat provided by Three Rivers Resort and participants bringing a dish to share and their own beverages. From 7-10 p.m., dance to the tunes of Pete Dunda's polka band. The fun continues with a Fourth of July polka party at Almont Pavilion featuring Peta Dunda from 2-5 p.m.
For something truly unique, book the area's only dinner cruise: the Garlic Mike's Float 'n Dine trip with Three Rivers Resort and Outfitting. Depart from Three Rivers Resort on the Taylor River and float down the Gunnison River to Garlic Mike's restaurant for a tasty Italian dinner. Float 'n Dine is offered nightly through Sept. 30.

Set on a 1.5-mile stretch of the East River, the year-round Almont Resort is only steps away from Three Rivers Resort and occupies an 1890s lodge and also has a variety of cabins for rent. Under new ownership since 2021, Almont Resort has undergone upgrades, introduced a winter concert series in partnership with I Bar Ranch in Gunnison (slated to start again in the fall), and has added Blue Sky Mercantile, which previously operated as Wilder's Organic Market in downtown Gunnison.
In addition, Alpine Surf Company in Gunnison will be renting SUPS, single and double inflatable kayaks (duckies), and river boards at Almont Resort this summer. Additional services available through the company include SUP yoga, river tours, shuttles and more.
The public is always welcome at Almont Resort Restaurant & Bar, offering breakfast, happy hour, dinner, and drinks. A spacious patio is an ideal for enjoying food and drink in the outdoors.
Get out and enjoy all that is happening in the Taylor Canyon and Almont!