It is my pleasure to share Wilder's End of Season Fly Fishing Report. As one of the driest summers on records ends, snow is beginning to fall in the Gunnison Valley and is bringing much-needed water to our lakes, rivers and streams.
Flows on the Taylor have been reduced to 50 cfs from the dam. Currently, the river is at 117 cfs at Wilder. Water temperatures have cooled considerably in the past week and are fluctuating between 40 and 50 degrees F.
Brown Trout & Spawning
With low water and a huge population of Brown trout, the fishing is extraordinary as fish are stacked up everywhere you look. Browns have begun their spawning and are paired up on every bit of clean gravel on the river. This is a good time to be observant and avoid the spawning redds which can be identified by very clean gravel patches that are generally in the tail outs of the pools. Wading on these redds can be destructive and I urge all of you fishermen to pay careful attention to where you are wading in the river. Many of these redds are in very shallow water and very close to the banks. Before you wade in, take a good hard look and choose a wading route that will avoid stepping on redds. Additionally, as a matter of ethics, fishing for spawning trout on redds is discouraged. Best to leave the spawners alone to do their thing which will ensure high trout populations for the future.
That being said, not all of the Browns are spawning. Each fish seems to have their own timing and there are still many actively feeding fish and risers during warmer afternoons.
Conditions Through the Day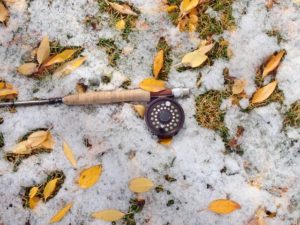 Mornings on the river can be a bit on the stingy side. Fish are generally laying low right on the bottom and will not move far for a fly until the water temps warm up a bit. We have had great success with streamers and dry/dropper rigs fished slow and deep at this time of day. Streamers are definitely more effective on cloudy days and a #6 Black Sculpzilla has fooled quite a few nice trout.
Dry dropper rigs can be adjusted to the depth that you are fishing. For the deeper holes, a large Hopper or Super Chernobyl will support heavier nymphs and in this case a double dropper can be deadly. I like a #6 Pats Rubber Legs as my top nymph and smaller droppers at the end of your line. Effective droppers have been: BWO nymphs #20, BH
Pheasant tails in #16-20, Midge patterns such as a WD40 or Palomino Midge in sizes 18-22, Micro Mays(olive) in sizes 18 and 20 and RS 2's 18-22.
When fishing a double dropper rig with a large dry on top choose your water carefully. In shallow, calm water throwing in a big heavy rig like this will do nothing but spook fish. Look for the deepest holes and try several drifts before moving on. In these deeper pools getting a good dead drift is very difficult as there is lots of current pull on your line. Many times you will hook a trout after several casts in the same feeding lane because on that one cast the drift was perfect. I find that on the Taylor getting a good drift is more important than having the correct fly. Well presented, a variety of flies will catch fish.
In shallow water you will need to scale down your rig to maximize a light presentation. In these low water conditions fish are very spooky and will run off to deep water at the slightest impact on the surface We have been fishing very well with a size 12-18 Para Adams on 5X and a variety of size 16-20 droppers tied about 3 feet behind the dry on 6X. You can adjust the length of the dropper line for the water that you are fishing. We have used droppers as short as 10 inches and as long as 4 feet. Taking the time to rig for the specific water depth that you are fishing can produce much better results than just randomly tying on a dropper.
This time of year, you will see many anglers on public water fishing to spawning browns with plastic egg patterns. While this can be effective it is not something to be proud of. Better to avoid those fish and move on.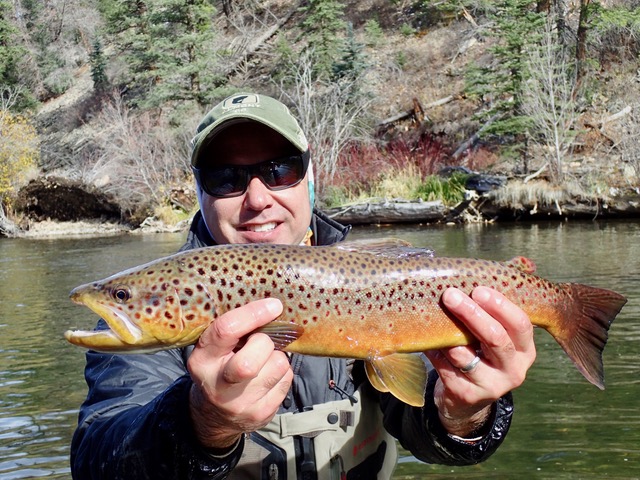 Watching the Water
With water levels so low, spotting fish is quite easy and numerous presentations can be made to a fish until you find the fly or the drift that he wants. This is a really good time to study the water carefully and try to sight fish to larger trout. Take your time, move slow and get the sun at a good angle so you are able to clearly see into the water. What you see might surprise you. A couple of days ago I counted over 50 fish in a small area after watching the water carefully for several minutes. At first glance, I saw one or two but after watching for a while, fish started to appear everywhere. Once you spot a pod of fish, take your time to get into position without spooking them. This is not easy to do at these water levels but proper observation, stealth and patience will produce far larger rewards than charging through the water and casting like mad.
During the last week with the extra cold temperatures, hatches have slowed down. I expect that we will start getting more afternoon flurries of bugs once the skies clear and the water warms a couple of degrees. This time of year, look for hatches of Midges, Blue Winged Olives and Fall Caddis which resemble light colored, medium sized Moths size 12-14. Most of the rising fish I have seen have been very low profile risers. No big splashes or swirls, just gentle sips which leave a tiny telltale ring on the water. Watching the water carefully before you jump in oftentimes will reveal numerous rising fish that at first glance were not apparent.
Recommended Flies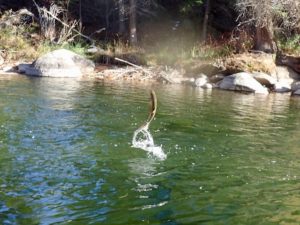 When you are rigging up small dries in low water conditions I recommend using an extra long 10-12 foot leader. Take a 9 foot 4X or 5X leader and add 2 feet of 6X tippet to the end. The hassles of a longer leader are well worth it as long leaders provide better drifts and less impact on the water, increasing success rates. Sierra Dot (18-22), Para Adams(12-22), Purple Haze(18-22), Griffins Gnats(18-22) and BWO's (18-22) have all been effective during mid-day hatches. Worth trying also is a size 12-14 orange body Stimulator or Caddis to imitate the fall caddis that you will see flying around.
Recommended Rods
This is a really good time to put away the super stiff, fast action graphite rod and fish with a softer action rod. Fast, stiff rods are great for making long casts into the wind but are notorious for breaking fine tippets on the set. It takes a lot of touch to prevent this from happening. On the Taylor long casts aren't necessary and a softer action rod is easier to mend and more forgiving when you make a hard set. Low water conditions are also conducive to lighter weight rods such as 3 and 4 weights as the finer line on the lighter rods makes less impact on the water. Presentation is key.  I'll emphasize, again, that presentation is significantly more important than fly choice, at this time.
When to Fish
As we head deeper into Fall the trouts' diet will consist of mostly Midges and tiny bugs and fishing can remain excellent if you keep this in mind.Typically around 5-6 pm the fishing will slow down as fish return to their lies for the day. If you are having a good afternoon with dries and all of a sudden it slows down, it's either beer thirty or time to tie on a dropper and fish deeper.
Last week we had some prolific leaf hatches on windy afternoons with the river literally covered in leaves. Although most have fallen by now, fishing is impossible during these times and if you encounter this, calling it a day is often the best choice.
Despite the cold temps this can be some of the best fishing of the year and I encourage you all to bundle up a bit and get out there to enjoy the end of the season. Fingerless gloves, warm pants and thick socks will help make things more pleasant when the chilly winds blow and you might just catch the biggest fish of the year in a snowstorm.
The Dream Stream
The Dream Stream is living up to its name right now. With water temps in the low 50's, fish are aggressive and eating like crazy before winter sets in for good. Water levels have risen with the recent rain and snow events. Flows are perfect to find fish throughout the stream, in the riffles as well as in the pools.
As you would on the river, pay careful attention to clean gravel where the browns are spawning and do your best to avoid these areas.
While the cold weather has put a damper on the Hoppers, greedy fish will still attack a well presented hopper pattern in the afternoons. Otherwise small dries have been very effective and have lured some large fish into eating. Both Para Adams and BWO's in sizes 12-20 have produced well all day long and when they don't a small Pheasant Tail, Micro May or BWO dropper will do the trick. I do not recommend tippets smaller than 5x as the sharp rocks in the stream will cut 6X like butter and you will watch the fish swim away with your fly in its mouth.
Dropper lines should be short, except for the deepest holes; and a good average length would be 18 inches or less. The water is crystal clear and sight fishing to larger fish can be a good call. Walk slowly, get the sun right and look for a bruiser to cast to. The most difficult part of fishing the stream now is to not spook the fish. They will eat a variety of flies if they aren't spooked. Once you spook a fish, even if you can still see him, the odds are slim that he will eat your fly, so move on and find another. If you hook a large fish in the stream it may take some maneuvering to land him.T hey always try to get under the big rocks and changing your position and direction of pull can help pull them out and get them in the clear.
The Ponds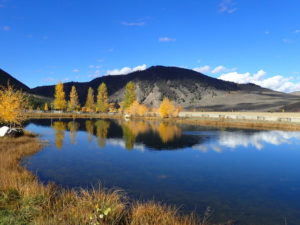 All of the Wilder ponds contain large trout that have hardly been fished to all summer. This is a great resource and I encourage all of you to give the ponds a go even if only for a short time. There are some monsters in them. The other day I spotted a Brown cruising the banks that was close to 6 lbs!
As in most waters, your best chance for a hookup is your first few casts. After repeated casting or hooking of fish, the trout seem to get the message and disappear to the bottom. I like to fish each pond for a short time and when the action stops, move to the next one.
Large cruisers can be sighted from the banks and a bit of patience can go a long ways to catch one of these. Try to lead the fish by 10-20 feet and see how it reacts. If you need to throw closer do it, but start by casting your fly far from the fish and work closer on successive casts. You will be surprised how far they can see and detect a fly in the water.
Large hopper patterns have been working well but as things cool down smaller flies will likely catch more fish. Midges, Para Adams, BWO's and fall Caddis are all good patterns right now and if you can't get a fish to eat on the surface, try a variety of droppers and give them a little twitch once in a while. If all else fails, a slow crawled Wooly Bugger in olive or black can be deadly. Cast out, strip in your slack and just let the fly fall while watching the end of your fly line. Any movement of the line/leader junction indicates that it's time to set the hook and hang on. For this type of fishing I recommend tippets of 3x-4x so you can put good pressure on big fish and land them as quickly as possible.
As the Season Ends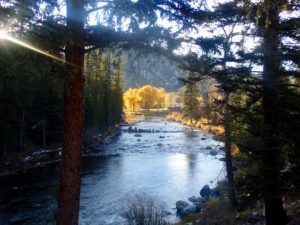 All in all, despite the record drought and low flows of 2018, fishing has been stellar all season at Wilder. We should consider ourselves quite lucky as many of the local rivers were unfishable for long periods in mid-summer due to high water temps and low flows, while the Taylor stayed cool. The maximum temperature that I recorded was 62 F, which is well under the stress limit for trout.
As we head into winter, fishing can remain excellent right up until the river freezes over in December. Middays are best. If you have the chance, you just might be surprised at how good the fishing is late in the season.