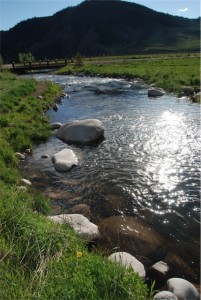 The Taylor River may be the best-known stretch of water at Wilder on the Taylor in the Gunnison-Crested Butte Valley, but Rarick Creek also has been receiving rave reviews. Developed in a detention area where the original Rarick Creek ran through the property years ago, three miles of meandering stream was reconstructed by Matt Weaver of Bozeman, Montana-based Five Rivers Restoration and completed in 2009.
Located in the meadow behind the owners' cabins, the creek has developed into its own self-sustaining ecosystem with the trout reproducing and wintering safely. "It's a habitat that fish like," says Jackson-Shaw Vice President Ron Welborn. "We just enhanced what Mother Nature created before the property was a ranch years ago."
The original creek didn't disappear; it runs along the north side of the ranch and delivers vital water to the hay meadow when the snowmelt makes it way down the mountains. The reintroduced stretch offers excellent sight-fishing opportunities and is an ideal option when people want to fly-fish without wading, get out for a few casts before dinner and develop confidence in the sport.
When discussing Rarick Creek, Weaver notes that it's "the best expression of my work in creating new waters for comfortable and challenging fly-fishing that I have done yet."