Taylor River Fly-Fishing Report – September 2, 2014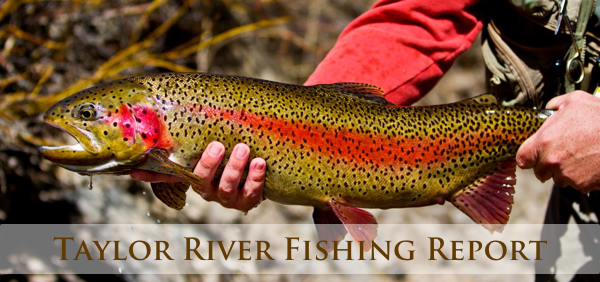 By Lu Warner, Master Guide
The month of August is one that I usually consider to be a slow time for insect hatches as well as the fish. After the frenzy of hatches in July, the fish generally lay a bit low in August, most likely waiting for the Fall hatches to begin in September. This year was different as unsettled weather, cooler temperatures and good flows kept the fish and bugs happy throughout the month.
River levels dropped to the sub 300 range in mid-August as the dam release from the Taylor reservoir was cut by 150 CFS during that time. Recent rains have brought the river back up to the low 300's and it should stay there until mid September when another draw down is expected. This is a fantastic level to fish the Taylor as it is much easier to get around the river when flows are below 400 CFS.
When the river dropped, we were able to access many spots on the river that had not seen a fly all year and the dry fly-fishing was and remains incredible. Even on hatch less days, fish move to small dries on every part of the river and all of our anglers were rewarded with some great days on the water fishing a single small dry fly on light tippets.
Morning fishing on the river usually starts a bit slow. Some fish will respond to a Dry but most fish lay low, waiting for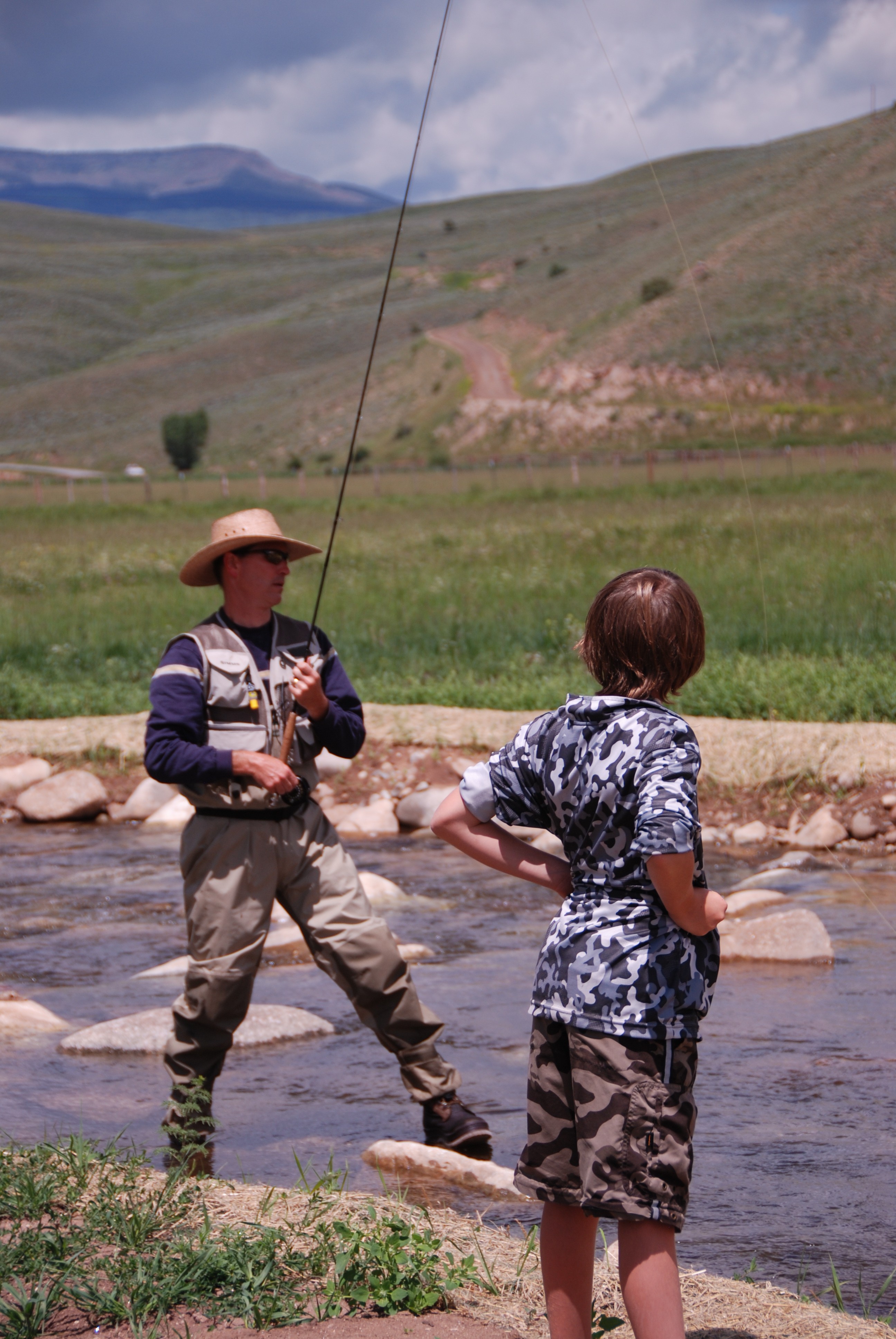 the lunch time feed when the water warms up a few degrees. Before noon I recommend fishing a Dry/Dropper set up that can vary depending on the water that you are fishing. In deep runs and pools, it is necessary to use a heavily weighted set up to reach the fish as they won't move far to eat your fly. A very large and buoyant Dry with a Stonefly and Midge imitation hanging below can produce good results. Another morning option is to fish shallower water such as riffles and tail outs with a small Dry/Dropper set up such as a #10 Para Adams with a #20 Bead head Pheasant Tail underneath. If neither of these produce, it may be time to consider a Streamer or wait a bit for the fish to get more active in the afternoon.
There are places where fish will be eating spent Spinners in slack water in the mornings. Their rise forms will be very slow and quiet and they can be hard to spot as they sip tiny insects. These fish spook easily so approach with caution and try to land your fly just above the fish..to far and it will drag and spook the fish before it gets there.
This time of year for the Dry Fly fisherman it is all about timing and the weather. Prime time is between 1 and 4 pm and cloudy/ rainy/bad weather days produce the best hatches. Last week during a very rainy day I saw the best hatch I have seen all year that brought up the majority of fish in the river for 4 hours. The fishing was off the charts with a #22 Parachute Blue WIng. Blue Winged Olives are the main player however on certain days PMD's, and a few straggling Green Drakes can be seen. Huge swarms of Trico Spinners hit the water when the air temperature reaches about 60 degrees and in certain slower areas fish feed on these smallest Mayflies very selectively. Caddis activity has slowed down but mid afternoons you can see smaller fish eating Caddis as they land on the water to lay their eggs.
On sunny bright days, the hatch can pass quickly so be ready when it happens as the bigger fish will only rise during the peak of the hatch. Small Blue wing Olive patterns, PMD's and Para Adams have all been very effective just before, during and after the hatch. I recommend using long leaders and light tippets (5X or 6X) and concentrating on a soft presentation to the water. At the peak of the hatch, the Browns especially can become super selective and the bigger fish can require a few fly changes and a perfect drift to make them eat. This is a good time to try to be patient and pick out one of the bigger fish to cast to. If a smaller fish eats your fly, many times the big fish nearby will just disappear for the afternoon, so make your casts count!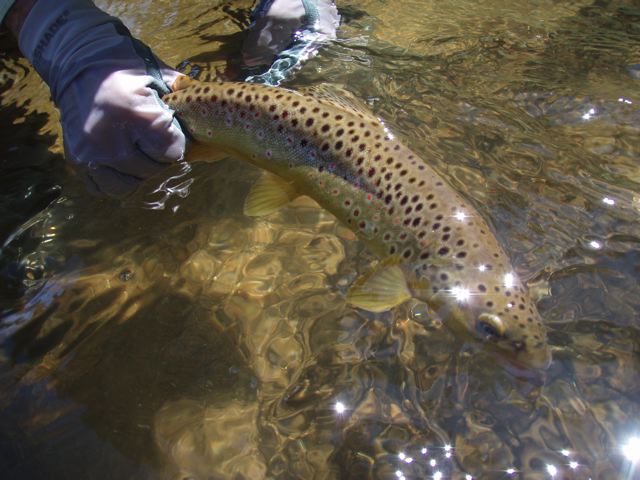 With the flows around 300 CFS this is an excellent time to sight fish to bigger fish. If you move around the river slowly and watch carefully, it probably won't take you long to find a target. Last week we were lucky enough to sight a 29 1/2 inch Rainbow that ate a big Stone and was landed and released successfully. The best way to catch big fish is to fish to big fish so if this is your goal, slow down, look around and if you sight one, make sure that you get in good position to make the cast and drift. Your first cast is your best opportunity, so take your time as these big fish won't tolerate to much commotion before they disappear.
With most of the hatches ending at 4-5 pm and few Caddis left for the "dusk" hatch, evenings have been slow and few fish are seen coming to the surface. Late evening would be a good time to try a Mouse or large Moth pattern in the deeper runs.
We look forward to even stronger hatches in September that will include Slate Drakes, Mahogany Duns and lots and lots of Blue Winged Olives.
Rarick Creek has fished super well all summer. Artificial hoppers have been moving lots of big Rainbows and we caught a 24 incher the other day that ate a Hopper like it was his last meal. We have noticed a growing population of wild Browns in Rarick and they seem to be much more selective than the Rainbows. A smaller dry seems to work for the Browns and last week we caught an 18 inch Brown that was as healthy a fish as I have seen.
If you are on Rarick and see fish rising, take a minute and find out what they are eating, as once on a food source these fish like all others can ignore anything that doesn't look like what they are eating. Big Rainbows have been coming from the Ponds as they have been eating Damsel Flies like crazy for the last month. At times, the water boils with rising fish as swarms of Damsels fly over the water and tantalize the big trout who jump up in the air to catch them. Some of these fish exceed 10 pounds and are easy to break off so my best advice in the ponds is beef up your tippet(to 3x) and let the fish run..don't try to stop him until he stops himself.
This next 6 weeks can be some of the best Dry fly fishing of the year with strong hatches, beautiful Fall colors, low flows and fish that are putting on the feed bag for winter. Remember that the snowy/rainy/cold/cloudy days are your best bet to enjoy amazing dry fly action right through the month of October.
For up to date fishing reports, gear and fly selection, river conditions etc. feel free to call me directly at 970-946-4370.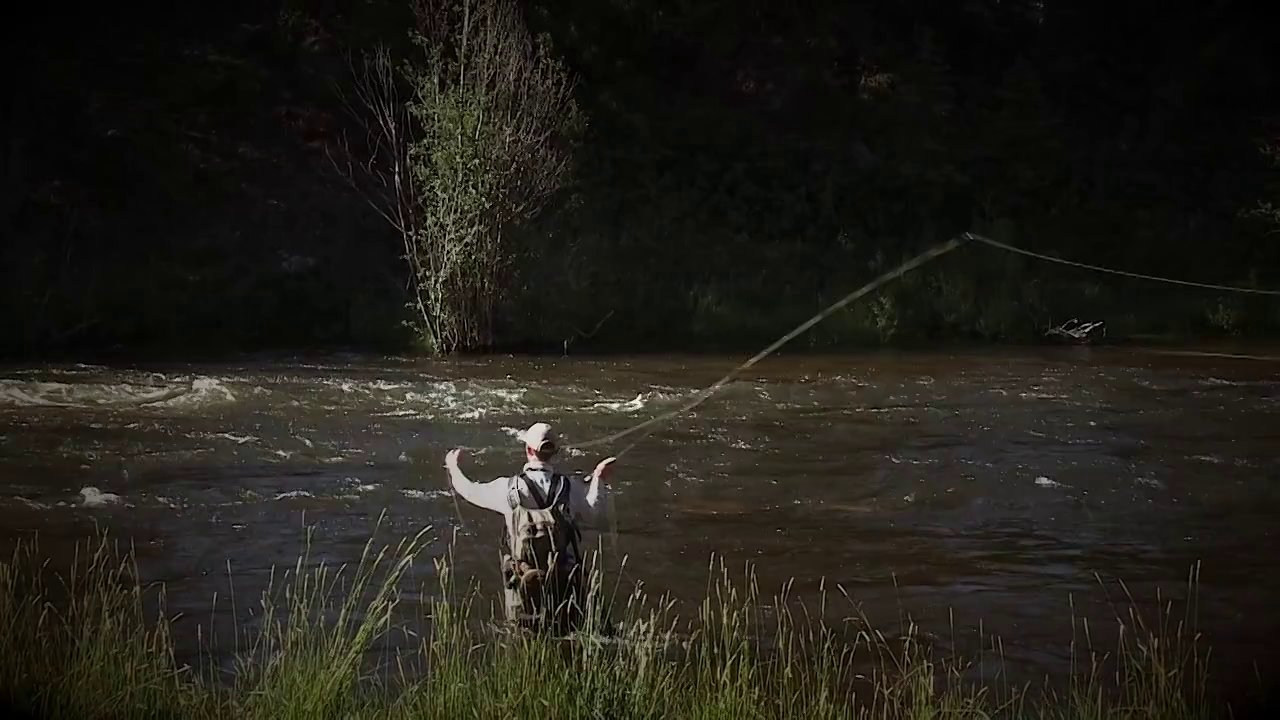 Wilder on the Taylor River offers a unique opportunity to own private fly-fishing property along with a beautiful riverfront home. Click the links to learn more.