Keith Hegarty and Judy McGill-Hegarty have lived in the Gunnison-Crested Butte Valley since the 1980s, calling Gunnison, the town of Crested Butte, a ranch up Slate River Road on the outskirts of Crested Butte and even Hotchkiss across the mountain home for a time. However, they didn't cross paths until almost 13 years ago when both attended a friend's 75th birthday party.
Judy, a licensed real estate broker, was invited to Wilder on the Taylor before any homes were built. She and Keith recall having a picnic and admiring the river and later attending a Wilder barbecue. "About three years ago, good friends from Sun Valley, Idaho, were in town and we took them to Wilder," Judy says. "They loved Wilder but said, 'We wish it were in Idaho.' They raved so much I suggested to Keith we buy a lot here."
After buying a lot at Wilder, Keith and Judy started construction on their dream home in May 2015 and finished in just under a year. Keith designed the house around the vistas and the couple's furnishings, including many family heirlooms.
"The view is what it's all about," Judy says, noting that the back patio is their favorite place. All wood inside and outside is recycled barn wood, including all the floors, and Keith built four chairs out of leftover wood pieces for the deck.
Both have owned a wide variety of real estate around the valley and consider Wilder their primary residence, spending about one-third of the year at their condominium on the island of Hawaii.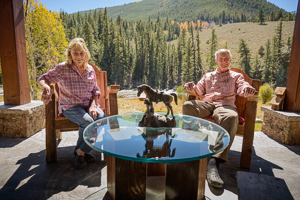 Keith, now retired, has been a builder and owned several businesses in Lake City, Gunnison and Hotchkiss. He fishes nearly every day and Judy several days a week, and both walk the miles of trails located all over the property. Keith says, "Wilder has the best area to fish on the Taylor River. The hatches are great for a dry fly fisherman. The three-mile stream in the hay meadow offers the opportunity to safely walk and catch large stocked rainbows and native fish from Spring Creek."
The couple also enjoys attending the Thursday Nights at Wilder, meeting up with other homeowners every other week during the summer for dinner, appetizers, drinks and fishing tips from the property's master fishing guide, Lu Warner. "One of the homeowners and partners in Wilder wants this to be a community so he initiated the Thursday evening events," Judy shares.
The idea of living on a large working ranch was always appealing to Judy but not the responsibility of maintaining it. "At Wilder, Don Sabrowski and his family, as our ranch managers, do a wonderful job of taking care of the 2,100 acres," she notes.
The Hegartys are savoring the lifestyle at Wilder and this chapter in their lives. They enjoy meeting new people, seeing their longtime friends and having the freedom to travel between beautiful mountains and beaches.
Click for more information on Crested Butte land for sale and be sure to check out our recently available riverfront home.