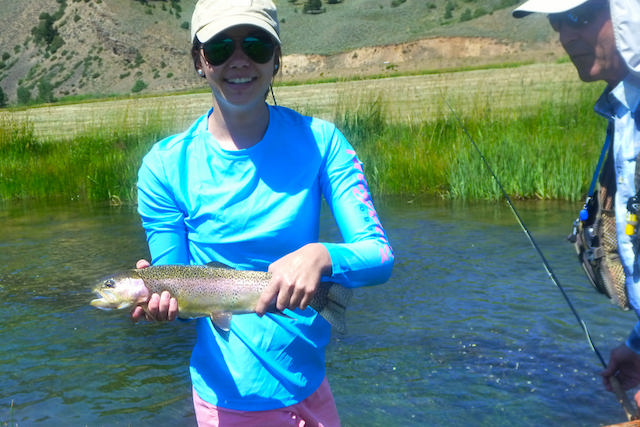 Taylor River Fishing Report – August 2016
Taylor River Fishing Report from Wilder on the Taylor – August 24 2016
As we enter the last week of August, fishing conditions are prime on the Taylor river at Wilder. With flows just below 300 CFS and water temps in the mid 40's, the last blast of the summer monsoon is bringing large hatches of Blue Winged Olives in the afternoons and the dry fly fishing is excellent. As we enter September these BWO hatches combined with Midge, Caddis, Gray Drake and PMD events will continue and keep the surface activity rolling through October.
As usual on the Taylor, mornings can start slow on the river as the fish are cold and slow to activate knowing that the afternoons will bring a feast of mayflies. There have been a few trico spinner falls around 10 am that can bring up fish in glassy water. This event doesn't last long and generally an hour is all you'll have to put on your best trico imitation and try to fool these wily trout. 6x is a must and a 12 foot leader will assist in keeping your presentation light and drag free. Don't overcast these fish or they will disappear on you. Try a couple of drifts and if they don't react wait until they begin rising again and try a few drifts with a different fly.
There have also been some PMD spinner falls in mid morning and a size 16 Rusty Spinner can be a great pattern. Look for mayflies dancing up and down over the water doing their mating flight and again, look for smooth water to find fish sipping these dead mayflies.
Otherwise I have been liking a size 12 Para Adams with 3-4 feet of 6X and a size 20 Pheasant tail dropper. Until you see fish rising, this is a very effective way to begin the day.
As the water warms in the afternoon, bugs will begin to fly and you will find the best fishing between 12 and 5 pm. On sunny days, we have already had numerous flying ant hatches so pay attention as these bugs can be hard to see on the water. One clue is that you will see fish rising and nothing on the surface. Closer inspection will reveal thousands of tiny black ant bodies in the surface film. A size 20 Para ant will work well. If you find yourself with no small ants, take a black perma marker and blacken the body of a size 20 para Adams. Flying ants come out in the early fall on a sunny day after a hard rain, usually the day before. They wait until the dirt gets wet and softens before they fly and mate so the females can burrow in, lay their eggs and start a new colony.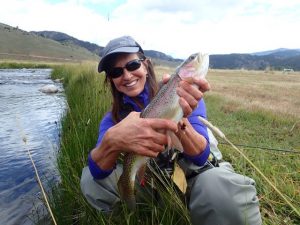 Sometime in the early afternoon you will start to see fish rising more aggressively as the BWO's begin to hatch. When you see this, make sure to lighten and lengthen your leader/tippet and be ready to try some different BWO patterns until you find the right one. Make your presentations soft.  This is key on the Taylor.
During this time period keep your eyes open for Gray Drakes and PMD's. The Gray Drakes are big, size 12 or so and when they hatch larger fish will come to the surface. Watch closely what the fish are eating. The other day during a BWO hatch, I noticed that many fish were eating Caddis. A size 20 Elk Hair fooled 11 fish in front of camp in just a few minutes before writing this report. Whatever is going on out there, be observant and take the time to figure out what the fish are eating before casting your line.
In the next couple of weeks, we'll see the female Brown trout begin to jump high in the air and slap the water to loosen up their eggs as they prepare to spawn in October. Not only is this a thrill to watch, it tells you exactly where the fish are. This time of year Streamers can be very effective in triggering a large Brown to strike. If things are slow on the river, don't hesitate to tie on a big black Sculpzilla and swing it deep through the runs and tailouts. Use a minimum of 2x tippet and try to work your fly slowly through promising looking lies that include structure of some sort…rocks, trees, logs etc. Cloudy days and low light times will be best for Streamer fishing throughout the fall.
Look for flows to drop in early September and be ready to spot some monsters as the water drops and the larger fish become more visible. If you do spot a monster, take your time and make a plan to get your fly into his face without spooking him. Oftentimes it is a process of trial and error to find the right fly. Make a couple of good drifts to the fish and if he doesn't react change. Last week, we landed out biggest Cutthroat ever at the Wilder, a 25 inch male that was one of the most colorful fish I have ever seen. We spotted this fish and changed flies 5 times before he finally ate a #6 Olive Pat's Rubber legs.
The Dream Stream has been on fire since the hay meadow was cut in July. Big fish are laying by the banks just waiting for a fat grasshopper to fall in. We have had some incredible days out here throwing a large Parachute hopper. Several rainbows well over 20 inches have been landed and a couple have topped the scales at over 6 lbs. Additionally we have caught numerous Browns, Cutthroat and Brook trout throughout the summer.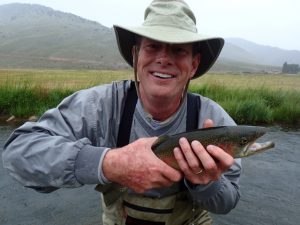 It seems like the fish are getting a bit leery of the large hopper patterns, so recently I have been throwing a #16 Madame X as a smaller hopper imitation and it has been working very well. Typically, the hoppers start to fly when things warm up a bit so don't be surprised if fewer fish react in the morning than the afternoon. There have also been some strong BWO hatches on the stream. If you see fish rising and they ignore your hopper, change to a #16 or smaller Para Adams or BWO and try a few casts. If you don't and the Hopper isn't working, tie on a #16 Pheasant Tail dropper or San Juan worm and work through the deeper holes.
Always check your tackle before casting into the Dream Stream as there are some tackle busters in here. I suggest a minimum of 4x tippet even though it can be hard to push through the eye of a size 16 fly. If you hook a large fish in here it may take some antics to land it as these fish try to burrow under the rocks and can break your tippet pretty easily. Try to work the fish around the rocks keeping your rod high while engaged in battle with one of these monsters. Please release your fish carefully and don't remove him from the water. Remember any fish you catch has been fighting for his life so take the time to revive him well before continuing on your way. While we all love pictures of our big fish, more important is to release the fish in good condition. Holding a fish up for a picture is fine if you do it quickly but please remember that the fish is suffering when out of the water and that they do not breathe air.
Approach the Stream carefully so you don't spook all the fish before your first cast. Fish cannot hear you talk but they can feel every vibration of your feet hitting the ground so walk softly along the stream. Your best shot is the first cast so make it count and get ready.
The 6 ponds at Wilder are full of very large trout. Some Rainbows are close to 10 lbs and they pull hard. At this time of year, the fish are looking for Hoppers, Midges and small nymphs. I always like to start by throwing a big Hopper out there and see what happens. If the fish ignore it then it is time to either try a smaller dry or to slow crawl a small nymph through the weed beds. If both of these techniques fail, don't hesitate to try a #6 or #8 Black or Olive Wooly bugger dragged slowly near the bottom.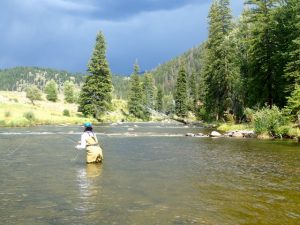 As in the stream, make sure to check and re check your terminal tackle and use tippets of 4X or larger to handle these bruisers. When you hook one let him run..don't try to stop him or you will hear the sickening snap of your tippet breaking.
Before you release your fish, please take some time to revive it and make sure it swims away right side up. Many times these fish will be stunned from capture and will go belly up. If that happens either re capture and revive the fish or give him a poke with your rod tip. Oftentimes this is all they need to wake back up and swim away in good shape.
As we come into Fall, I look forward to seeing the leaves turning, the big browns jumping and the BWO hatches getting thicker as the fish put on some pounds before the long winter that lies ahead.
Enjoy your time on the water in this beautiful place.
Cheers,
Lu Warner
Master Guide, Wilder on the Taylor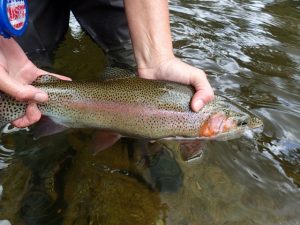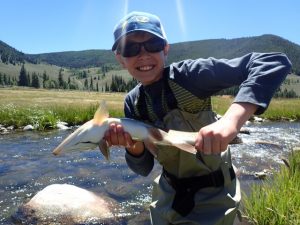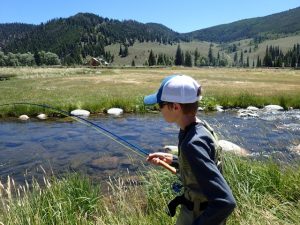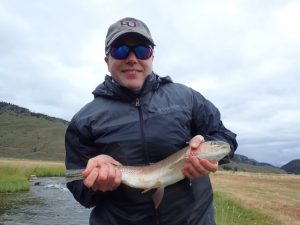 Wilder on the Taylor River offers a unique opportunity to own private fly-fishing property along with a beautiful riverfront home. Click the links to learn more.