Wilder's Master Guide, Lu Warner, gives his monthly Taylor River fishing report.  Be sure to tap into his expertise to ensure a successful day of fly-fishing on the Taylor.
As we enter August, flows on the Taylor River at Wilder continue to be above average at about 600 cubic feet per second and the fishing remains excellent. Water temps remain cool at 49 degrees. The recent rains have kept the river from dropping and cloudy days have produced epic hatches on the river. If you are lucky enough to be on the water during one of these events, you will see a variety of Mayflies, Stoneflies and Caddis popping off and fish eating like crazy. A normal day of Taylor River fishing at this time might look something like this:
Around 9-10 a.m. Trico and other Mayfly spinners begin to fly and clouds of Tricos can be seen landing on the water. These are the tiniest Mayflies (size 24), yet if you can find the right spot, you will find fish sipping these semi transparent bugs as long as they continue to land. With the Tricos you can have spinners laying their eggs on the water and hatching adults at the same time. Best advice if you see Trico activity is to fish a double dry with the second one being a small rusty spinner. This color of body resembles many different spinners and fish will eat it if presented correctly.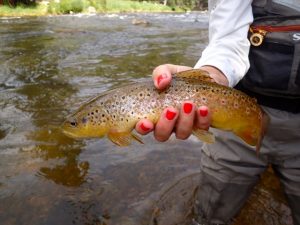 Also around this time you will see Caddis starting to fly and lay their eggs on the water.  If you don't see any Mayfly sippers, I recommend tying on a size 14-16 Elk hair Caddis and trying your luck with that. We have found that skating the Caddis is much more effective than a dead drift. Skating works best with a long leader (10-12'), light tippets such as 5 and 6X and casting across or at a slightly downstream angle. Keep the rod tip up high and skate and drop your fly into a dead drift as it comes across the current. Strikes can be savage so don't overset. When skating a fly with a tight line all you need to do is to tension up and the fish will be hooked.
If there is no surface activity and the fish are down, this is a good time to try a dropper. We have had luck with size 18-2 Psycho May bead heads, small Pheasant tails, Hare's ears, Caddis larva imitations and Zebra Midges dead drifted on light tippets about 3-4 feet underneath your dry.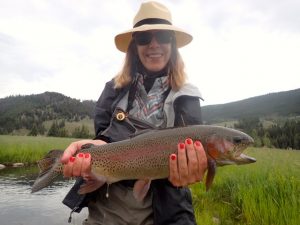 As we approach noon, particularly on cloudy days, you can expect to see fish starting to rise and a multitude of bugs starting to hatch. These will include Caddis, Stoneflies, BWO's, PMD's, Flavs and Green Drakes. When Taylor River fishing, the cloudier the better as the hatches are much weaker with bright sun. By 1 pm, if conditions are right, fish will be rising everywhere and it is important to determine which of the hatching bugs they are concentrated on. If you see splashy, hard rises think Caddis. If fish are sipping slowly think Mayflies. Peak hatch times are from 1-3 pm and during this time you may have a chance to find large fish on the surface that you can catch with a dry. If it is raining during this window, hold on to your hats as rainy days consistently produce the best hatches. When the Mayflies come to the surface to hatch and dry their wings, the rain beats them down and leaves them unable to swim or fly. Trapped on the surface, they are easy prey for the trout and this is when you can see the river literally boiling with fish. Try to determine exactly what they are eating because at times like this with a lot of natural food available, the fish can become very selective. If fish are rising and you do not see their heads break the surface, then they are eating either in the film or slightly below. A floating pheasant tail nymph can be very effective in these situations, tied behind your dry.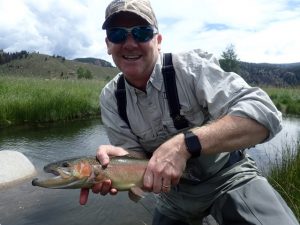 Regardless of what is hatching, if you see fish rising, a size 16 para Adams can be deadly. The gray body resembles many of the Caddis we have and the Parachute style lands softly on the water and has a similar profile to many of the Mayflies we have here. I am a firm believer that presentation is generally more important than the pattern. This means hitting the water as soft as possible with your cast and using 5 or 6X for minimal impacts and a better drift. Second in importance is the "drift". The Taylor is a tricky river with many different current speeds. Position yourself carefully so you can cast upstream and keep your line all in the same current. Pile casts, reach casts, lazy S casts, and long leaders (12') can help you buy some time for a good drift. Third in importance is the size of the fly you are fishing. Try to match the size of your fly to the naturals as closely as possible. If all of these criteria are met and you are not catching fish, then consider a color change. If they are eating PMD's select a yellow body fly, with BWO's select an olive body etc.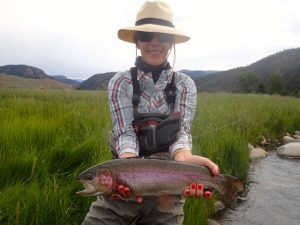 Around 3 pm we seem to enter the dead zone of Taylor River fishing where fish are full from eating a fat lunch and are not as aggressive as they were earlier in the afternoon. This is a good time to try dead drifting some larger nymphs in the deeper pools such as Rubber legs, Drake nymphs and large weighted Pheasant tails. This is also a good time to take a break if you have had success already and wait until the Caddis start flying in the late evening. This is a bit unpredictable but some evenings after 6 pm have huge Caddis events and fish can feed heavy on the surface until dark. After 3pm the Mayflies are generally done for the day so concentrate on Caddis imitations. Recently we have seen some of the large October Caddis and a size 12 Stimulator with an orange body lure some large fish to the surface.
During peak hatch time be observant. Don't just cast to random rises. Be patient and look for big fish. This is your chance to select the larger fish and cast specifically to them. If you see a large fish rising, make a drift or two. If he doesn't eat, change flies and make another drift or two. Take your time as continued or sloppy casting will put the big fish down. Pay attention to his feeding rhythm, if he is rising often, and time your drift to coincide with the time when you think he is ready to come back up. Many times fish don't eat your fly because they have just eaten or aren't ready to rise again.
Over the next few weeks I look for the river to drop to the low 500 range. As the water drops look for some areas that have not had any pressure yet (due to high flows) as these fish can be sitting ducks. Lower water will mean lighter tippets, longer leaders and smaller flies. The BWO hatch will become the most important this time of year so make sure to head out there with lots of BWO imitations to try.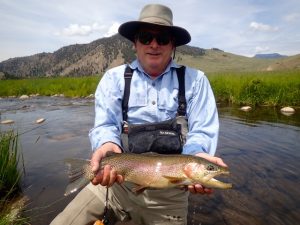 The Dream Stream continues to produce trophy Rainbows, fat Browns and feisty 12-15 inch Brookies. We have landed several Rainbows in the last couple of weeks in excess of 5 lbs and some of the larger ones have weighted in at 7-8 lbs. Hoppers abound in the hay meadow and a well presented Hopper can produce some violent takes. In the mornings the fish seem to want either smaller dries such as a 16 Para Adams or droppers. As the day warms up and the Hoppers begin to fly, a Hopper imitation is the fly of choice. Have several types and change until you find the one that they can't refuse.
Fish are spooky in the stream so approach with caution and stealth. Longer casts help get the fly out of the range of the fish that you spook walking up on which will raise your odds considerably. Due to the size of the fish I do not recommend tippets lighter than 4X. If you are fishing a hopper imitation, use 3x and 4x to a dropper if necessary. Remember to de barb all of your hooks and double check your knots before making the first cast. If you hook a monster on the stream play him hard and try to land him quickly. Otherwise the fish may not recover from the fight. Please leave the fish in the water. If you must take a pic, do it in under 10 seconds and return the fish to the water immediately. Hold him in fast current until he shows signs of strength and release him carefully. Keep an eye on the fish for 5 minutes afterwards to make sure he does not go belly up. Many times the fish will turn upside down and if you don't recapture and revive him, he may expire. The deep pools and pockets hold the big Rainbows but all of the riffles in between the pools contain numerous Browns. I suggest removing the dropper if you have one, for the riffles as they are shallow and your dropper will hang on the bottom.
In the next week or so, weather permitting, the hay will be cut and the fishing will be on fire as hoppers will be all over the place. Look near grassy banks and on the edges for large fish waiting for these tasty nuggets.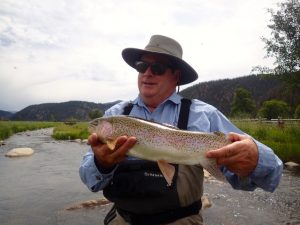 All of the ponds have a good mix of Rainbows and Browns. I always like to search the inlets first and see if you can spot one in the current. If not, take your time and try to spot a cruiser. As in the Dream Stream, these fish can be very responsive to a well presented Hopper pattern so try this first. If you get some refusals, then downsize your dry. If this still doesn't do the trick, a small dropper under your dry can produce. Please do to use any tippets lighter than 4x as the fish are almost certain to break your line. Some fish in the ponds approach 10 lbs so keep this in mind as you rig up. Breezy, cloudy days are the best so try to time your visits to the ponds when it is not bright, sunny and still. There are still some Damselflies around so a large blue adult Damsel is always worth a try. Scan the shadows carefully before you cast as oftentimes large fish can be spotted in very shallow water near the grass. Worst case scenario if you find yourself fishless, slow crawl a black or olive wooly bugger over the drop offs. This can be a deadly technique.
All in all, the fishing has been excellent throughout the summer. The fish are fat and healthy and so are the bugs. As September approaches we can look forward to Mahogany Dun, Slate Gray Drake, flying Ant and BWO hatches. As the water drops, it will be time to stalk some of the monster residents in the Taylor River. During the high water times, these fish do a good job of remaining hidden, but as the water drops, these fish can be spotted and fished too. Keep your eyes open and your backcasts high.
Wilder on the Taylor River offers a unique opportunity to own private fly-fishing property along with a beautiful riverfront home. Click the links to learn more.