Fishing conditions are excellent. Things truly couldn't get much better. There is a smorgasbord available to the trout most days, including Yellow Sallies, Drakes, PMDs, BWOs, Caddis and Midges. Water levels on the Taylor River are continuing to trend in the anglers favor, with 375 cfs out of the dam being the primary contributor to approximately 475 cfs in Almont.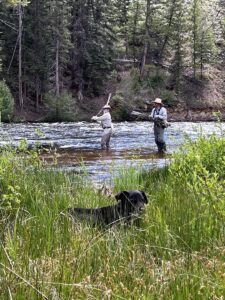 Mornings can have their own burst of bug activity. When the first warmth hits the water, bugs start flying around. Often egg laying Caddis and Mayfly spinners are the first to arrive. Dry flies such as a Peacock Caddis #14-18, P. Adams #12-18, or Rusty Spinner #14-18 have been catching the fish that are looking up. As the morning progresses, #14-20 Yellow Sallies, #18-20 Midges or sporadic #14-18 Caddis have been the first bugs to hatch for the day. 
By late morning or early afternoon, you should see a variety of Mayflies. Deciding which size of Mayfly is most important to the trout can be the toughest part of your afternoon. Not always, but often #10-14 Green Drakes will be first, quickly followed by #14-18 PMDs and #16-18 BWOs. P Adams, Sparkle Dun, Barr's Emerger, RS2, or a Pheasant Tail in the correct size should work. 
The bite has been slowing down late afternoon but it picks up again in the evening. Evening Caddis hatches can overlap with evening spinner falls. Skating/twitching a Peacock Caddis or P Adams can be all it takes. 
The Dream Stream is still seeing a lot of bug activity. #14-18 Yellow Sallies, #12-14 Caddis, and egg laying Caddis will keep the fish active most mornings. #16-20 Blue Wing Olives start to move by mid to late morning, and a variety of Midges are always on the menu. The hoppers in the hay meadow are getting big. Twitching a #8-12 Para. Hopper, P Madam X, or Stimulator could elicit a violent response.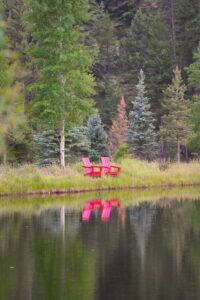 The ponds are pretty reliable right now. Midges start hatching early in the morning. Fish will be cruising and  sipping, both shallow and deep water. A small Sierra Dot or Griffith's Gnat, presented delicately, should work when targeting these fish. Hoppers and flying ants are in full swing. Twitching a terrestrial can be very productive. If the day is offering extreme heat, many of the trout seem to retreat to deeper water. Allow a streamer or nymph to sink and bring it back with short strips. 
Pinch your barbs, 
Ben Riedel
Wilder on the Taylor
Master Fly Fishing Guide