The Taylor River is coming to life for the summer! Water temperatures are consistently rising into the low to mid-50s every day. Hatches are thickening, and fish are spreading out. Flows are starting to recede slightly, making wading easier, but the water is still fast and slightly dangerous. Flows on the Taylor River in Almont are currently 790 cfs. Taylor Park Reservoir is still releasing approximately 475 cfs, which should drop to 400 cfs in the next few days.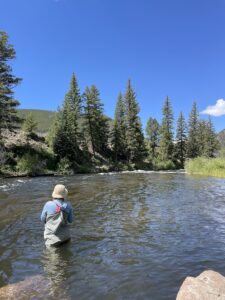 Mornings on the Taylor can still feel slow. Until the water warms up, nymphing in the lower, slower water will be your best bet. There have been thick midge hatches in the mornings, but they tend to be small, and the trout rarely come to the surface (or even move up in the water column). Weighted Midge patterns like a Zebra Midge or Brassie, in the #18 or smaller range, have produced fish in the mornings. There is still a lot of food on the riverbed. Getting any bug in their face, with a good drift, tends to work. The key is the good drift.
As water temperatures rise during the day, sporadic Caddis and Yellow Sallies will start to get attention from certain trout. Flies such as an Elk Hair Caddis #14-20, Stimulator #12-16, or PMX #12-16 have been getting fish to commit.
Into the afternoon, look for mayflies. Blue Wing Olives mostly, but there have been occasional Pale Morning Dun and Green Drake sightings. Pheasant Tails #14-20, Hare's Ears #14-20, Barr's Emergers #16-20, RS2 #16-20, P. Adams #14-20, and Sparkle Duns #14-18 have been catching fish. We should start to see some of our bigger Mayflies hatching any day now.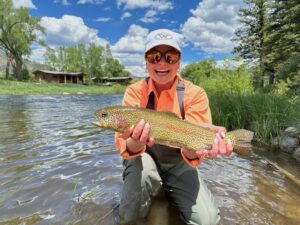 Evenings can bring some of the best fishing of the day right now. Not only is the water the warmest for the fish, but bugs start hatching in platoons. Small Caddis have been hatching by the thousands the last few evenings. Skating a small Elk Hair Caddis along the bank, or fishing Caddis emergers, will give you a chance. Mixed in with the Caddis can be a variety of Midge's. So many Midges that you wouldn't blame the fish for ignoring the more elusive Caddis. Nymphing with Midges #16-18 can be very productive.
The Dream Stream is on fire right now. It warms up a bit quicker than the river, so it can be a great place to start your day. Large Caddis, #12-14, are sporadically hatching throughout the day, making a #12-14 Elk Hair Caddis a great prospecting dry fly. Blue Wing Olives start showing up by late morning. The BWOs have been small, #18-22, but they are active and the fish pick up on it quickly. Small Pheasant Tails or BWO nymphs under a dry fly have been most effective. As the hatch progresses, P. Adams, or BWO dry flies will be on the menu. Just like the river, the trout can key in on small Midges. If you suspect small midges being the preferred item, STEALTH paired with a small Griffiths Gnat, Black Beauty, or Zebra Midge will give you a chance.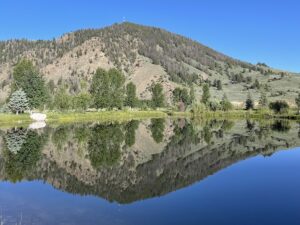 The ponds at Wilder are humming with activity. Hundreds, if not thousands, of Damselflies are continuing to hatch. Fish move into the shallower water to hunt the Damselfly nymphs trying to escape to the grassy bank. Twitching Damsel dries or small olive Woolly Buggers should work. You will also find some fish sipping Midges, while others are making violent attempts at small terrestrials. Flying Ant patterns shouldn't be overlooked either.
Wade safe, and pinch your barbs,
Benjamin Riedel
Wilder on the Taylor Master Fishing Guide