Taylor River Fishing Report – May 2014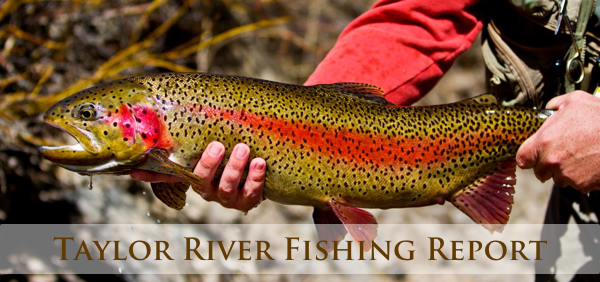 May 24, 2014 – Hi everyone. Just returned last week from a great season at my Lodge in Patagonia, Chile and am excited about the upcoming season on the Taylor River at Wilder on the Taylor.
What a difference a year can make! Last year at this time we had low flows and little run off to contend with. This year is a different story. With an above average snowpack in the mountains and some late Spring storms and cool weather, flows on the Taylor River promise to be significantly higher than the last couple of years. As of today the Taylor is running at about 1000 CFS and peak flows are expected to be reached within the next 2 weeks.
This bodes well for the fish and anglers as well as flows should continue to be on the high side through the summer season and well into Fall. More water is always better in the long run so we are glad to see it.
One of the beauties of the Taylor River at Wilder is that even during these high flows we can get out on the water and catch fish while all other rivers in Gunnison County including the Slate, East and Gunnison are blown out and un-fishable with huge flows and muddy water.
Water conditions on the Taylor River at Wilder are slightly murky and water temperatures hover in the low 40's. Visibility is over 6 feet which means that the fish will have no problem seeing your fly. The trick this time of year is in getting your fly down to the fish as most are lying deep and will not move far to eat. Over 95% of the trout's diet at this time of year are nymphs and typically they have their bellies on the bottom awaiting the bounty that the high flows bring.
We've been out on the water a few times this week and have been successful fishing both deep nymph rigs and weighted streamers fished slowly. It is easy early season to think of throwing big nymphs only, but one thing to remember in the Taylor River is that the fish key in on small sizes and are more apt to eat a size 20 Baetis nymph than a big Stone even in high murky water.
Fishing an indicator with a large Stone and a size 20 Baetis (Blue Winged Olive) dropper can be deadly as the weight of the big Stone brings the small Baetis down into the target zone and acts as an attractor. What you will find is that most fish will eat the Baetis. Another rig that I like is fishing an egg pattern with a Baetis behind it and casting multiple drifts in the deeper pools where the fish are congregated at this time of year.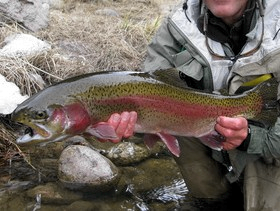 Regardless of what flies that you use, finding the right weight for the water that you are fishing is key. This requires tweaking your rig from hole to hole to make sure that you are presenting your flies as close to the bottom as possible.
As we anticipate the fantastic hatches coming our way in June and July it is easy to fish too fast as we are accustomed to doing when the fish are aggressive and bugs are prolific. Remember when you are fishing at this time of year that this is the early season. Water temperatures are cold, the fish are not super active and there is a premium on slowing down and fishing each piece of water methodically and patiently.
This week we did see a few Blue Winged Olives and small Stoneflies. In the next couple of weeks we'll be seeing more and more bugs and the fish will become more active and move out of the deeper holes.
On Rarick Creek flows are perfect and we are seeing a few fish rising in the afternoons to small dries. These can be targeted and fished to otherwise a dry/dropper combo is sure to move one of the nice Rainbows found in here.
The Ponds at the Wilder can provide some entertaining fishing right now as the big Rainbows are hungry and aggressive. We found fish sipping midges in the scum lines and attacking Streamers in the deeper water and inlets.
I'm looking forward to a stellar season of fishing at Wilder. The high Spring flows insure quality fishing throughout the year and the already incredibly high population of fish that we have at Wilder is going to get even bigger.
If you are planning a trip to Wilder this season, feel free to give me a call at (970) 946-4370 for an up to date report and recommendations of flies and gear for the Taylor River.
See you on the water.
Lu Warner
Master Guide
Wilder on the Taylor
Wilder on the Taylor River offers a unique opportunity to own private fly-fishing property along with a beautiful riverfront home. Click the links to learn more.