Wilder's master fly fishing guide, Ben Riedel, shares his favorite flies for  landing fish this time of the year in his latest Taylor Fishing Report.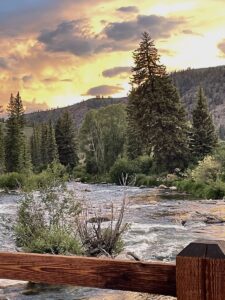 One could not ask for a better summer so far. Clear water, prolific hatches, and beautiful fishing weather. Life is good indeed.
The Taylor River is flowing at 360 cfs through Wilder. 250 cfs of that is coming out of the Taylor Park Reservoir. Water temperatures are fluctuating between 48 degrees in the early morning, to 60 degrees by late evening. Scattered thunderstorms are present most afternoons, though rarely forcing anglers to seek shelter.
Mornings on the Taylor River are full of life from the moment the sun hits the banks. Egg laying Caddis are often the first bug to be spotted. Peacock Caddis, and Elk Hair Caddis in size to match what you see are good flies, but often they need a little movement to trigger a response. When possible, cast across or even down and across. This will make your skating/twitching presentation easier. Look for Mayfly spinners returning to lay eggs also. A Rusty Spinner in the appropriate size should fool the sippers.
Nymphing deeper pockets is probably the most productive method in the morning. Pat's Rubber Legs, Pheasant Tails, Cased Caddis, and Zebra Midges, are all great options to dredge in front of fish.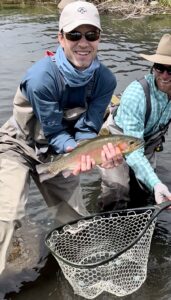 By late morning or early afternoon you should expect Mayfly nymphs starting to move and get caught in the drift. Nymphing, or a long dry/dropper, with size 12-18 Pheasant Tails and Hare's Ears will be productive for an hour or more before you see Mayfly adults. Most afternoons will see Green Drakes, Gray Drakes, PMDs and BWOs. Sometimes in that order, sometimes all at once. Parachute Adams, Sparkle Duns, Barr's Emergers, and RS2s all imitate emerging Mayflies really well. Try to identify the most prolific species, match that size first. If your Mayfly patterns aren't sitting well with the fish, suspect an underlying Caddis hatch. In which case, Elk Hair Caddis, Sparkle Pupa, X-Caddis, and BH Caddis Pupa should do the trick.
Generally it's back to nymphing attractor patterns or skating Caddis after the afternoon hatch has run its course, but there will be one last Caddis hatch most evenings. Due to the low light, possibility of egg layers, and fish activity, a single dry fly is often the ticket. Again, cast across or down and across to aid the skating/ twitching presentation. Implementing a "hot mend" will skate the fly a few inches to a foot, and is a great way to achieve some realistic movement.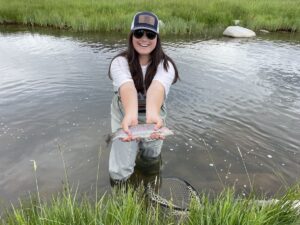 The Dream Stream has been on fire in the last couple weeks. Egg laying Caddis, Caddis hatches, Green Drakes, BWOs, and Midges have provided plenty of food for the fish, and action for the angler. By mid to late morning, egg laying Caddis will be present. There are some big Caddis too. A size 10-14 Elk Hair Caddis imitates these egg layers well enough. If the fish are refusing to eat on the surface, a 16-18 Pheasant Tail, or 10-14 Caddis Larvae should fool them. By the afternoon, you should see a BWO hatch. Small P. Adams, BWO dries, Barr's Emergers and Sparkle Duns size 18-20 have been producing beautiful eats. There are Damselflies and Grasshoppers present during the day also. Twitching these bugs near the bank should induce some viscous strikes.
The ponds are still fishing very reliably. Midge hatches keep the fish's attention most of the day. To fool trout that are sipping midges, delicate casts are paramount. A size 16-20 Sierra Dot, Griffith's Gnat, Black Beauty, or Zebra Midge presented properly should be convincing enough. There will be a handful of fish out cruising, looking for Grasshoppers and Damselflies. Lead them by 6-10ft, twitch your fly a few inches at a time if you need to get their attention. If all else fails, or just for maximum fun, try throwing a small Sculpzilla, or size 8-12 Woolly Bugger out into the middle of the pond and retrieving it up the drop-off.
Please pinch your barbs!
Ben Riedel
Master Fly Fishing Guide
Wilder on the Taylor