Spring Fly-Fishing Report
Taylor River
This has been an extremely productive spring for fly-fishing the Taylor river. They pushed the flows out of the dam from 100 to 250 cfs, and plan to keep it there throughout the summer. In my opinion this will be an epic year for walk wading the Taylor River. We have been seeing a thick caddis hatch daily for the last week. The fish are beginning to look up. A few brown drakes are around and the green drake hatch could begin any day now. We are seeing consistent results with small caddis and size 20 parachute adams. We have also had some great action with big fish on big dries, don't be afraid to try the double dry, a big stimulator and a small adams.
Rarick Creek
The creek is off to a legendary start. We have seen some huge fish landed in Rarick, stay tuned for an upcoming video of some recent action. Dry dropper has been the method of choice, a big ugly foam hopper, and a size 18 pheasant tail. I am not sure it really matters, if they are hungry, they are eating anything you throw at them. However, it is not as easy as it sounds, you have to be stealth when approaching the banks, they are very spooky. Generally, if you think there is a fish there, it is, fish to a spot.
The Ponds
The fish in the ponds wintered well and came out this spring big and healthy. If you like dry fly-fishing for big fish, Wilder ponds are a great place to start. Same set-up as Rarick Creek and hold on to your rod, you are in for a terrific battle.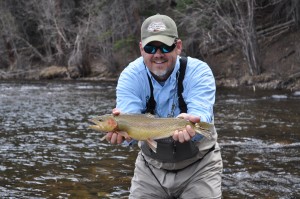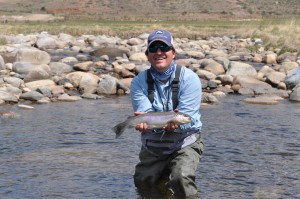 Wilder on the Taylor River offers a unique opportunity to own private fly-fishing property along with a beautiful riverfront home. Click the links to learn more.