Wilder has partnered with the Young Guns 4-H Club to provide warmth to those in need and growth in knowledge to those involved.
Wilder has a rich ranching history in the Crested Butte – Gunnison Valley. From the original settlers to this day, Wilder has operated hand in hand with this land. Part of keeping that spirit and tradition alive is sharing our resources with our community in need.
The Gift of Warmth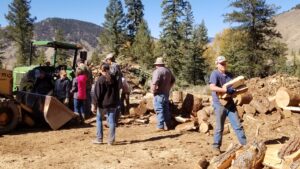 The Young Guns 4-H Club split and loaded three large truckloads of wood at Wilder on the Taylor on Oct. 14. Ten youth, five 4-H parents, our Ranch Manager Don Sabrowski and four of his crew members assisted, making it possible to deliver eight cords of wood to people needing a helping hand to stay warm this winter.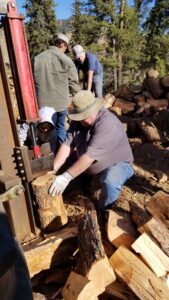 "Community service is a yearly requirement for staying active in 4-H. It is near and dear to my heart, and I want to teach 4-H kids the true meaning of giving of themselves and their time for others to benefit," says Shelly Sabrowski, who manages the ranch with Don and is the longtime volunteer leader of the Young Guns.
Not only is the project providing firewood, but it's also helping Wilder with fire mitigation by removing dead trees. Ron Welborn, development partner at Wilder on the Taylor, says "I am grateful to be part of the culmination of so many different people, Wilder on the Taylor and 4-H joining together for the betterment of the community and the land."
The Future Remains Bright
The Young Guns returned to the ranch for another workday at Wilder on Nov. 2. We at Wilder and our Ranch Managers plan on a long a fruitful relationship with the Young Guns 4-H Club.