We are excited to announce that Ben Riedel is joining the Wilder team as our new Master Fly-Fishing Guide for the 2020 season. Many of you know Ben and have fished with him. For those of you who have not met him, Ben lives in Gunnison with his wife Holly, his son Huck and daughter Eddy. He guided for us during the summer of 2018 and is very knowledgeable of our fishery. Ben has experience guiding for Dragon Fly, High Mountain Drifters and Black Canyon Anglers and we feel he will be a great asset to our homeowners and their guests. Continue reading Ben's first fishing report of the 2020 season!
I am honored and excited to be joining the Wilder team. It is a special environment full of good times and good people. I look forward to seeing familiar faces and getting to know those of you who I have not met.
As I finish my first week at Wilder, a few exciting things are happening. First, it is now permitted in Gunnison County for second homeowners and their guests to go fishing with a guide.
Second, we stocked fish on Wed. the 13th. Primarily in the stream. I'm happy to report that the upper stream and ponds wintered well and minimal stocking seemed necessary. I have seen spawning fish in the ponds! Great news! Because of habitat improvement, like aerators, we had to stock fewer fish than in the past.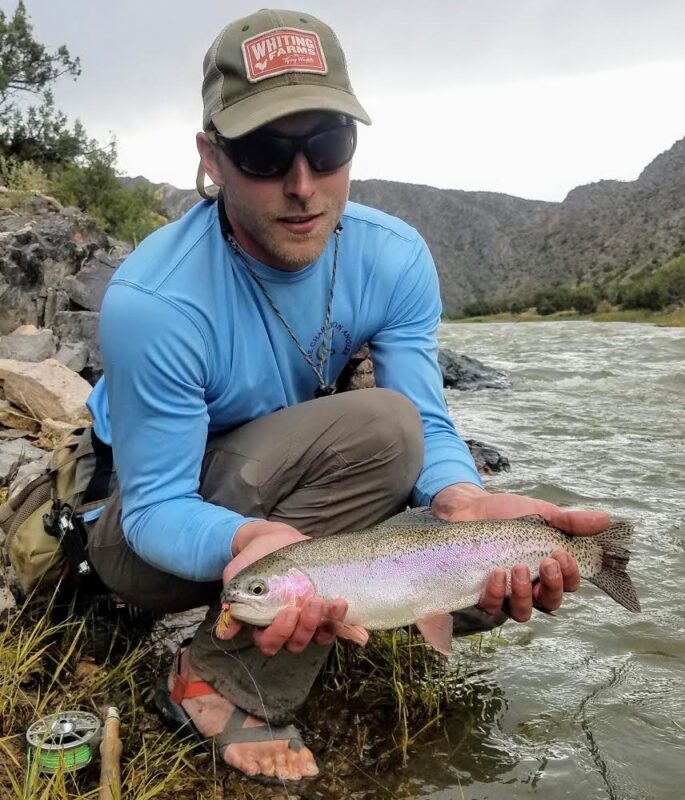 Also, fishing conditions are heating up. Most of the activity is happening around the warmest part of the day still. Daytime temps will be getting in the mid to upper 70's this weekend, starting spring runoff in earnest soon.
Gunnison valley snowpack finished the winter right around 100% of average, but the Bureau of Reclamation's most recent Taylor Park Reservoir forecast shows us barely qualifying for a "dry year". It is not quite a low water year, but a summer that looks to favor the Angler. Currently, the Taylor River is running at 300cfs at Wilder, 156cfs out of the dam, with a proposed bump in flows to approximately 200cfs out of the dam starting May 16th. Then there will be a 50cfs increase every week until 350cfs out of the dam in mid June. Of course, this is subject to change.
Fish will start to spread out with more water in the river. Prospecting with a dry dropper rig is a good place to start, but as spring runoff continues, expect fewer rising fish and more subsurface activity. Right now there are sporadic midge and mayfly hatches mid day, and Golden Stoneflies will be on the menu soon. Nymphing a stonefly pattern in the mornings and evenings can be a productive way to fish when there isn't a hatch, but the river is full of all kinds of aquatic life right now and the fish are strapping on the feed bag. It's just a matter of getting a natural drift in front of feeding fish, which means adjusting your position, weight, and depth regularly. And don't forget the ponds! These fish are healthy and hungry coming out of winter. Sight fishing to cruisers with small nymphs and streamers could land you some of the biggest fish on the property. I will be sending out a detailed fishing report soon as the water changes, bugs become more active, and stocked fish have settled into their new homes.
There will be a few special rules regarding my services while Covid-19 is playing out. As far as I know, these rules technically only apply to fishing with myself or another guide on Wilder property. The temporary guided trip protocols are put in place to ensure a low risk environment, and to comply with the standards set by the industry, the CDC, and the Gunnison County Health Department.
● Guide and client(s) will not share transportation
● Guide and client(s) will wear face covering or mask
● Social distancing is required during guided trips
● Guide will carry sanitation products during trip
● Borrowed gear will be sanitized before and after every trip
● Self screening is mandatory to ensure guide and client(s) are not exhibiting ANY signs or symptoms of illness
The fishing committee and I have decided that boots will be put in their regular spot under the bench. If you use a pair of wading boots, put them in the bin marked boot return. The bin will be by the boot rack and will allow me to sanitize before next use. The rest of the gear, including waders and fly rods, will be available upon request only. This is temporary and is an additional attempt to avoid people contaminating gear and placing back on the rack for immediate use by someone else. If you need to request gear, please give me a few days notice if you can.
The new protocols will be in effect until we hear otherwise. Everyone has their own risk tolerance. Personally, I am confident that implementing these procedures will allow us to enjoy safe and productive guided fishing.
This summer's fishing calendar is open at the moment. Historically, trips have booked quickly especially in July and August. With a slightly below average water year, fishing should be as good as it gets. I look forward to a safe and exciting fishing season.
Wishing you all the best, and stay healthy!
Ben Riedel- Master Fly-Fishing Guide
rodandriedel@gmail.com
(316)208-3517