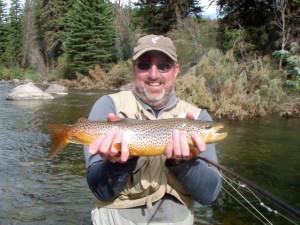 Taylor River
WOW! The latter part of the summer and early fall fishing has been outstanding. The beginning of August was warm with minimal clouds, which made for tough dry fly fishing. The hopper / dropper technique was the technique of choice, landing 80 percent of the fish on the dropper, but rising some big fish on the hopper. As the days started to cool off, and the clouds started rolling in, the blue wing olives took over. We have been fishing small blue wings and an occasional hopper, all August and into September. The flows have dropped to about 125 cfs at Wilder, and we are seeing some huge fish that we don't typically have the chance to see. If you like to sight fish, now is the time.
Rarick Creek
Again, due to the fishing on the Taylor, Rarick Creek saw very little pressure this summer. However, while the Sabrowski's were haying the meadow, the hopper fishing was off the charts. Throw a big ugly hopper in the riffles at the head of the pools and hang on.
The Ponds
The key to the ponds at Wilder is the time of day. They like the morning and early evenings. In the heat of the day, they go down deep and are much harder to see and therefore catch. 9:00 a.m., the water is crystal clear, the wind is down, and the fish are on the move. Any type of dry fly has been working, everything from a size 20 parachute adams, to a big foam hopper, and again hang on. I also recommend 3x tippet, any smaller will be tough on you, and the fish.
Learn more about Wilder on the Taylor near Crested Butte, Colorado.
Wilder on the Taylor River offers a unique opportunity to own private fly-fishing property along with a beautiful riverfront home. Click the links to learn more.