Trout Heaven at Wilder on the Taylor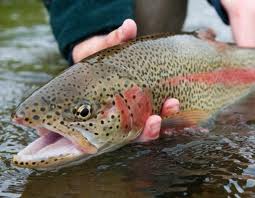 With hundreds of miles of scenic waterways and approximately 3 million new fish released each year from the state's Roaring Judy Fish Hatchery, Gunnison County is a fishing enthusiast's paradise. Throw in the opportunity to experience five miles of private fishing waters at Wilder on the Taylor, men and women who love the sport may think they've died and gone to trout heaven.
Wilder has two miles of professionally enhanced tailwater fishing on the Taylor River and several miles of sight fishing on Rarick Creek available to owners and their guests.  Seven stocked ponds are perfect for beginners and for practicing fly-fishing skills at the 2,100-acre shared ranch.
Throughout the Gunnison-Crested Butte valley, Blue Mesa Lake, Taylor Reservoir and Taylor, Gunnison and East Rivers are among the many exceptional habitats for kokanee salmon, northern pike, mountain whitefish and brown, rainbow, cutthroat, brook and Mackinaw trout.  In fact, Gunnison County holds state records for brown, rainbow and lake trout and kokanee salmon.
There also is a plethora of fishing events in summer and fall such as two tournaments on Blue Mesa in May, a fishing derby on Taylor Park Reservoir in June, and of particular interest fly fishing aficionados are the Crested Butte Land Trust's Caddis Cup in July and the Gunnison Angling Society's Superfly Fishing Tournament in September.
Gary Giudice, a contributor to www.ESPNOutdoors.com, and his fishing buddy Ed Weber scoured Colorado—which they deem the best trout state—searching for the best trout streams. Giudice wrote, "The town of Gunnison may very well be the center of the trout-fishing universe. Everyone and everything seems to focus on the trout fishing. The fly shops are great and the river outfitters are the best we've encountered."
Has Wilder caught your interest? Click to learn more about this beautiful piece of Crested Butte land for sale and click here to learn about the many benefits of private fly-fishing property.