Master Guide Ben Riedel gives his early Fall Taylor River Fishing Report for September 2020. Ben's fishing reports will make you want to test your luck on Wilder's waterways as soon as possible, and he provides tips for flies to catch a monster trout.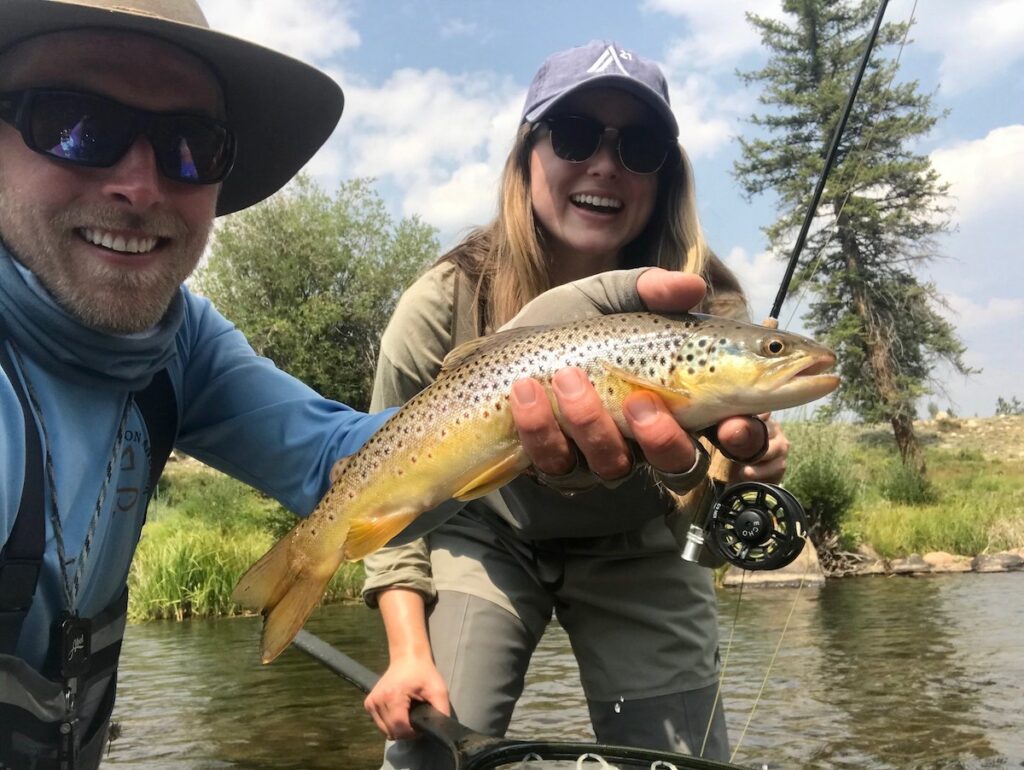 Days are getting shorter and colder, water temps are dropping, and fall hatches are starting. The flows out of the dam have dropped to 125cfs and won't drop again until Oct. 1st. The deep, hard to reach places will start to look a lot more inviting.
Fall Taylor River fishing has been wonderful in the last week. The colder weather has brought the start of our fall hatches. BWOs and PMDs have been paramount, hatching reliably late morning and all afternoon. You should find success with size 18-22 BWO patterns such as P. Adams, BWO parachute, BWO emergers, Micro Mayflies, and Pheasant Tails. The PMDs are just a little bigger in the 16-18 range. Parachute PMDs, P. Adams, PMD emergers, and Pheasant Tails will work if you see PMDs hatching. Trout can get picky with fall mayfly hatches, change fly patterns if you get refusals and pay attention to where in the water column the fish are feeding. Expect fish to eat subsurface early in the hatch, and make sure you have a dry fly on when the fish start rising. Remember that all of these mayflies(females) will come back to the water to lay eggs. Generally occurring mid morning or in the evening, look for mating swarms over the water and know that spinner falls are not far behind. A Rusty Spinner pattern imitates most egg laying mayflies.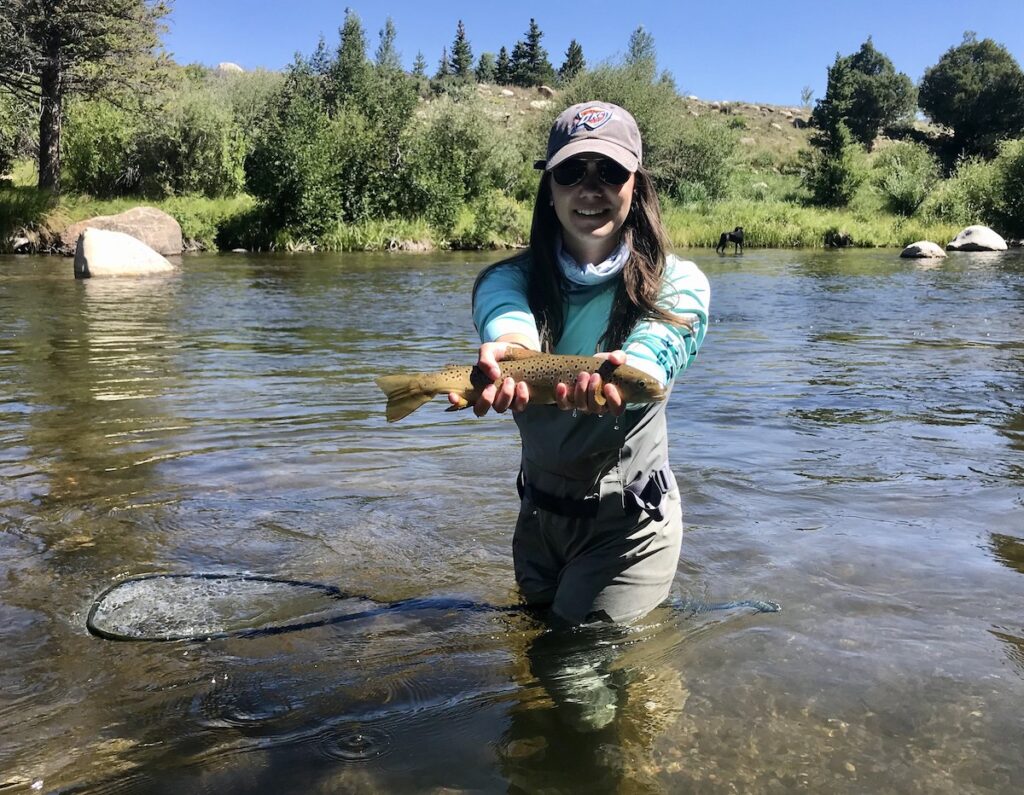 Taylor River fishing in the mornings has been great even before the hatch starts. Streamers have started to move big fish in the early morning before the sun hits the water. Nymphing with size 12 Pat's Rubber Legs, Midges, and small mayfly patterns has also been productive pre hatch time. Look for mayfly spinner falls during the morning. If you see fish sipping in the glassy water or the flat foamy water, hope it's a spinner fall. If they're not sipping spinners, they are probably sipping midges. A Griffiths Gnat size 18-22 with a Black Beauty or Zebra Midge dropper usually works.
If all else fails, hoppers and ants are always ending up in the water. Use large attractor patterns such as Stimulators, Madam X, Kicking Hoppers, and Flying Ant patterns. However, if the fish aren't willing to move to eat your fly, you have to get your fly down to them.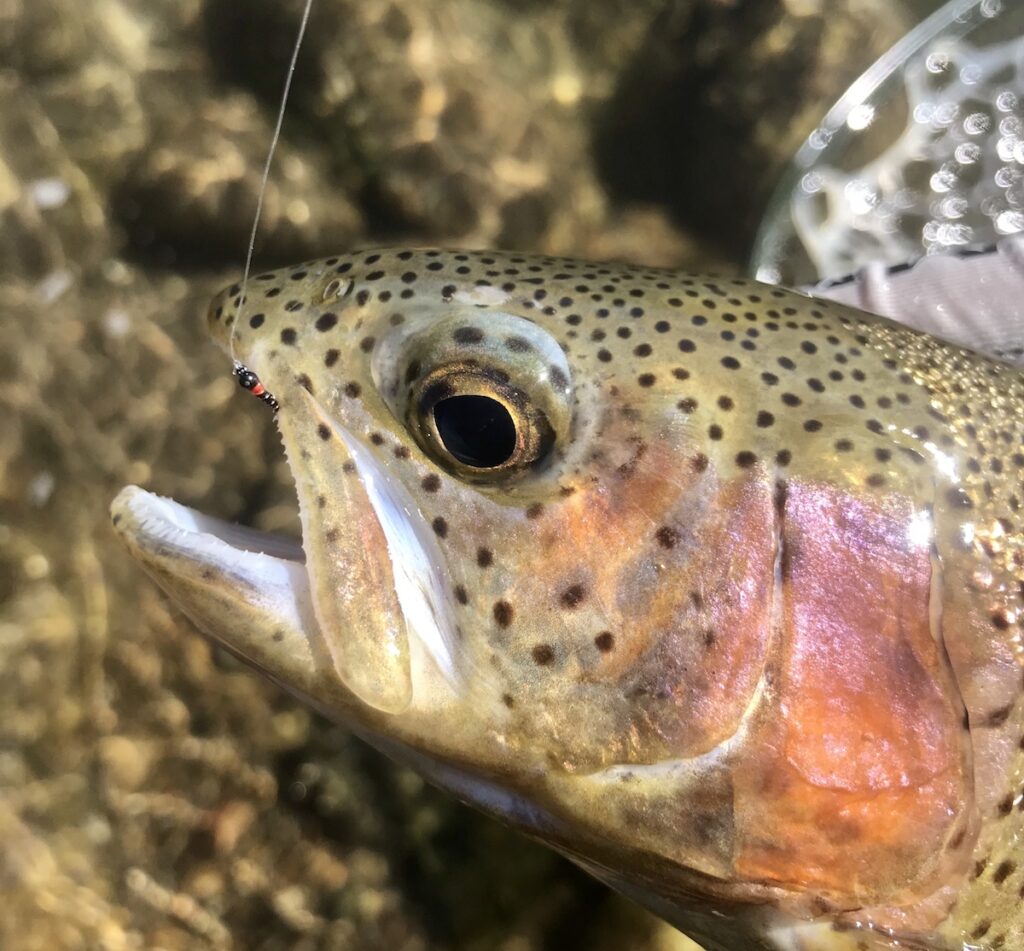 The Dream Stream is reliable fishing this time of year. Small midges are coming off the water early to mid morning. This is followed by a sporadic BWO hatch late morning into afternoon. The BWOs have been on the large side ranging from size 16-18. Once the morning sun warms the valley floor, flying ants are swarming along the bank and the trout love the errant ant in the water. If there aren't any hatches, or you want the exhilarating sensation of a big trout smashing your fly, try a large hopper pattern, you might be surprised.
The ponds are still fishing pretty good and have received little fishing pressure this summer. Expect challenging midge hatches in the early morning, then look for large trout cruising the shallows. Damselflies and terrestrials such as Kicking Hopper 8-12, and flying ants 16-20 have been catching fish. Give your hopper or damsel a twitch, let it set, and repeat. Small P. Adams are producing fish when terrestrials are getting refusals. Stripping Wooly Buggers in the deep water will get their attention as well.
Fall at Wilder on the Taylor is a prime time to be out fishing. The trout are trying to fatten up before winter, the browns are starting to get their spawning colors, small mayflies keep the fish looking up, and the weather doesn't get any better.
Best,
Ben Riedel
Master Fly-Fishing Guide
Wilder on the Taylor