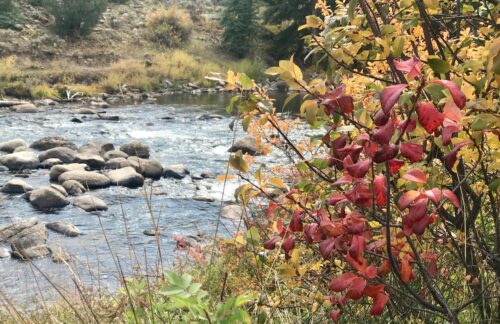 With the most recent drop in temperatures, it feels like fall is finally here in the Gunnison/Crested Butte area. Colorful foliage and colorful fish lead to memorable experiences. Fish can be spooky and the flies can be small, but if you do it right, Taylor River fishing doesn't get much better.
Outflow from Taylor Reservoir is at 80cfs for a total at Wilder around 125cfs. Water temperatures in the morning around 42 degrees getting to 52 degrees in the afternoon. Warm afternoons can bring some pretty heavy hatches but the mornings are a bit slower. Fish are willing to eat, they just aren't willing to move very much. The occasional midge hatch will bring the little fish to the surface, but most fish are holding tight on the bottom until the water warms up a little. Getting your fly down to the fish is key. Fishing the deeper runs with long dry droppers, or indicator rigs is a good place to start. Adjust weight and depth regularly. Use flies like Pats Rubber Legs #12, Pheasant Tails and Hare's Ears #14-20, Micro Mayflies #18-22, and Midges #18-22.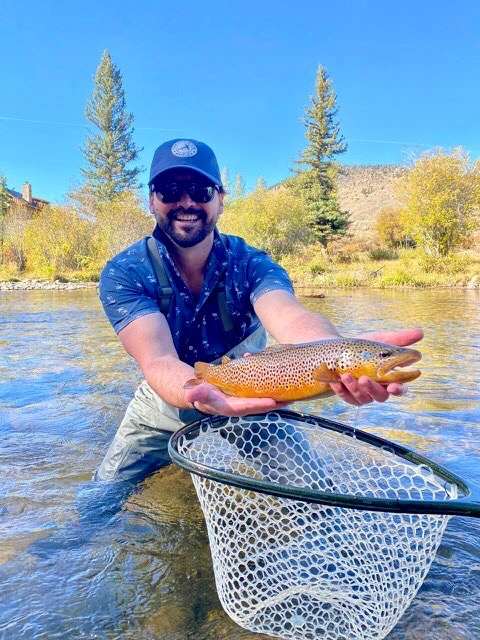 Streamer fishing can be productive in the morning as well. With the browns preparing to spawn, and all fish looking to fatten up before winter, throwing a small weighted streamer into likely spots should produce chases and strikes. There isn't a wrong way to fish streamers, but some methods are more productive than others. This time of year I like to present quartering downstream to the fish (standing upstream), or straight across. It all depends on the situation, but you want a slow jigging retrieve. It helps your fly get deep, and the fish are eager to eat a big meal for little effort. If you don't have success, vary your retrieve, and then switch streamers. This 23" rainbow ate a small weighted streamer on a slow jig retrieve early in the morning. As with any fly, but very important with streamers, PINCH YOUR BARBS! Robert played this fish quickly (12lb. Fluorocarbon), took a quick picture, removed the barbless streamer, and released the fish, all in under 3 minutes. It is very important to minimize impact especially on bigger fish. When others ask if I gooped their fly, Robert asks if I pinched the barb…
As the day progresses and life warms up for everybody, expect some fish to slowly spread out into feeding lies. You might be surprised by the shallow depth of water that decent fish will sit in. Blue Wing Olives and Mahogany duns make up the majority of big bugs hatching in the afternoon. The BWOs tend to be small, really small, #20-22. Size does matter here, imitating the right size can be the difference of a great afternoon and a mediocre one. Mahogany Duns are a bit bigger, most ranging in the #14-16 range. In the beginning of the hatch you can't go wrong with dry droppers consisting of P.Adams, Micro Mayflies, Pheasant Tails, Hare's Ears, and WD40s.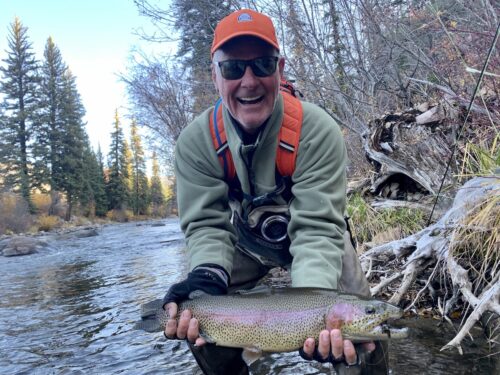 As the hatch progresses, fish will be willing to move more and more. Shorter dry droppers become effective, hopefully followed by a power hour of dry fly fishing. Pay attention to rise form if the fish are eating on the surface. If they are rolling or sipping, they are suspended in the water column, suspect emergers and adults to be the primary target. In which case, dry flies, parachute patterns, unweighted Pheasant Tails or emergers should work. If they are rocketing up out of the water, they certainly wanted something on or near the surface but they probably came from the bottom and momentum took over. Don't be afraid to keep a deep dropper on if the fish never show signs of being suspended in the water column.
Some days, for whatever reason, the mayflies don't show up, midges will be your focus. Small midges probably fished deep and slow. It can be frustrating but so rewarding when you figure it out and start catching fish on #22 midges. Little snowball midges in the morning and a smattering of size and color in the afternoon, again, all terribly small.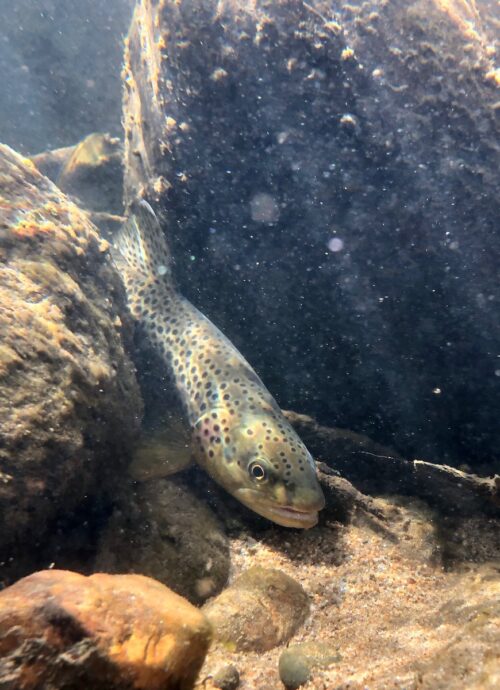 Protect our brown trout during their spawn! Please educate yourself if you don't already know how. The brown trout population is a vital resource. They are beginning to group up and the female brown trout have started digging their Redds. Redds can be identified by shallow, clean patches of gravel, near the tails or edges of pools. Within the next couple weeks, you will start to see brown trout paired up protecting their Redd. Please leave spawning fish alone. It can be so tempting when you're looking at a monster brown trout in shallow water but honestly, it can be just as much fun to sit and watch. If you do choose to fish "near" a Redd, target fish that aren't spawning, and choose your wading path carefully.
The lower Dream Stream is fishing really well. The fish are spooky due to the lower flows but the bug activity is still quite good. Blue Wing Olives start to move mid morning. Start with a dry dropper rig including small Pheasant Tail and Micro Mayfly droppers. A #18-22 dry fly should suffice by noon. Stealth is key. Keep your profile low, walk slow, and look for fish. If you don't see fish in the tails and slow water, that's a good sign. Hopefully they are in the fast water eating mayflies. Once the hatch has started in earnest, droppers can still be productive but a single dry fly allows one to fish the shallow riffles as well. There can be some handsome brown trout hanging out in the small riffle pockets.
If you see fish sipping in the tails of the pool, suspect a midge hatch. They tend to be really small, but the trout will eat a Griffiths Gnat or Sierra Dot with a #20-22 zebra midge dropper. The hard part is getting it to the fish without spooking it. Stealth is of the utmost importance here. Don't be afraid to cast over the grass. If you get close enough to see them, they are gone.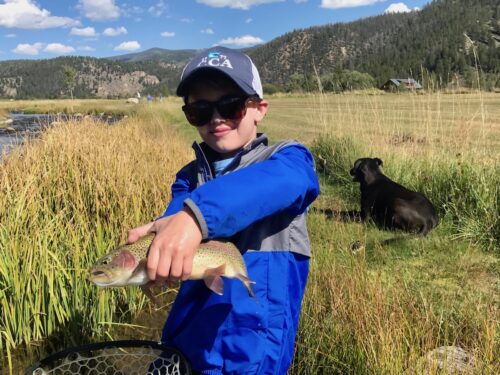 The ponds are reliable and entertaining fishing as always. You will see cruising fish willing to eat small midges and other small offerings. Generally they will refuse larger flies until the afternoon. The exception being streamers. Slowly retrieving a Wooly Bugger or Scupzilla will get their attention. When you cast be sure to lead them by at least 10ft. Any closer and they spook.
Mid to late morning look for mayfies returning to the water. A #14-18 Rusty Spinner or P. Adams should get eaten. Although the hopper fishing has slowed down a little, it's always fun to see a fish commit to your hopper from 15ft away and smash it.
Afternoons and evenings can be the best time for the ponds right now. I recommend P. Adams, Hoppers, Streamers, and small nymphs. Really can't go wrong with fly selection, just make it look real with a good presentation. A single size 18 Pheasant Tail with short smooth strips can be deadly.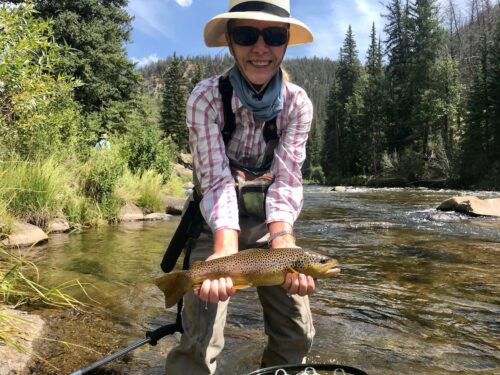 Moving forward into the winter, look for midges to become the main food source. Fortunately, bugs and fish get active during the warmest part of the day. So sleep in, drink an extra cup of coffee and slowly saunter to your waders. Nymphing deep and slow with stoneflies, Pheasant Tails, and small midges will be your best bet. The heaviest midge hatch will bring the fish to the surface. Somehow it feels special to catch fish with snow on the ground. As a small tip for people fishing during the winter, keep the fish in the water. Prolonged exposure to the freezing air is not good for soft tissues like gils, and eyes.
What a fantastic summer of Taylor River fishing! Perfect flows. Some amazing hatches! The big picture doesn't get any better.
Ben Riedel, Master Fly-Fishing Guide
Wilder on the Taylor