Colorado's Wilder on the Taylor offers wide-open spaces, outdoor pursuits and easy living
Colorado has long been known for its Rocky Mountain splendor and outdoor lifestyle, ideal characteristics for people seeking space and respite from hot spots of COVID-19. Mountain land properties like Wilder on the Taylor, located along the Taylor River between Crested Butte and Gunnison, Colorado, have seen a swelling of interest from buyers around the country as the pandemic's impacts continue to unfold and people are reconnecting with nature at record levels.
"COVID-19 is definitely driving people to mountain towns, and with a large property like Wilder on the Taylor with more than 2,100 acres and numerous recreational activities and services available, you don't even have to leave the ranch. We've had the most lots go under contract in 2020 than any other year," says Brad Willett, general sales manager for Wilder on the Taylor. Art centers, museums, hundreds of miles of trails, and thriving downtown districts with locally owned shops and restaurants in the Gunnison-Crested Butte Valley add to the appeal.
Real Estate Trends in Crested Butte, Colorado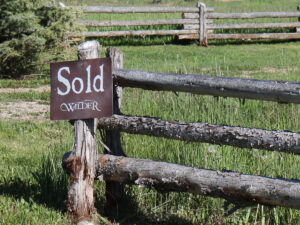 "When Gunnison County reopened [to part-time residents and visitors] on May 27, it was like they opened the floodgates. It's been nonstop real estate," says Jesse Ebner, owner/broker of Signature Properties Ebner & Associates. "The summer was really busy and with multiple bidding wars across the market."
Channing Boucher, broker associate for LIV Sothebys International Realty – Crested Butte, confirms that "the local market area from Crested Butte South to Mt. Crested Butte is realizing a surge in real estate demand that no one could have predicted." Boucher attributes the uptick to "COVID-19 flight" as well as Vail Resort's acquisition of CBMR in 2018, attractive real estate prices when compared to other major ski resort communities, and the valley's well-preserved communities, scenery and outdoor recreation.
As of the end of November 2020, the $341.6 million volume of all real estate sold in the Crested Butte area for the year far exceeded the prior four years, with the next closest year being $228.8 million as of the end of November 2017. The number of transactions is up 43 percent while total sales are 67 percent ahead of last year. In 2020, the categories of single-family homes and condominiums/townhomes are fairly equal in terms of percentages of transactions, while land makes up approximately 25 percent.
"The inventory of available homes and condos is at a 15-year low, and we are well on our way to closing out our most impressive year in real estate sales since 2006," Boucher says. There were 342 properties for sale at the end of November 2020 compared to 532 at the same time last year.
Mountain Land & Ranch Lifestyle – An Attractive Combination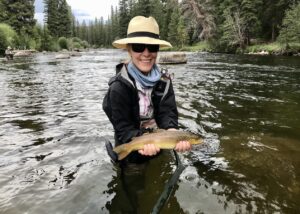 Wilder on the Taylor is a historic hay and cattle ranch that features a limited number of 35-acre homesteads for sale with one-acre building envelopes, leaving plenty of space for privacy, beauty and native wildlife. A bulk of Wilder's land is shared space for fly-fishing on a private two-mile stretch of the Taylor River, horseback riding, mountain biking, hiking and gathering at the Base Camp's large lawn and safari-style Founder's Porch.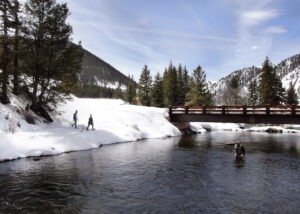 In the winter, the property is a playground for snowshoeing and cross-country skiing and is only 30 minutes from downhill skiing and snowboarding at Crested Butte Mountain Resort (CBMR), ranked #10 on "Ski" magazine's Top-Ranked Ski Resorts in the West for 2021.
"What moves the buying needle for us is being amenity rich with a concierge, chef, master fishing guide and master guides for horseback riding and cattle roundups. Pretty much anything you want can happen here, it's the full package," Willett says. "Our clients aren't looking for a bargain but instead full-service real estate. Everyone who bought this year looked at a variety of places in the valley and around the country."

Most often people are looking to build their dream home at Wilder and to make the process easier, Wilder has four historic guest cabins along the Taylor River that have been fully renovated and are available for homestead owners to stay periodically and check on progress.
The ranch community concept has proven so successful at Wilder on the Taylor that all riverfront homesteads have sold, prompting the release of mountain homesteads on the south side. The mountain homesteads are surrounded by mountains, have out-the-back-door access to the Gunnison National Forest, and overlook the Taylor River, a picturesque hay meadow, and grazing cattle and horse herds.
To find out more about Wilder on the Taylor and Crested Butte land for sale, contact:
Brad Willet, General Sales Manager
Email: brad@wildercolorado.com
Direct: (970) 641-4545
Wilder on the Taylor is an angling paradise and a recreational and preservation-oriented ranch community located on more than 2,100 acres. The historic cattle and hay ranch dates back to 1893 and is conveniently situated on County Highway 742 between Gunnison and Crested Butte and surrounded by the Colorado Rocky Mountains. Each homestead is a minimum of 35 acres and has access to miles of private fishing water and trails, master guides, concierge services and a base camp for dining, relaxing and socializing. Wilder is dedicated to preserving, protecting and perpetuating the traditions of western Colorado. For additional information, follow @WilderColorado on Facebook and Instagram.