Wilder on the Taylor, along with residents who live in the Taylor Canyon and areas northeast of of Almont, have teamed up with the Gunnison County Fire Protection District to expedite the vision of building a fire station in our area. Just last month, Gunnison County approved the application for land-use change and the site and structural plans were also submitted and approved.  Groundbreaking is planned to take place mid June and we are thrilled for what this means to our community.
The Taylor Canyon Fire Station will be located on land owned by Wilder on County Road 742 between Jack's Cabin Cutoff and the turnoff to Spring Creek Reservoir. Wilder is proud to provide this land at no cost to the county. The facility will consist of a 3,000 square feet with 3 bays. Two Gunnison based firms have been awarded the job: SGM Civil Engineering is responsible for the architecture/structural design while Big C Builders is responsible for the construction. Depending on weather conditions, the Taylor Canyon Fire Station could be complete by summer 2022.
Why a Taylor Canyon Fire Station?
The Taylor Canyon Fire Station is needed for two reasons:
1. To provide quicker emergency response times to the Taylor Canyon, Spring Creek, and Crystal Creek areas northeast of Almont.
2. To assist property owners in this area with securing insurance. Currently, the location of the existing substations make it difficult to obtain insurance.
In an article posted by Crested Butte News, the project background and funding is explained:
Project background
Taylor Canyon Fire Station, Inc. (TCFS) was formed for this purpose and applied to the Internal Revenue Service as a non-profit 501(c)(3) organization in January 2021 and is waiting for a letter of determination. The organization was formed to construct and maintain a fire station serving the Taylor Canyon, Spring Creek and Crystal Creek areas of Gunnison County; support a volunteer fire department; and raise funds to facilitate the substation's activities. The closest fire substation to Taylor Canyon and Spring Creek is in Almont, and the district's main fire station is in Gunnison.
Gunnison County Fire Protection (GCFP) District's primary revenue source is property tax. Due to Article X Section 20 of the Colorado Constitution (The Taxpayer's Bill of Rights, a.k.a. TABOR), the district's ability to raise revenue for funding capital expenditures is severely limited. Yet, GCFP covers a very large geographic area that encompasses portions of Gunnison and Saguache counties and does not have the funds to construct fire substations in close proximity to all remote clusters of development.
As a result, GCFP District supports the efforts of the individuals residing in these clusters to be as self-reliant as possible due to the great distances from the main firehouse in Gunnison. Groups like this have come together to establish fire departments in Pitkin, Ohio City and Sargents. "It is exciting to see areas and subdivisions taking responsibility and starting their own fire departments, like the Taylor Canyon Fire Station," says Hugo Ferchau, fire chief for the GCFP District. "We are a big district with 2,700 square miles; to get everywhere fast just isn't possible."
Funding and volunteer firefighters
TCFS is in the process of raising the $850,000 necessary to build the new fire substation. Those who wish to donate should go to www.taylorcanyonfirestation.org.
In tandem, GCFP District sets aside funds each year to help outlying volunteer departments to improve as first responders and to become more self-reliant in the fire management needs of their community. The district also houses firefighting apparatus at the substations for use in their operations and reimburses a portion of the operating costs based on a defined set of criteria. GCFP will provide equipment to TCFS in accordance with a memorandum of understanding executed in January 2021.
Existing volunteer firefighters can use the substations and the apparatus stored there, and additional volunteers from the Taylor Canyon and Spring Creek areas are needed. To volunteer as a firefighter, visit www.taylorcanyonfirestation.org.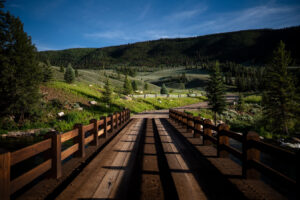 Wilder is dedicated to preserving, protecting and perpetuating the traditions of western Colorado, and part of that is not only protecting our historic ranch but our neighbors in the surrounding area and adjoining picturesque Gunnison National Forest. We appreciate our community being part of this partnership with the Gunnison County Fire Protection District to protect this extraordinary jewel we call home. As groundbreaking gets closer, we look forward to sharing project photos and progress.