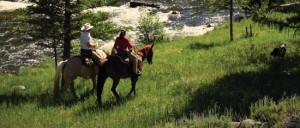 Ranches and horses go together like a warm chocolate chip cookie and a glass of milk. It's hard to imagine one without the other. Wilder on the Taylor has five horses that are available for owners and guests to ride on the 2,100-acre shared ranch property, and less than a mile up County Road 742 are the stables at Harmel's Ranch Resort. Harmel's offers horsemanship lessons and guided rides that range from a few hours to overnight along with hayrides and sing-a-longs available on Tuesday and Friday evenings from mid-June until mid-August.
A couple of other local enterprises also offer unique adventures on horseback. Gunnison-based Tenderfoot Outfitters provides authentic trail rides of varying lengths, horse packing trips, high alpine fishing and hunting excursions, tent bed and breakfast trips, youth adventure camps and horseback hunts.
Fantasy Ranch Horseback Adventures skillfully guides horseback outings and wilderness trail rides from its Mt. Crested Butte stable in the summer and fall with one of the most unique being a Crested Butte toAspen journey. During winter, Fantasy Ranch offers horseback rides from its Almont stable, complete with a stop for hot chocolate by the fire at Almont Resort.
Whether you are out a few hours or overnight, you will be dazzled by the scenery in Gunnison County and beyond. Saddle up and release your inner cowboy spirit at Wilder on the Taylor and beyond!
Click for more information on Crested Butte land for sale and be sure to check out our recently available riverfront home.