Spring 2016 Taylor River Fishing Report
The first Taylor River fishing report of the 2016 fishing season!
Greetings to all. I hope the winter wasn't to long and everyone is ready to get out on the water. Antonia, Vicente and I just finished a fantastic season in Chile at our Valle Bonito Lodge and are excited to be back at the Wilder. From November through early April we entertained a variety of guests, enjoyed wonderful fishing and shared good times with our clients in one of the most beautiful places in the world. Please check out our website at http://www.vallebonitochile.com.  Come and visit us in the Patagonia of Chile.
Speaking of beautiful places, the Wilder is particularly beautiful right now. Green grass is popping up everywhere, herds of elk cruise through the ranch, geese are nesting in the hay meadow, birds are returning daily and the fishing can be excellent. The river trail has been opened up, camp is ready and the fish are waiting.
Both Antonia and I are excited to get things rolling for the summer Taylor River fishing season and do all that we can to make your experience at the Wilder a memorable one.
Funny how much difference a year can make. Last year we were worried about drought in April and then we got inundated with moisture in May, leading to one of the highest and most unpredictable run off years on record for the Taylor. This year we had a stronger winter snowpack and although May has not been without precipitation, river levels are not expected to get that high.
On the Taylor at the Wilder, current flows are around 250 with the Spring runoff rise expected to kick in in the next couple of weeks. Max flows are predicted to be in the mid 400's, a good level for the fish and the fisherman as well. Water temperatures are in the high 30's and it seems as if the fish are just waking up after a long winter. Hatches are pretty sparse which is normal for this time of year, yet a few Caddis, Midge and BWO's can be seen in the afternoons with a few fish rising.
Fishing on the Taylor River has been very good but it is not the type of fast mid summer action that we'll have soon. Fish are mostly holding deep in the pools and reluctant to move very far to eat a fly. We have had the most success with a dry/dropper rig which would include a large Chubby Chernobyl or equivalent as a dry/indicator. 4-5 feet of 4x tippet to a large rubber legs or stonefly imitation and then another 16 inches or so of 5x tippet to a #20 mayfly nymph or midge. Most importantly in these conditions is to get your fly deep to where the fish are. A split shot or two can be added for the deeper holes. It is important to manage your slack and react quickly to any movement of the dry as the fish are not overly voracious yet. Takes are very slow and feel like you have hooked a stick or something stationary. Fish each hole thoroughly, making several casts in each drift. We caught fish the other day after several good casts went untouched. Finally, persistence paid off and soon we caught a bunch of fish in the same water where we had had no action before.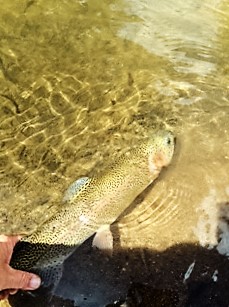 Another technique worth trying now is to fish a streamer deep and slow in the deeper runs. Mix up your retrieves and experiment but I have found that the best streamer action this time of year comes from almost dead drifting the streamer and slowing it down as much as possible. Takes are soft so pay attention to your line and watch for any movement that might indicate a fish. I am liking Dalai Lamas in olive and white as well as Sculpzillas in natural as well as black. Cloudy days and slightly off color water always seem to be best for fishing a streamer.
Once you find a spot that produces a few fish, stay on it and even change up your flies because oftentimes you will find fish podded up in large numbers until the run off blows them out of their winter areas. When fishing here in the spring season, keep an eye on the weather, as during colder periods the river will drop and clear and during warmer periods it will rise and get a bit off color. Best fishing is always when the river is dropping.
It won't be long before bugs start to fly and fish start to rise again in this fantastic fishery we have at the Wilder. Soon we'll be seeing Giant Golden Stoneflies, a variety of smaller Stones, lots of Caddis, Yellow Sallees, more BWO's, PMD's, Green Drakes and a whole lot of fish rising to eat them.
The Dream Stream is looking super good right now. Climactic conditions allowed adequate flows to be maintained throughout the winter and fish survival rates were quite high. We are seeing more wild fish in the system every year. Brook trout, cutthroat, rainbows and browns can all be found here. It has been rewarding to watch the Stream evolve and witness some of the strong hatches that now happen quite frequently.
Even though we are in early runoff conditions, you can find big rainbows sipping small Blue Wings in the afternoons and a few greedy/dumb ones will even move for a Hopper. The best fishing right now however is sub surface with a dry/dropper set up. The dry can be a medium sized Madame X, say an 8 or a 10 and the dropper should be about 3 feet or less of 4x. I am liking the #16 BH Pheasant Tail or Hare's Ears as a dropper although if things get tough a San Juan worm can be effective. Even though it is early season, fish are naturally spooky so approach the holes with caution and make your first cast count.
In the next few weeks, look for afternoon hatches of BWO's and fish a small to medium size dropper. In June we'll start seeing Green Drakes and that can be some of the best surface fishing of the year.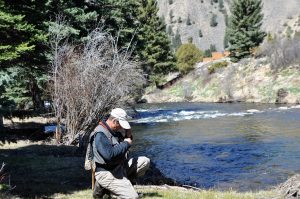 The Ponds at the Wilder have some huge Rainbows. We caught one the other day that was easily 7 lbs and 26 inches. It was one of the strongest fish I have caught in a long time. People that say that still water fish don't fight as hard as river fish ought to watch their line disappear well into the backing on one of these brutes. Right now big fish can be seen sipping almost any time of day for very small midges. Typically the midges are a size 22 which creates a dilemma, as a 22 fly requires a tippet of 5X (6X is better) which is marginal to hold one of these fish. In fact, you probably won't. Mostly however fish are cruising sub surface and concentrating on the weed beds where they are finding a variety of groceries including damselfly and dragonfly nymphs, scuds, backswimmers and mayfly nymphs. For this type of fishing I like to fish a 9-12 leader with a 4X tippet and a small bead head nymph attached to the end. I cast out and retrieve very slowly using a hand crawl retrieve. Most importantly is that I am watching my fly line-leader junction for any movement. I find that these fish take your fly more when it is falling than rising. They eat on a slack line and there are only 2 ways to detect the strike, because you won't feel it. One is to watch the fish. When he opens his mouth you will see white inside. When he closes it, the white will disappear and that is the time to strike. The second way is to watch your leader/line junction. Cast, slowly take the slack out, let the nymph fall and watch for any line movement. Repeat. Strike swiftly and get ready to let the fish run. It is easy to break these fish off on the strike so be careful.
Soon we'll be seeing Damsel fly hatches which will bring large numbers of fish to the surface as they jump up and eat the Damsels in the air.
Both Antonia and I hope to see you out at the Wilder this summer for some fun fishing, fine dining and good vibes in this amazing place. Come on out and enjoy what we have to offer at the Wilder and you'll be glad you did. Stay tuned for more Taylor River fishing reports, photos and river conditions and remember: it's all about the backcast!!
Cheers
Lu
Wilder on the Taylor River offers a unique opportunity to own private fly-fishing property along with a beautiful riverfront home. Click the links to learn more.