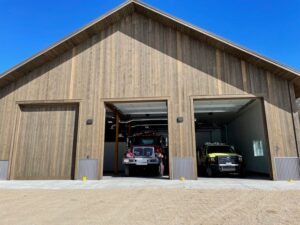 Construction of the Taylor Canyon Fire Station has been completed and the facility is up and running thanks to a grassroots effort to raise funds, the partnership of various local entities, the hard work of local contractors, and the commitment of several individuals who are serving as volunteer firefighters. Construction of the 3,000 square-foot, three-bay facility launched on June 1, 2021, and a certificate of occupancy was received on March 23, 2022.
A July 3 grand opening celebration is planned for noon to 4 p.m. at the Taylor Canyon Fire Station, which is located on County Road 742 between Jack's Cabin Cutoff and the turnoff to Spring Creek Reservoir on land owned by Wilder on the Taylor. Wilder is providing a ground lease at no cost to the county.
Anyone is welcome to attend and enjoy the festivities, which will include a pig roast and food and beverage by 5B's BBQ, Spenny's Ice Cream Stand serving Third Bowl Homemade Ice Cream, Irwin Brewing Company, and Big B's Delicious Orchards. Live music will feature Matt Lackey and Lizzy Plotkin playing old-time music.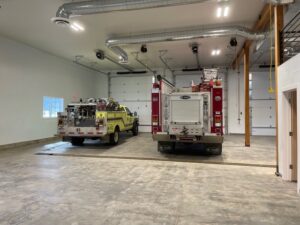 "This is all about safety, protecting this beautiful area and a small community coming together to build a fire station. It's a true grassroots effort," says Michele Wheeler, board member for the nonprofit Taylor Canyon Fire Station and president of the Wilder on the Taylor Homeowners Association.
The initial roster of trained volunteer firefighters for the station includes Mark Anderson, Lane Curtis, Don Sabrowski, Chuck Vadar and David Wingo. All recently completed 32 hours of wildland fire training. "We appreciate our first-class Taylor Canyon Fire Station responders. More volunteers are needed," Wheeler says.
Project Background & Partners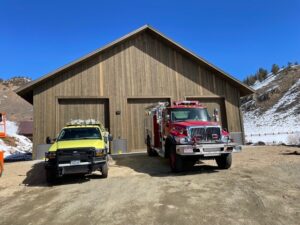 Residents who live and own property in the Taylor Canyon, Spring Creek, Crystal Creek areas northeast of Almont teamed up with the Gunnison County Fire Protection District (GCFP) and businesses such as Harmels on the Taylor and Eleven's Taylor River Lodge to help make a fire station in their area a reality to better protect the canyon from fires.
GCFP District covers 2,700 square miles that encompasses portions of Gunnison and Saguache counties and does not have the funds to construct fire sub-stations in close proximity to all remote clusters of development. The district works closely with sub-stations by providing training, housing firefighting apparatus at the sub-stations, and reimbursing a portion of the operating costs based on a defined set of criteria. Other sub-stations in the GCFP District are located in Ohio City, Pitkin and Sargents.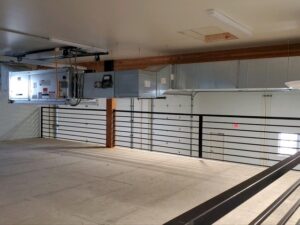 Equipment currently being housed in the Taylor Canyon Fire Station includes a fire engine with a 1,000 gallons-per-minute pump and 750-gallon water tank, Type 6 engine brush truck, and compressed air foam system truck that belong to GCFP District as well as Wilder on the Taylor's 4,000-gallon water tanker.
"People all over the valley are having issues in getting homeowner's insurance. This will be a trend, and Taylor Canyon like Sargents, Ohio City and Pitkin stepped up to lead the charge," says Hugo Ferchau, fire chief for the GCFP District. "The biggest thing is getting volunteers for Taylor Canyon. There are five guys training hard to make it happen, and the ideal number is 10."
Wrapping Up the Funding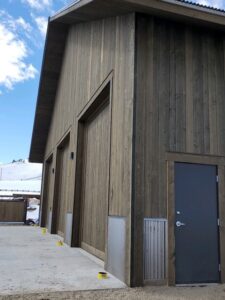 To make the project a reality, Taylor Canyon Fire Station, Inc. was formed as a nonprofit 501(c)(3) organization in January 2021 to construct and maintain the fire station, support a volunteer fire department, and raise funds to facilitate the sub-station's activities.
So far, $851,600 has been raised with another $100,000 needed due increased material and construction costs the project encountered. To donate, find out more or express interest in being a volunteer firefighter at the Taylor Canyon Fire Station, click here.
Please Join Us!