During the last 2 weeks, we have had several guests and owners fishing at the Wilder and catch rates on our 2 miles of private Taylor River have been phenomenal. 20 – 30 fly fishing dry fly sessions have been common and the fish populations in the Taylor river are astronomical. Approximately 75% of the fish we catch are wild Browns, 23% Rainbows and about 2% native Cutthroats. Trout populations are estimated at about 6,000 per mile and this is done with no stocking.
Our stretch of the Taylor River can provide dry fly fishing like it was 30 years ago and many of our recent guests have said that they have never before experienced anything like it! When you are standing out in the river and see 50 fish rising all around you, you will know what they mean.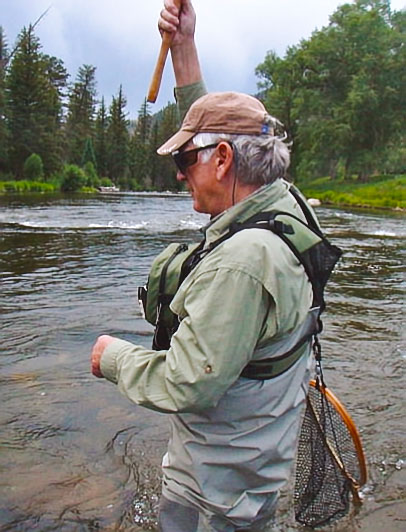 Flows on the Taylor River continue to be favorable for the fisherman at around 320 cfs. This is a perfect level as the river is very wadeable, yet there is plenty of water for the fish to be well spread out. Temperatures are still on the cold side at about 50 F in the mornings and warming up a few degrees in the afternoons, which keep the fish active, happy and surface oriented.
The fishing continues to be excellent, although we are seeing the large Mayfly and Stonefly hatches diminishing both in size and intensity. On cloudy days in particular we are still seeing brief Green Drake, BWO, PMD and Caddis hatches around 1- 3 pm, which bring up large numbers of fish for short periods of time. During these short flurries, it is possible to hook a fish on every cast with the right dry. Green Drake, PMD and Caddis patterns can be effective throughout the day.
Late evening brings huge clouds of Caddis to the water and after about 7 p.m. fish are literally slashing the water with a frenzy until well after dark. The right caddis pattern can produce vicious strikes and plenty of action. Skating the fly is often the key to success.
As happens every year, the end of July brings changes to the trout's diet as the hatches dwindle for the "dog days" of summer. Fish are typically eating smaller bugs, yet are opportunistic for larger terrestrial patterns such as Hoppers, Ants and Beetles. We are beginning to see this transformation on the The Taylor River, Rarick Creek and the Ponds.
When no visible fish are surface feeding, it is a good bet to fish a Hopper/Dropper set up with a trailing midge pupae. If fish are feeding on top, it is important for the angler to determine what they are eating and attempt to match it as the larger fish become very selective when concentrated on a particular food source. Long leaders and fine tippets make a huge difference to the wily Brown Trout.
Both the Ponds and Rarick Creek continue to fish well. Recent rains have kept things cool and fish are responding well to small Mayflies, Hopper patterns and Damselflies. The weed beds are full of fish eating Damsel nymphs under the water and jumping up to catch them in the air. This is not only great fishing, it is entertaining to watch the fish stalk the flying Damsels and leap up to catch them.
Wilder on the Taylor River offers a unique opportunity to own private fly-fishing property along with a beautiful riverfront home. Click the links to learn more.