Taylor River Fly Fishing Report: September 10, 2015
The leaves aren't the only things changing at Wilder! Changes in the season bring changes in fish behavior and water conditions as well.  Be sure to read Master Guide Lu Warner's Taylor River Fly Fishing Report before your next fish. In search of big fish? Read why Lu says now is the time to land one.
Fall is in the air and the last few stormy days have brought color to both the leaves and the Brown trout. River levels have been steady at right around 390 CFS and hatches are becoming stronger as the fish fatten up for the upcoming winter. Water temperatures are cooling and have dropped slightly from 52 to about 50 degrees during the last week. In almost every pool you will see large female Browns jump high into the water and slap themselves down hard on the water to loosen their eggs up and get them ready for the coming spawn.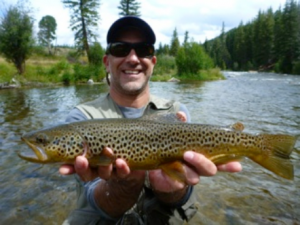 All of this bodes well for the angler. Fish are hungry! As usual, mid day provides the best surface activity and particularly on cloudy, rainy, nasty days epic hatches can occur this time of year. Slate Gray Drakes, Blue Winged Olives, Pale Morning Duns, Mahogany Duns and Fall Caddis will hatch off and on through most days. While the BWO'S are almost always the trout's favorite, we had great success last week fishing a size 12 Gray Drake pattern with a size 14, BH Hare's Ear as a dropper. I suppose that had we fished only small BWO'S we would have done just as well on the surface but it was fun watching fish after fish come to the big dry on top and under tough light conditions, the larger dry was much easier to see.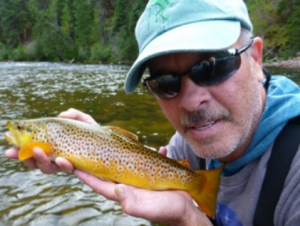 One of the keys to success on the Taylor River is to see the fly you are fishing. Duh! But not always so easily done with surface glare, fast currents and fish whose preference is really for very small dries. Long leaders(9' plus) help with a softer presentation but accurate casting is necessary to keep your fly out of the "washing machine" and riding high down the edges of the faster currents. Long casts (over 30 feet) on this river generally scare way more fish than they fool. It is more effective to move slowly and quietly in the water and concentrate on fishing specific currents and seams, making your fly land on the water as lightly as possible. Once you slap the water and announce your presence to the fish, the larger ones have a tendency to disappear.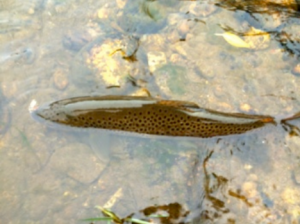 Fish the foam lines!!! On this river with lots of varying current speeds, eddies, deep holes and riffles, your highest percentage area is in and underneath the many foam lines that characterize this water. As they ebb, flow, disappear and re-appear, so the fish will follow. Where the foam concentrates, so do insects and other debris floating down the river. For the fish, unless there is a big hatch underway, these foam lines are their highest percentage places to find easy food.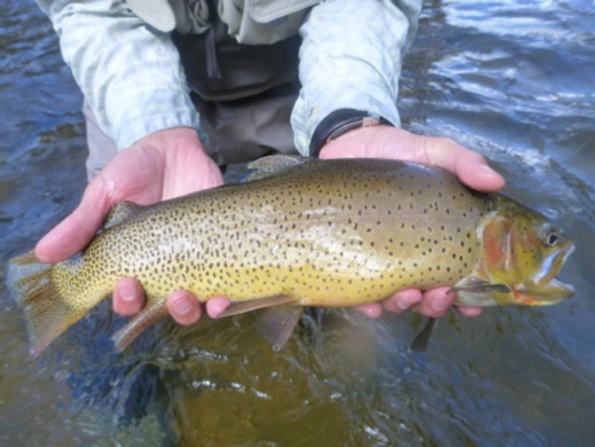 If you are in search of big fish now is a perfect time to rig up a streamer and mend it deep through the pools and tail outs. Larger Browns, as they approach spawning, get territorial and respond aggressively to intruders such as a #4 Black Sculpzilla. When fishing a streamer, vary your retrieves to see if you can find one that triggers an arm wrenching strike. Short and fast, long and slow, make some pauses and keep mixing it up until you connect. Most of the truly larger Browns don't move much during the day, especially in bright sun and your best odds for finding one on the prowl is to fish very early in the morning and late in the evening…low light conditions.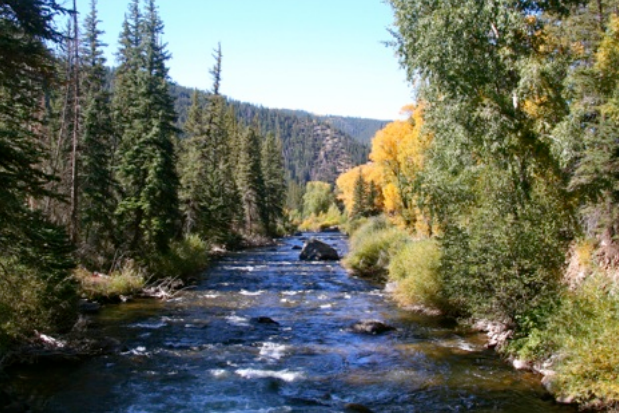 Rarick Creek is on fire right now as it has been for most of the summer season. Big fat Rainbow, Browns and the occasional Brookie are very surface oriented and are still suckers for large Hopper patterns. If unsuccessful with the large Dry either tie on a #16 Pheasant tail dropper or try a smaller Dry. Some of these fish are brutes so be careful setting the hook overly hard and prepare for several strong runs before they calm down. After reviving and releasing each fish, inspect your tippet carefully for abrasions and re tie if necessary as these fish have a habit of rubbing your line against the rocks.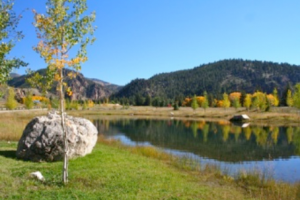 Our 6 ponds are full of tackle busting Rainbows and some good sized Browns. Many of these can be seen slowly cruising the shorelines looking for food. Try to time your cast when the fish is looking or heading away from you and place your fly about 10 feet in front of your target. I like Hopper patterns right now as a well placed Hopper is hard for these fish to resist. These should be fished on 2X or 3X tippet but nothing lighter. If you need to use a small dropper fly, 4X is the minimum tippet size I would use. When you approach the ponds, walk slowly and try to spot fish to throw to. Fishing to s specific fish is generally the most effective technique here. Next week at Wilder, we are proud to host Project Healing Waters and the Wounded Warriors, who will be here for the fifth season in a row. We all hope that they enjoy their stay and our special waters here on the ranch.
As usual for an up to the minute fly fishing report and information, please feel free to contact me at luwarner@mac.com.
Have fun out there,
Lu
Wilder on the Taylor River offers a unique opportunity to own private fly-fishing property along with a beautiful riverfront home. Click the links to learn more.