Hints of summer are all around at Wilder on the TaylorCalves are becoming playful while still hanging tight to their moms at Wilder and in pastures up and down the Gunnison-Crested Butte Valley and trails for hiking and mountain biking are opening for amazing excursions.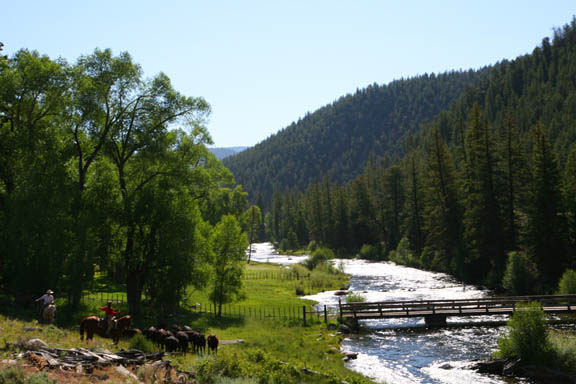 Summer Stays
Owners are busy booking the four historic riverside cabins for summer stays while their homes at Wilder are being constructed or for their guests who are planning visits. With locations right along the Taylor River, the beautifully restored cabins are blissful places to spend summer days and nights in one of the most beautiful spots in Gunnison County, Colorado.
Fishing
Wilder's master fishing guide, Lu Warner, is back after spending six months in the Patagonia of Chile, where he owns and operates the Valle Bonito Lodge, which specializes in fly-fishing, hiking, multi-sport and family vacations. New fishing gear has been ordered, and Lu is busy checking the waterways at Wilder for any improvements needed and welcoming owners as they return from across the country.
Lu isn't the only one making sure the ranch continues to be a healthy habitat for wildlife, ranch managers Don and Shelly Sabrowski and Wilder ownership work in partnership with Colorado Parks & Wildlife and Gunnison County's planning department to ensure the property develops in a sustainable fashion and is a place that both embraces nature and continues its role as a longtime hay and cattle ranch.
Land for Sale
One-acre building envelopes on each 35-acre lot at Wilder help make this vision a reality and keeps each homestead private. This is true not only for the section of riverfront lots that are nearly sold out (one great option is still available), but also for mountain homesteads located on the south side of the ranch that are just starting to be released for purchase. These premiere lots offer amazing views of Wilder's private stretch of the Taylor River and the expansive hay meadow and out-the-back-door access to the Gunnison National Forest. Owners at Wilder build on one acre, leaving plenty of space around all homes at the ranch for privacy, beauty and wildlife to roam, as they have since long before Gunnison County was settled in the late 1800s.
Summer happenings in Crested Butte and Gunnison
Another sure sign of summer is an impressive array of happenings in Crested Butte and Gunnison. Mark your calendars for the Gunnison River Festival (June 22-24), Crested Butte Music Festival (July 5-11), Cattlemen's Days (July 6-15), Crested Butte Wildflower Festival (July 6-15), Crested Butte Wine & Food Festival (July 25-29) and Crested Butte Arts Festival (August 3-5).
Get out and embrace the season!